Aarque Group Ltd
"Partner of Choice"
Business View Oceania interviews Jason Bult, CEO of Aarque Group Ltd., for our focus on the Sign and Display Industry in New Zealand
For over 70 years, Aarque Group Ltd. (pronounced "R Q") has been a leading presence in New Zealand providing Kiwi businesses with the very best in printing technology. Today, they are a full-service provider offering equipment, consumables and service, including the latest hi-tech machinery from all the top brands. But at Aarque Group it's about more than just hardware. It's about building relationships with clients, suppliers and staff and a focus on being the "Partner of Choice".
The experienced Aarque team consists of trusted advisors with in-depth knowledge and technical expertise across a diverse industry sectors – from signage to GIS mapping, architecture and construction, to advertising & graphic design. Aarque Group operates from six branches nationwide: Auckland – Head Office, National Logistical Hub; Wellington – Central Logistical Hub; Christchurch – Southern Logistical Hub; Dunedin; Palmerston North – Manuwatu; and Hamilton – Waikato.
From fast mono printing at a competitive cost per click, to high end, state-of-the-art graphics with the minutest attention to detail, large or small format, Aarque can create bespoke solutions designed specifically for their clients. Jason Bult, Chief Executive Officer of Aarque Group, has more than 25 years in the industry and got involved early on in the background of the company, understanding servicing, printing and the technologies involved with it into the sign market. And oh, the changes he has seen…
Bult shares, "Aarque got involved in the sign industry in the early 1990s and that really came out of the evolution of the printer technology, from Aarque's point of view. Prior to that, sign writers used to use paint brushes and stencils and chalk and blackboards and all sorts of things. Aarque wasn't involved at that early stage. We come more from an architectural engineering background. As architects we used to use pens and pencils and drawing machines and then the drawing machines were replaced by a computer that went to a pen or XY plotter. From there it became an ink-jet plotter that used pure black ink and then it became a CMYK colour inkjet plotter that was able to print colour drawings. As the ink evolved and developed, they came out with a durable based ink that gave the ability to print on self-adhesive media and that's where the digital sign print industry started."
The biggest challenge right now is trying to get stock into New Zealand due to the impact of the COVID-19 crisis. Vicky Winslow, Aarque Group Sales Account Manager, reports, "Like most of our competitors, we're experiencing shipping and manufacturing delays. We're actually selling more than we normally do. Because we're better equipped than the competition, we end up selling more because they're out of stock, which puts Aarque's name out there."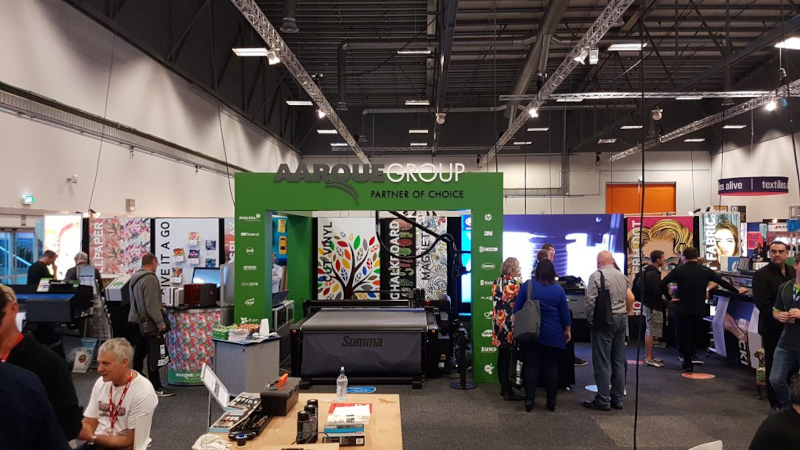 Bult confirms, "We're in a good space. Being an innovator in New Zealand, we were quick to come to market with a program that our clients were looking for. We heavily invested into inventory and I wondered if we were doing the right thing at the time, but COVID came along and actually did us a favour. Because we had so much stock and our competitors didn't, it gave us the ability to really get our brand in the marketplace and pick up a lot of opportunities."
Aarque Group is seriously committed to the environment, providing a wide range of products and services which are sourced from sustainable resources, are water and energy efficient, emit less carbon, produce less waste and are accredited or environmentally certified. "What we're finding in the industry these days is the brand owner, such as large restaurant brands or the large clothing brands, want a green aspect to their print," says Bult. "They don't want to see PVC banners in their shops, they want fabrics and paper and card – materials that are recyclable or compostable. That's really what brand owners are asking the printers to supply. And what we're trying to do is give our clients the ability to offer that to the brand owners."
A significant project Aarque is undertaking now is becoming FSC (Forest Stewardship Council) certified. That certification is proof that all their paper-based products are sourced from sustainable forests. It will enable the company to satisfy their customers with the knowledge that they're buying a 'green' product with all the FSC credentials. Winslow notes, "Most paper-based materials we have are compostable anyway but people are taking it that next step and want to know that the paper was coming from managed forestry. It's getting more and more asked for, so it's something we've committed to doing."
Bult adds, "When it comes to inks, what we're seeing from our printer partner manufacturers is that they're all evolving into an eco-friendly durable ink. Fifteen years ago, we used to joke about the holy grail of ink – that if we could actually have a water-based ink that was durable, then we'd hit the holy grail of our technology. And that's really where manufacturers have been evolving to. We're seeing the development pretty quickly and manufacturers are coming to market with a pretty cool solution."
Aarque prides itself on developing strong personal relationships with manufacturers and understanding their roadmaps in order to program the direction Aarque takes. In the past, building those partnerships with suppliers has been achieved through trade shows or direct visits to manufacturers. But the pandemic has changed the process.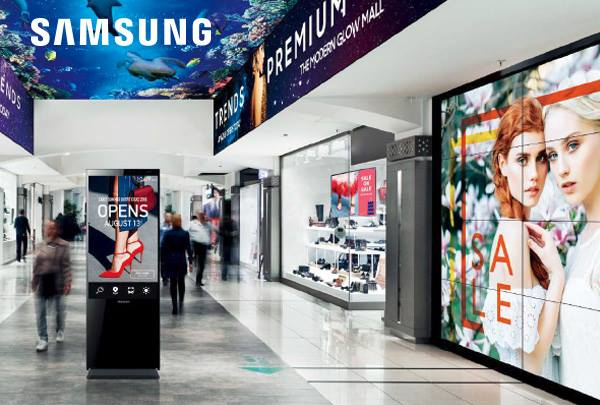 Bult explains, "At a trade show you can see many manufacturers in one place but to build relationships you tend to go visit your supplier at their premises or they come to ours. What's coming to market now has been in the pipeline for two or three years, so there's no surprises. It's just a new way of how we take that product to market, or how we upskill our team, or how we learn more about it. It's utilising the different tools available – Zoom, Teams Meetings etc. On the back of that, normally if we have a new piece of technology, we'll send a technician to the factory to get trained. The last 12 months, the factories have been sending the equipment to Aarque and then scheduling training meetings via Zoom, via cameras, via manuals. So the meetings continued, just differently."
Going forward, with their international suppliers, Bult believes that communication will become more frequent via digital meetings, with face to face meetings happening once or twice a year. But tradeshows will still have a place.
Aarque's business model is built around people and account managers and partnerships. Along with in- person visits to a client, they also have supporting materials such as their new website (currently in development) and direct marketing campaigns, inhouse demonstrations, open houses. "We also have application training," says Bult, "so our customers can teach their clients on how to get the best out of their printer or give them new ideas. It's a value added to give their customers more business. We do that well and far beyond what our competitors do."
The foundation of Aarque Group over the last 20 years has been a family kind of culture, where input from staff is encouraged. As such, the length of service among employees has been very strong, with many having 10 or 15 year tenure. Bult admits, "It's a work hard, play hard relationship. Expectations are high that you stand up and deliver. But we also celebrate success along the way. You've got to enjoy your job when you come to work, and then everybody does well."
Looking to the future, Aarque Group has a three-year growth plan mapped out. One of the big projects on the go in the next 12 months is a new premise for the company's head office in Auckland with expansions to consolidate its two current warehouses into one. According to Bult, "It's a bigger warehouse so there's more investment going into it with stock and equipment to take the next technology step to our clients. We're also implementing a new ERP system, a whole new back end to drive efficiencies and give our staff better tools to achieve what we need as people. And that will evolve into further growth and opportunities."
He emphasises, "We do rely on our manufacturer partners to take us to different vertical markets with their own new technologies, so we've got the infrastructure to utilize and work with that. It's always evolving, that's part of the excitement of this industry. It takes us on a journey… Being a smaller company, we can be nimble to adapt and move to do it right. And we'll continue to do that."
The Aarque Group tagline "Partner of Choice" is at the heart of the business… the concept that people have a choice on who they want to partner with. As Bult shares, "Our suppliers and our clients have a choice whether they want to partner with us and we have a choice about being their partner. That also applies to our staff. More than just a word, "partner" is a key component of our company values and our vision."
AT A GLANCE
Aarque Group Ltd.
What: Full solutions provider for digital print solutions
Where: Headquarters in Auckland, New Zealand
Website: www.aarque.co.nz