Absolute Traffic Management (ATM)
Sydney's Road Traffic Control Specialists
Business View Oceania interviews Rachelle Sassine, Managing Director of Absolute Traffic Management, for our Technology View.
First established in 2018, Absolute Traffic Management (ATM) was formed by founder Jasmin Matouk, who was determined to change the way Sydney's traffic management sector operated for good. Founded as a one-man band, ATM now employs a team of 30 staff spread across traffic control, team management, administration, logistics, and operations. Jasmin had a vision- a female-first construction company that provided impeccable service. Growing up with her family in construction, Jasmin knew from a young age that she wanted to start something from the ground up that would inject positive values into the industry. Now a few years on, her vision has come to life. Each ATM team member works hard to provide clients across Greater Sydney with specialist road traffic management and traffic control services that are built on a foundation of safety and respect. The business is determined to create inclusive, collaborative, and reliable environments that lead by example, to push the rest of Australia's industry into a new era of service.
ATM provides premium traffic management, traffic control, and road safety services without the premium price. Services include obtaining relevant permits from state road authorities; accredited traffic control labour hire for construction sites, mobile works, emergency works, road closures, traffic management, and pedestrian management; traffic control and traffic management plans; traffic control training through industry partnerships; traffic control equipment and vending machine hire; traffic control equipment sale; swept path analysis; emergency traffic control; and, additional hire services for skilled and general labourers, commercial and construction cleaners, and security guards.
Managing Director Rachelle Sassine shares her insight into ATM's mission, operations, and plans for the future. "I was lucky enough to join forces with Jasmin and ATM in mid-2019, coming from a marketing and technology background. I jumped on board and decided to throw us into the deep end with a really significant shift into digital technology. We updated accounting systems, made use of rostering and team tracking software, and began to build our company presence online. As our online presence grew, we saw more organic growth. And we're quite happy with how things are moving now." Examples of software taken on by ATM include Xero and Assigner. The company is also working on an innovative project that will help to streamline the booking process for traffic management companies and their clients, Rachelle says. "We have a project that we're working on behind the scenes, which we aim to release in March. And it's a software that combats the inconsistencies we see regularly in our sector surrounding booking systems. Traffic management is an area that is particularly tricky to innovate in from a technology point of view, and there aren't currently a lot of options out there, so ATM is taking the lead and building something ourselves."
ATM operates throughout Greater Sydney, Australia, taking on a great variation of traffic management and control works. Rachelle explains, "Whether you just want to pour a concrete slab in your driveway or you're a multi-million-dollar building company putting in a new skyrise apartment block, you need management services before, during, and tying up the build to meet legal requirements and keep everyone safe. That's where we come in. We have serviced anybody from videographers doing a street shoot to building developers and road engineers." The company is committed to helping clients plan, develop, and finish their projects on time in a safe, reliable, and cost-effective manner.
ATM is uniquely owned, managed, and operated by a team that is 70% women- a differentiating factor that Rachelle says has presented some challenges over the last four years. "Being women in construction is a challenge in itself. As much as we try to reduce gender bias, we are in an incredibly male-dominated sector. If you think about the workforce, women in construction make up around two percent. So, when you're competing with men who have been doing it their way for so long, you do come across some negativity and people that expect you to fail. We just decided to rise above it by doing our own thing, and we have done it so well that we have earned a fantastic reputation for our efficient and dedicated approach."
ATM has a strong set of core values embodied by staff on a daily basis, Rachelle continues. "We think it's really important to be an equal opportunity employer, and for us it's not just about women, although women in construction is obviously something we are very passionate about. We hire people from all walks of life, so our team is very multicultural, but we are more interested in hiring on the basis of their values rather than where they've come from. So whether they are being hired as a manager, traffic controller, labourer, etcetera, they have to live and breathe our values in their work; teamwork, safety, reliability, integrity, honesty, and excellence."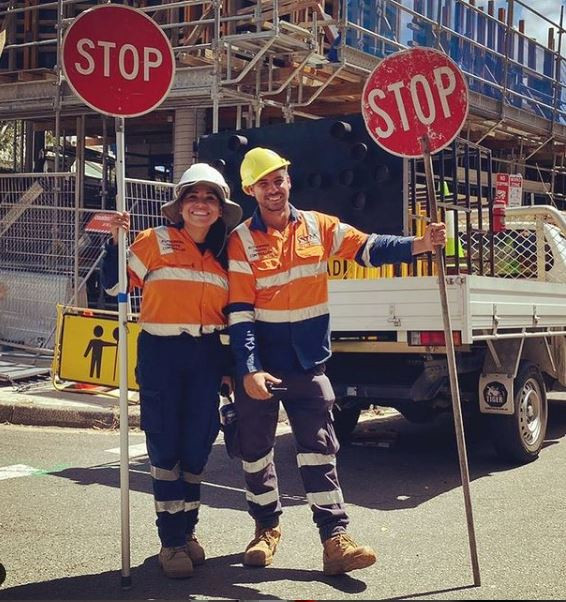 This values-based approach provides staff at ATM with the opportunity to further their education and hone their skills with dedicated training programs in leadership, safety and compliance, technology, site management, and more. ATM also provides traffic control training services for crews across the industry, partnering with industry affiliates and trainers across the state of New South Wales to allow access to courses year-round. Courses include but are not limited to: Asbestos awareness and removal, confined spaces, first aid, manual handling, traffic control, WHS Act awareness, White Cards, power awareness, and emergency management. But training isn't just for stakeholders in the industry; ATM promotes free content via their website blog that work to educate the wider community on the importance of safe conduct around traffic management sites.
As well as investing heavily into technology and training, ATM has taken steps towards a more sustainable future in the traffic management industry. Rachelle elaborates, "We work with a fantastic company called BuildSecurely, who are based out of the South Coast. They manufacture fire-proof boards that can be used to improve the durability of houses in bushfire-prone areas, and we have been delighted to secure their distribution in Australia. Once that product goes to market, we will be doing a lot of work to spearhead that opportunity on our industry. We are also looking into the potential of electric vehicles on site, but they really don't exist yet in the way that we need them. So we need the market to develop a little more for that to become a possibility."
In the near future, ATM plans to continue their involvement in community fundraisers such as the Cruise for a Cause, Syrian Ration Challenge and CEO Sleepout, and is looking into the provision of community education for students and low-income earners to learn the basics of traffic control and build a foundation for entry into the industry. The company is looking forward to opening a new management office on the South Coast in 2023, which will extending their reach further into New South Wales. Mrs. Sassine concludes, "We have a lot of growth planned over the next two to three years and beyond. Alongside our own growth as a business, we will keep pushing and advocating for our sector to have more equipment on roads that limits the direct interaction of our workers with oncoming traffic; the safer we can make our sites, the better, and the most efficient way to do that is to get our staff out of the line of fire. We predict a lot of movement in the equipment innovation space to meet that demand. All in all, ATM's future and the future of our wider industry looks busy and bright."
AT A GLANCE
Absolute Traffic Management
What: Traffic control and management provider for clients in Greater Sydney, Australia
Where: Absolute Traffic Management is headquartered in Sydney, Australia
Website: https://absolutetraffic.com.au/
Jobsyte Pty Ltd | Australia's First Traffic Management Platform
Level-2/397 Riley St, Surry Hills NSW 2010