Action Forest Management
Caring for Your Forest
Business View Oceania interviews Robin Thompson, Managing Director at Action Forest Management, for our continued Clean and Green focus.
Action Forest Management (AFM) has been a provider of high-quality silviculture services for New Zealand's South Island for over 15 years. Since its establishment in 2005, the company has supported forest owners and managers in maintaining safe, healthy, and well-established forests and plantations. A close team of 25 highly experienced individuals, AFM operates four ground crews seasonally from their offices in Stoke and Motueka, with two crews engaged fulltime on a variety of forest establishment, tending and protection operations. They care for forests and plantations of all sizes and are committed to making sure clients maximise investment returns whilst maintaining the environmental integrity of their land.
Action Forest Management has evolved from its grass-roots beginnings to a fully integrated silviculture provider that backs the forestry process from planning to ready to harvest, with the key focus being to supply professional silvicultural crews on a contract basis to complete programmes implementing forest establishment operations; planting, fertilising, and spot-spraying. Established forests are protected with AFM's conservation program, which provides native habitat restoration and track maintenance services. General forest maintenance services include pruning, thinning, nutrient analysis, and aerial weed control and fertilisation. Action Forest Management also provides fire planning and protection services and is proud to assist forest owners in rural land management.
Managing Director at Action Forest Management, Robin Thompson is keen to showcase the ability of his team. With a combined experience of over a century, senior representatives and crew managers at Action Forest Management are well equipped to provide a high-quality, sustainability-based experiences for all clients. Thompson himself has over 40 years of experience in firefighting and prevention, having served the New Zealand National Incident Management Team(s) for two decades through undertaking advanced training courses, including four in Australia, and during international wildfire deployments to Oregon, Idaho, and Tasmania. AFM's Crew Managers also have experience in firefighting and have undertaken overseas deployment to Australia and Canada. Thompson explains that this level of skill reassures clients that AFM will help them be prepared in the event of a wildfire emergency.
Maintaining such a strong team brings a lot of pride to Thompson; lack of silviculture worker support is an ongoing issue in the wider industry that AFM is helping to eradicate, he says. The company leads by example against this trend and is supported by their partnership with the Forest Industry Contractors Association (FICA). "The Forest Industry Contractors Association, which is led by the wonderful Prue Younger, have really done a lot to fill the gaps, promote better workplace culture and get the silviculture industry noticed at a government level. We are leaps and bounds ahead now in terms of the industry's relationship with government departments, and that has brought about opportunities for support in things like regulation, sustainability, immigration, training, etc. FICA has been very productive this last year, and we are very thankful for that."
Action Forest Management is passionate about upskilling their members of staff and providing them with incentives for further training. Each site crew is led by a Crew Manager with high levels of experience. Focus on health and safety is paramount, and supported by equipment of the highest quality, ranging from harnesses and belts to maintenance and specialist wilding pine eradication equipment. Technology is supplied to crews to keep them safe and boost productivity; EROAD tracking systems are installed in all company vehicles, and all crew members carry radios for efficient communication.
Thompson elaborates on the importance of education within the company. "We certainly believe that training our people at all levels is an investment, both in our future and theirs. It comes with a certain level of risk, as does any investment, but we are confident that our working environment is positive and enjoyable enough that our staff will continue to stay with us and use the resources we give them- and this is despite a generally high turnover of staff in the forestry silviculture sector. We want to do everything right for them, which means setting up pathways for ongoing education in whatever role they're in, whether that is in the form of units of study, assessments, or national certificates."
Action Forest Management also invests into employees in life skills development, drivers' licenses, and business skills. The employment of young people is AFM's way of giving back to their community. Thompson expresses his desire for young people to be supported in skills development before they enter the industry. "We need some form of support for young people looking to get into forestry, whether it's from an educational initiative or at a government level. They need to be able to take on the job mentally and physically, and have basic life skills like budgeting, practical maintenance, first aid, licences, and basic mechanical knowledge. That's not just for us from a business point of view. It's also something they will need as they grow."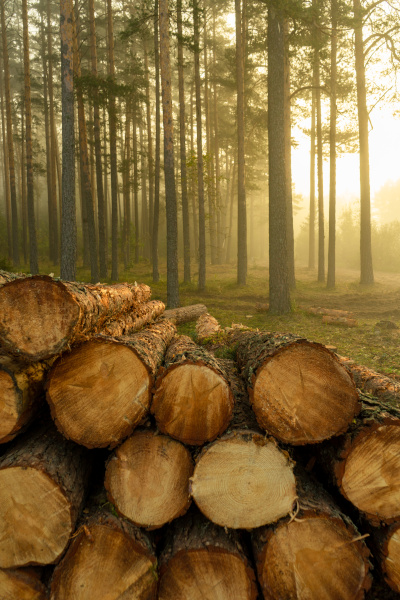 Along with other progressive forestry contractors and forest managers, Action Forest Management is proactively lobbying for more a sensible & relevant Drug & Alcohol Testing Regime to be introduced. Thompson says, "The current testing method (urine) is slow, costly, and outdated for today's society and for our forest industry needs. A saliva testing regime (compliant with AS/NZ4760:2019) makes this method of checking for cannabis and other drugs readily available and simple to implement. Simpler means cheaper, and employers would use it more regularly to maintain honestly and keep impaired people out of our workforce. It would assist in maintaining health & safety standards at the highest level."
What makes Action Forest Management truly unique is their ability to provide high class services to a wide range of forest managers whilst maintaining a strong focus on sustainability. Conservation and sustainability services at AFM include biological protection against invasive wildlife, plant and fungus species, maintenance of forest tracks to allow for proper access to all areas, and fire protection plans. Implementing Wilding Pine eradication in the nearby Mount Richmond Forest Park is a current example of invasive plant control. Smaller environmental initiatives are regularly implemented throughout company practices, such as the use of completely biodegradable toilet paper to mark planting lines instead of chemical-laden spray paint or dye. Alongside their regular conservation efforts for forest owners and managers, AFM has completed significant rehabilitation work with New Zealand's Department of Conservation. The company has also completed similar work in Abel Tasman National Park and Richmond Forest Park. This year alone, AFM has planted over half a million seedlings across top of the South Island.
Action Forest Management is keen to expand in the future to service more areas across the top of the South Island. Thompson explains that the company name is spread largely by word of mouth and client referrals, so it is important that they continue providing top quality services. "We will keep doing what we're doing, which is really focussing on quality, safety, and the satisfaction of our forest managers. We will continue to adapt to industry changes as they come along and develop our brand from there. Silviculture has an ageing workforce, which is great in some ways because it means a lot of our workers have years if not decades of experience, but it does mean that we need to attract some young people to keep forestry teams balanced and efficient. So that's something we are really going to strive for in the future. If we support our youth and keep them in jobs, not only is that important in itself, but it will also keep the industry functioning well."
Thompson concludes with thanks to important business partners that have been integral to AFM's success. "We have had fantastic relationships with our partners that have been really important to us for some time now. In particular, I would like to mention PF Olsen and their Branch Manager, Sam Nuske. These guys are a great team; we have developed a working partnership with them that supports expectations of safety, wellbeing, quality, and productivity on both sides. It's great to work with a partner that also understands and acknowledges how essential work continuity throughout the year is for our crew members." Thompson would also like to thank their long-term client Tasman Forest Management, Bowater Toyota (Nelson) and MS Ford (Nelson) for their equipment lease programs, CompeteNZ for their assistance in training staff, and local nurseries Arborgen and Appletons for their top-quality seedlings and service.
Action Forest Management will continue using their wealth of knowledge and experience to provide clients across the top of New Zealand's South Island with world class forestry services as the industry progresses. They plan to lead the way in employee support and environmental best practices for years to come.
AT A GLANCE
Action Forest Management
What: Provider of forestry, silvicultural, and forest management services throughout the top of New Zealand's South Island.
Where: Action Forest Management has offices in Stoke and Motueka, New Zealand.
Website: http://www.actionforest.co.nz/