Agrifarm Implements
Australian strong
Business View Oceania interviews Brett Trengove, Owner & CEO of Agrifarm Engineering Pty Ltd, for our focus on Agriculture and Manufacturing in Australia
With over 30 years of manufacturing tradition and trading, Agrifarm has become synonymous with quality Australian made farm and agricultural machinery. Designed tough to Australian standards, the Agrifarm product range includes slashers, mowers, aerators, mulchers and utility implements. Models are carefully engineered and manufactured to suit Australia's particular climate and terrain conditions, and customer satisfaction is paramount. Over the years, many students from the local TAFE (Technical & Further Education) institutions have benefited from apprenticeships at Agrifarm and successfully completed training in manufacturing and associated industry practices, such as welding and metal fabrication.
AG Engineering Pty Ltd trades officially as Agrifarm Implements and is headquartered in Taree, New South Wales. Company CEO, Brett Trengove, recounts, "We are a family business, started back in 1986. Prior to that, I did a four-year apprenticeship with Howard, which was a  large Australian agricultural company that began in 1923 when the first rotary hoe was produced. After that I worked in the engineering department for another five years. At that stage Howard was taken over by a new company and ceased manufacturing in Australia. So in 1986, three of us (my father, Ralph Trengove, who was in charge of R & D at Howard; Tim McCormack, Engineering Manager at Howard; and myself) bought some of the Howard's plant and manufacturing equipment at the auctions and began operations at Taree as Agrifarm."
In the early 2000's Ralph retired, and the other two partners bought his share of the business. Then in 2005, Tim retired and Agrifarm was sold to a company with several other businesses. Brett remained on as General Manager and in 2014 he had the opportunity to buy Agrifarm back as the sole owner. He admits, "It was a good feeling to have total control over what you do and it's been great ever since. Rather than cutting corners and putting lighter steel, or smaller bearings, or small pulleys or cheap v-belts, we go the opposite way and make a product that has a lot of features that we can sell to the customer, first and foremost, and then we talk about price. We still remain cost competitive but we don't cut corners with the quality of product. As soon as the customer sees the features and the strong quality of what we make, we can generally get a sale."
The mulchers Agrifarm manufactures today are vastly improved from the 1986 models they first produced. Ranging from 1.5 metres wide to 9 metres wide, these are big machines sold primarily "for use out west." The aerators they've been producing for about eight years range from 1.5 to 6 metres wide and are also a significant part of the business. "We've always had a good range of products and every few years a new machine comes into the line," says Brett. "There's no CAD (computer aided design), I'm a bit old school, I still have a drawing board sitting next to me; we actually design a product on paper still. The whole setup includes drawings, cutting lists for all our products. Month by month we decide what we're going to build, it might be mulchers or aerators, whatever we're getting low on. I see what is required to keep our stocks up so we don't miss sales and then we produce a cutting list off the computer."
The cutting list notes the materials needed – steel is the material ordered in the largest quantities and it is purchased from three companies in Newcastle. Each of those companies has an opportunity every month to quote the job and the best price gets the order. All material arrives as pipe, flat bar, RHS tube, or plate. Brett explains, "We have an optical profiler to profile our own plate shapes off drawings. And the flat bar, angle iron, etc. goes through our punch and shears and is turned into components that have the correct size holes off our drawings. All our bending and welding is done in-house. We  have three welding bays, our own paint bay. Everything is painted, then it's an assembly job, then detailing and out the door. We keep a bit of product inside when we can, or outside in our yard, but because there's such a large range of products, we try to have everything in kit form. So when someone rings up for an 8-foot mulcher with wheels on it we can pull that machine out, do the final assembly, do the balancing and painting and detailing and then it goes out directly to the customer. Or to one of our dealers that's supplying to a customer. In areas where we don't have dealers, we will sell direct. Generally, with Council business that is also direct selling, where we quote direct and deliver and do the operator training for Councils."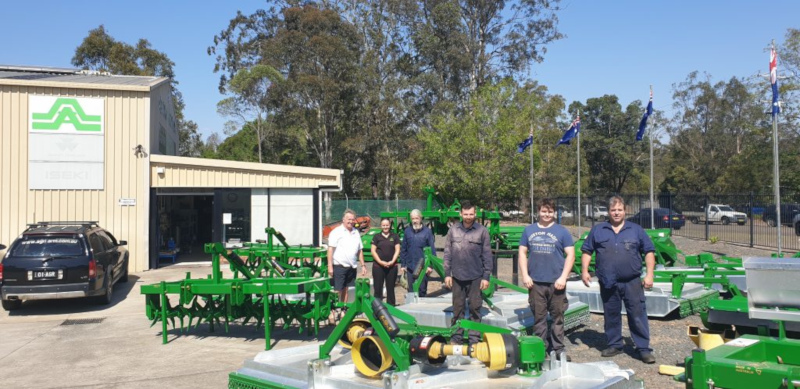 Agrifarm has about 50 dealers in Australia, and in many areas where a dealer isn't within an hour of a customer, the company will sell direct and freight a machine to the buyer. Export is another growth direction for the firm. Over the years, they've sent a few container loads to New Guinea; a big prepaid order to Nigeria; and sales are doing well in New Caledonia. "We sent a container load over there early in 2019," says Brett, "and I went over there and schooled the dealer on the product. Then we went out and saw a few farmers and since then they've ordered another container load of slashers that was delivered before Christmas. New Zealand is the next place we're getting into."
Most of the marketing is done through networking at major trade shows, such as Farm Fantastic, FarmFest, Primex, Cotton Trade Show, AgQuip and Henty. In addition, Agrifarm works hard on keeping an active Social media and website presence – refreshing posts often with videos and new product lines for enhanced SEO. Expansion is always on the agenda and the company is currently in discussions to set up dealers in South Australia, Victoria and Tasmania. The idea is to help drought-proof the business – when some areas are struggling because of lack of rain, they can sell to other regions and still keep the volume going through. "Then when everyone's got rain, we'll be run off our feet and have to hire more people," Brett quips. "There are only six of us now but we pump out a lot of machines. Everything we do is all on jigs and fixtures and it's easy to manufacture the product. The majority of my guys could put together a machine off a cutting list. It's a streamlined process; we can build product and get it out the door pretty quickly. We have a local man (literally just five doors away) that does the main machining for all our aerators, etc. with CNC equipment. And we get a reasonable amount of laser cutting done from another Australian company."
In 2015, a large solar system was installed on the Agrifarm shed building to reduce the amount of power usage and provide solar energy for much of the company's power requirements. That investment has been very effective. As for new product offerings, a big cotton mulcher made not just for cotton but anything from sorghum to rice to wheat was designed and manufactured in the last seven years. The latest Agrifarm machine, just recently finished, is a hydraulic folding aerator. The existing aerators were 1.5, 2, 2.5, 3 and 4 metre fixed machines. The problem lies in transporting a unit that size – 3 or 4 metres is just too wide. So for bigger farms and for customers in the west, Agrifarm's team designed a hydraulic folding machine. The first one they built is a 6 metre hydraulic folder but they'll also be able to build 4 and 5 metre units as well.
According to Brett, "The export market is where we really want to expand. I've had a lot of meetings with government departments but there isn't much help for Australian companies wanting to export. Unless you want to pay for it all yourself. Things like our cotton mulcher for instance: Australia is tiny in the world market, and if I could sell my cotton mulchers into America where they grow millions of acres… just to find one good dealer that sells in the cotton region. But it's very hard to do on our own. Companies have done it but getting that initial contact in the American market is the issue.
"We are very proud that Agrifarm is an Australian made product, started in Australia and still an Australian company. We employ local people and use as much local product as we can. With all of our implements, we don't build to a price. We know we have to be competitive to sell the product but we'd rather build initially based on features and quality that are not going to break down for people. I've had 25-year-old mulchers traded in for a bigger model and I'm paying twice as much for the trade-in as they paid for it when it was brand new. That's proof of our quality. We'll also refurbish machines for people and refurbish trade-ins for resale. Most important to know, we make a high quality product that the customer will own for as long as he wants to own it. No cutting corners."
AT A GLANCE
Agrifarm Implements
What: Manufacturer of farm and agricultural machinery
Where: Taree, NSW
Website: www.agrifarm.com.au
Alford Hydraulics & Engineering Pty Ltd – www.alfordhydraulics.com.au
Alford Hydraulics & Engineering are an Australian owned and operated hydraulic cylinder manufacturer with an unwavering commitment to manufacturing a quality Australian made product with excellent customer service. With our range of seals, hose and fittings, and repair and servicing options for hydraulic cylinders, Alford's are your one stop shop for all your hydraulic needs.