Apex Energy Australia
Custom solar & storage solutions
Business View Oceania interviews Paul Stallan, Founder & Managing Director of Apex Energy Australia, for our focus on Growth of the Energy Sector in Australia
From its home base in Melrose Park, South Australia, Apex Energy Australia leads the way in design, construction and installation of solar and battery storage infrastructure projects around the country. Apex Energy Australia was established in 2009 and has quietly grown into a national supplier of client-focused solar and storage solutions in homes, light industrial areas and regional locations. Together with its sister enterprise, Apex Communication Technologies, the companies directly employ a South Australian team with a wealth of experience delivering on- and off-grid energy storage projects.
Paul Stallan, Managing Director of Apex Energy Australia, recounts, "Our existing business, Apex Communications, had been around since 2004, so we'd been contracting for quite some time. We formed Apex Energy around the solar industry and the actual opportunity to get in and help people. You go through that 'solar coaster' they call it –the ups and downs – and you soon recognize you don't want to be in the residential environment. It's very competitive and not very high margins. So we basically shelved it for a couple of years and then got back into it in a commercial sense, which is our target market."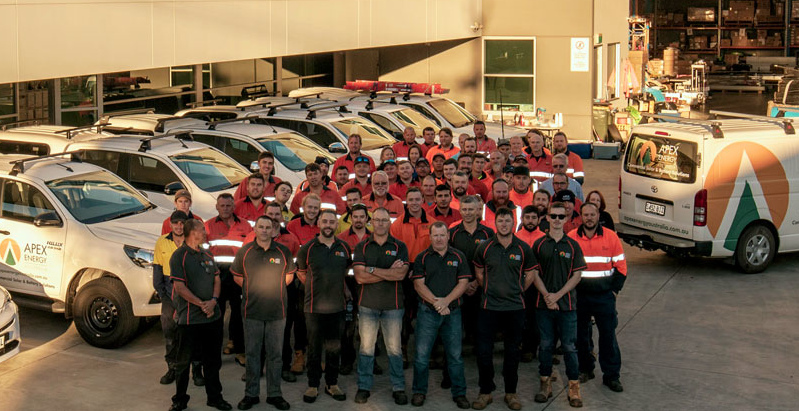 Today, Apex Energy is busy with remote, off-grid designs and construction in a niche market where, for example, someone has a situation they want to fuel where there is no power. Or they want to get rid of their generator. Apex Energy will assist the loads, come up with the design –containerised or built in situ – and provide them with a solution. No two designs are the same; it has to be specific for the user's requirements and future transition scenarios. Most recently, the team has been building out in the Cooper Basin. They accomplished all the pre-staging in the workshop, built up the containers and did the testing, effectively cutting installation time on the site in half. It's a smart approach of manufacturing; getting all the hard work done in a controlled environment and then doing a plug and play onsite, putting it all back together and testing it again.
Apex Energy primarily works in outback Queensland and outback South Australia, with a small amount in the northern territory. According to Stallan, "We spec various products and brands in our designs to suit the application. It could be lithium, or lead, or something else, but generally that application will be suitable to the load or the requirement for the customer. We have a wide selection of products and brands that we choose from and recommend, which gives us a lot of flexibility. Santos natural gas company has been a great partner to both Apex Energy and Apex Communications over the years. We work directly and through our vendors with them – they are great guys and I would thank them heavily for all they've done for us."
Falling solar prices have noticeably improved the ROI of commercial solar systems, to the point where systems are now paying themselves off in as little as two to three years. The installation of solar shows customers and staff that a company is committed to renewable energy and sustainability. In that regard, the Apex Energy team designs a system and creates a tailored proposal for a business based on energy consumption, time of use, system size, location and unit energy costs. High quality solar panels and inverters with ten-year minimum product warranties offer peace of mind, and Apex Energy workmanship is also warrantied for five years. In addition, all commercial solar systems are provided with in-depth monitoring as standard so that energy consumption can be adapted to better suit solar generation.
The company's office/warehouse facility in Melrose Park is a going concern. "In the warehouse side, we recently had four containers turn up, basically, as a shell," says Stallan. "We've done framing, insulation, metal onboarding, aluminium work, modified personal access doors, added grills and grates inside for air flow, and installed batteries and all the smart equipment. It goes through a full process in our facility. At the end, we put these containers on wheels – imagine a 20 or 40 foot container on heavy-duty shopping trolley wheels – and then away she goes. It makes them easy to manoeuvre from one side of the warehouse for framing and insulation and getting all the main pieces done and then you push it over to the other side where you might be set up more for the technical installation. It's worked well."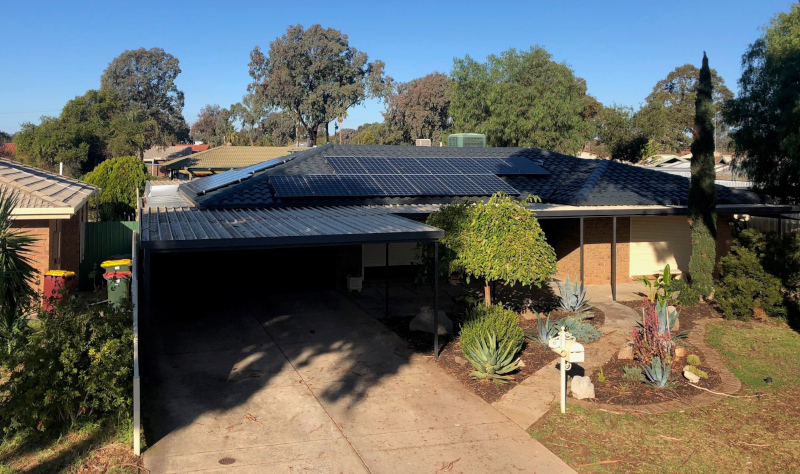 The Apex group jointly employs more than 60 people, including many talented project managers supporting all areas of the business. A unique aspect of the team is that some work for Apex Energy, some work for Apex Comms, and multiple people work back and forth between the two businesses. A combined work schedule, using similar scheduling tools for both companies, maintains efficiencies and provides the ability to handle more projects. For example, during a dip in the energy side of the business last year, some workers were moved into Apex Communications and now they're helping install fibre optic cable and run conduit. Then, as energy got busy this year, a crew from Communications helped put solar panels on roofs and install batteries.
"What's important for us is attitude and aptitude," says Stallan. "People that just want to turn up and do the best they can for the business. At the end of the day, if they're skilled to do that, great. If not and they've got the attitude, as long as you've got the training resources, you can get them skilled. We're really lucky at Apex, we have a high retention rate. It's a two-way street; a partnership. And we only hire people who want to work. For example, I've got a few guys who are riggers, they're electricians, they've got qualifications to do integrations in networks, they've got their PV and their battery license for the energy business, and they're certified to climb towers. They've been in the business eight or nine years – they come in as electricians and we take the next step, and the next step, and now they're multi-skilled. We've done that because it's really hard to get skilled people in the business and we put a lot of value on keeping good people."
At any one time, Apex may have eight to ten apprentices on the books through both businesses. Over the last five years, they've had three apprentices win the National Apprentice of the Year award. Not many businesses can boast that. Stallan notes, "We find that apprentices in their fourth year are looking for a job and you've already had the opportunity to work with them for two or three years. Because they're good at what they do and they've learned a skill, it's just a natural attrition for us to employ them directly. They become a tradesman or tradeswoman and join the crew. Our workforce is young, average age 26 or 27, because we employ our fourth-year apprentices. And that's how we've grown our business."
As for the solar industry in the coming years, Stallan forecasts that wattages will continue to go up in panels in that footprint. And more unmanaged lithium ion batteries will hit the market that can be racked and stacked and controlled by smart equipment around them. He adds, "For our business, the target market is remote. We're a commercial company heading for commercial applications in communities, pumping stations, oil and gas – those who need someone to come in and design and construct for their application. Gas and water pumping stations are very interested in what we're delivering in the renewal sector, considering the significant cost saving benefits to having panels and batteries in place versus constant fueling and maintaining a generator.
"Anyone can install solar, but there are only a few people who truly understand how to integrate solar with batteries to actually get them to last and work properly for a long time. Our Technical Manager, Colin Lord, is one of the best in the solar industry. Our confidence is in Colin training others to provide a good design because without a good design you'll never be able to provide a good solution." Having the skill, the understanding, the logistics, and the people that want to deploy those solutions is a unique offering. Add to that a superb quality of service and Apex Energy Australia is the obvious and best choice.
AT A GLANCE
Apex Energy Australia
What: South Australia's leading renewable energy provider
Where: Melrose Park, SA
Website: www.apexenergyaustralia.com.au