LGC Group (LGC)
The WA Traffic Experts
Business View Oceania interviews Max Line and Janet Walsh of LGC Traffic Management for our Construction View.
LGC Group (LGC) was founded in 2014 to provide a highly experienced, regulated alternative to widespread unorganised management operations in the Western Australian region. Since then, the team have worked to support a range of clients across the state including local governments, utility providers, and event management companies. Based out of Perth, the company is 100% Western Australian owned and operated, and fosters values surrounding safety, quality, and skills development.
A large team of 180, LGC provides high quality services in traffic management, road safety, and equipment hire. Management at LGC begins with detailed, personalised site plans. The company supports projects from initial consultation right through to work completion, working collaboratively with clients to ensure a deep understanding of site requirements, regulations, and potential hazards. Their website states, "LGC maintains standardised procedures for traffic control at work sites on Australian roads. We provide for the safety of road users and workers, minimising the impact of disruptions on road and pedestrian traffic as a result of the activity. Our staff are fully trained and briefed in all safe work practices, with regular refresher courses, daily toolbox meetings and site audits. Where safety is key, there can be no compromise!" The business also runs equipment hire services to the civil construction industry. Products include variable message boards, arrow boards, lighting and signs, barrier systems, and truck mounted equipment including TL2 attenuators. All equipment is Australian made and colour coordinated in vibrant pink for visibility and brand representation.
Max Line (Director) and Janet Walsh (Operations Manager) share their insight into LGC's success and evolution since 2014. Mr. Line begins, "We began as a response to a massive lack of safety precautions in our local industry. Being in the business since my 20s, I had a good handle on the focusses that need to be implemented on every job site in order for things to run safely; employees were being exposed to a level of risk that just wasn't acceptable, and I wanted to change that. So, we lead by example for other management companies in the industry, both locally and across the country."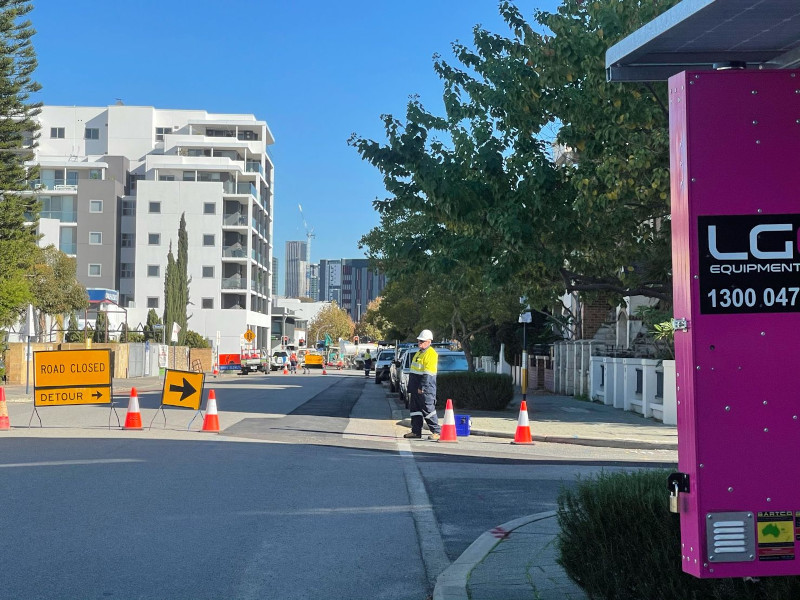 LGC supports clients via their head office in Perth and regional branches. Their fully outfitted fleet of modern vehicles and equipment travels across the entire state.  Mrs. Walsh explains, "We work across a variety of industries including resource collection, construction, infrastructure, utilities, local government, events, and more. Servicing the whole of WA in so many different sectors is no easy feat, so we're proud to support them in such a critical way. It is important that we remain nimble and able to adapt to industry challenges; we are open to innovation in equipment and obviously stay up to date with any changes to regulation."
The company differentiates themselves in the market through their dedication to corporate recognition and complete commitment to work safety. Educating employees, business owners, and industry stakeholders on the importance of employee safety and the standardisation of regulations is a major priority for the entire LGC team, from senior management through to site crews.  Mr. Line shares, "As well as our own educational efforts, we support the work of the Traffic Management Association of Australia (TMAA). Our membership with them allows us to navigate challenges as part of a collective group, rather than on our own. A lot of places in Western Australia are somewhat isolated from the rest of the country, so having a common voice is really important. TMAA is vital to the growth of the traffic management industry, particularly as we move through the transitional period we are in currently, which is reforming traditional practices to create safer roadside spaces." LGC also fosters collaborative relationships with local businesses and utility providers, including Atco Gas, Western Power, Water Corp, and Genus Plus Group, and would like to thank them for their support in LGC's growth.
LGC is currently introducing TL2 attenuators across Western Australia to minimise the risk of significant injury and/or accidental death on site. Mr. Line explains, "The hard facts are that we have had two workplace-related deaths and one significant injury in WA alone in the last two years. At least one of those could definitely have been avoidable with the use of a TL2 attenuator. So, we are really pushing for better uptake in the state to improve safety. At the moment, best practice for is running a crew vehicle down that road to direct traffic. There is no crash barrier to that vehicle. The introduction of these attenuators not only reduces impact on the vehicle operator, but also the motorist that has hit the product." LGC TL2 attenuator units can be used in speed limit zones from anywhere up to 80 kilometres per hour, providing the opportunity to remove crew vehicles out of harm's way on major arterial roads.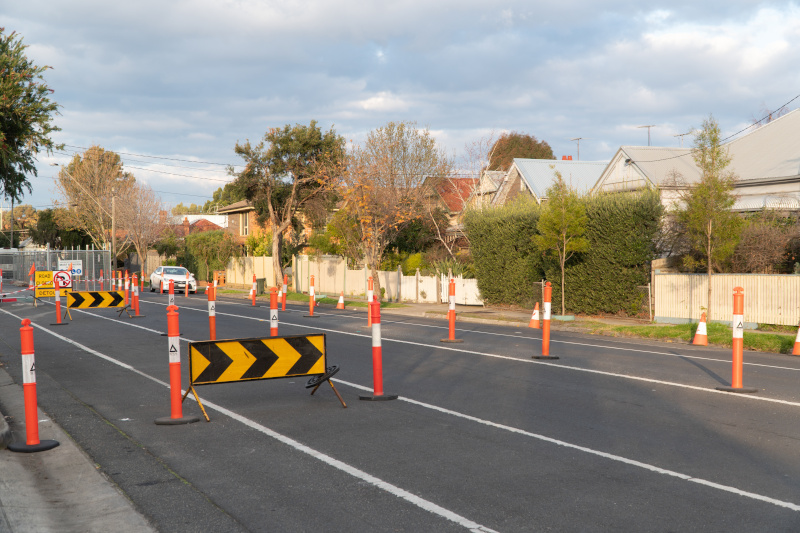 Looking to the future, LGC plans to expand their reach in Western Australia to service more regional and remote areas, and introduce their equipment hire expertise into other sectors to support further infrastructure development across the state. Mr. Line concludes, "Our industry is changing rapidly to focus more on safety and risk minimisation. Part of that is using more equipment on the roads and getting our people off them, so over the next decade or so, there will be a huge demand for qualified equipment operators, technicians, engineers, and the like to be setting up and monitoring sites that are highly mechanised. This has already begun, and it's great for our wider LGC Group because we are able to support that shift from all angles; management, regulation, and equipment hire. We have already grown over 125% over the last 12 months, and we plan on being the best provider out there."
LGC Group will continue to provide world-class traffic management, road safety, and equipment management services to their clients with a focus on safety always front-of-mind. LGC's dedication to the improvement of traffic management best practices has placed them as industry leaders in Western Australia- a position senior representatives intend to honour each day as the industry evolves.
AT A GLANCE
LGC Group (LGC)
What: Traffic Management, road safety, and equipment hire services provider for a range of sectors across Western Australia
Where: LGC is headquartered in Perth, Australia
Website: http://www.lgctraffic.com.au/