Australian Cabinet and Furniture Association (ACFA)
Over 70 years of Service
Business View Oceania interviews Dean Brakell, CEO of the Australian Cabinet and Furniture Association, for our Manufacturing View.
The Australian Cabinet and Furniture Association (ACFA) has been providing a voice for the furnishing, cabinet making, kitchen, and joinery industries for over seven decades. Since their founding in 1948, the association has worked to represent industry members and associated businesses and suppliers across the sector. Originally operating as the NSW Furniture Guild, ACFA was set up to represent the furniture industry and tackle quality control issues within NSW and interstate. As the market evolved, the organisation expanded to care for the wider industry across three distinct sectors; free-standing furniture, commercial furniture, and the domestic built-in sector. Working to develop, promote, and improve the industry under their current mandate, ACFA now services members across Australia through education and training, advice, licensing, advocacy, resource provision, and network development.
CEO of ACFA, Dean Brakell is confident in the ability of his staff to support their industry. "We are a team of 28 based on the Central Coast of NSW. We have also set up office spaces in Adelaide and Melbourne to better support our members in every state and territory." Staff maintain the core values Protect, Promote, and Provide. Consistent upskilling techniques are undertaken to ensure the team is well equipped and sets a good example for the rest of the industry. Mr. Brakell explains, "The ACFA is currently developing more online training content for entry level students and apprentices, middle management personnel such as supervisors, and also for business owners. We also have over 200 templates and information resource pages available on our website for members to use to further support their learning outside formal programs."
ACFA clearly identifies the importance of training for students, trainees, and apprentices. "ACFA strives for excellence in vocational education and training and aspire to actively encourage apprentices and trainees to exceed industry expectations so they can reach outstanding success, showcasing the many skills of their chosen industry craft. ACFA provides workplace training and support to the industry and an established and integrated network of support services. Traineeship and apprenticeship training are available throughout NSW, ACT and SA through ACFA and can be tailored to meet individual company needs, making it relevant to each workplace and their business requirements. We take a holistic approach, to our training by developing an individualised training program that meets the needs of the workplace as well as the requirements of accredited training."
Membership is split across four tiers: Micro, Associate, Business Plus, and Premium. A fifth section, a Student membership, is currently being developed for apprentices, trainees, and student individuals looking to make their way in the industry. With membership numbers currently sitting at 650 company members and having grown by 18% in the last year, ACFA's mission has never been more important. Mr. Brakell continues, "We represent the sector on numerous committees such as Australian Standards, the Industry reference committee for training, and various working groups that are run by the Australian Chamber Commerce and Industry (ACCI). During this pandemic, providing up to date advice on who can work and the rules around manufacturing has been of the upmost important. ACFA represents on a few state-based committees providing advice to governments on the best and safest way to deal with the pandemic while saving businesses and jobs. That value alone makes our membership value proposition vital."
Supporting such a wide range of members across the industry does not come without challenges, Mr. Brakell explains. "There are a number of challenges our sector faces, including skill shortages, a lack of uniformity across states and territories, and the ageing nature of our workforce. We work each day to attract the right people to the industry and maintain regulations to avoid the appearance of poor conduct, low-quality work, and outdated techniques. Our sector is a lot more capital intensive than others such as construction, and many career paths can come from starting out as an apprentice. Business owner, installer, CAD operator, Production Manager, Sales Manager, Designer, Production scheduler… There's real potential for career growth for new arrivals to the industry."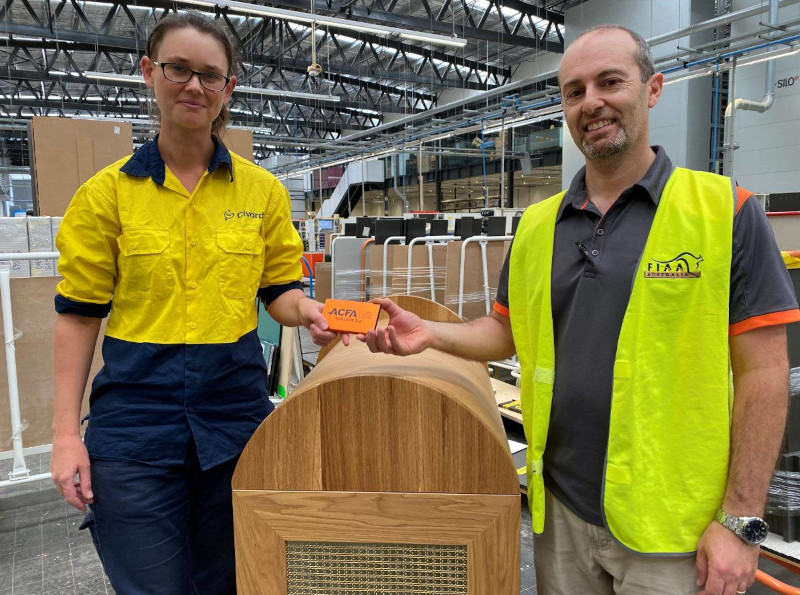 ACFA communicates with members through regular email updates, quarterly newsletters, and social media including a members-only Facebook group. A large part of communication efforts made by the ACFA is their organisation of online and in-person events such as conferences, consultations, AGMs, and webinars. Webinars are available for national and state-specific audiences, and cover topics such as smart marketing, industry forecasts and changes, contract development, and more. They are an invaluable resource for members to take part in, Mr Brakell says. "We have had to move most of our annual meetings online as a result of the COVID-19 pandemic, but our communication with members has remained stronger than ever."
ACFA is supportive of industry innovation and keeps a close eye on potential areas for technological, technical, and skills-based growth. "The majority of the sector across micro, small, medium, and large enterprises, have invested in the newest technology, particularly CNC machinery and drawing/quoting packages. We stay up to date with the latest on industry innovations and technology development, then distribute that information to our members along with any templates or resources they might need to manage said development."
Mr. Brakell concludes with a note on the future. "For the future development of the industry, we would like to see uniformity across Australia regarding licensing, home warranty insurance, and workplace health and safety. The current training package for the sector is under review, and our view on that is that we need more of a focus on technology skills during training. Obviously, the current workforce will need to be trained up accordingly alongside any changes. ACFA would also like to see great collaboration with the public providers." The association is also planning on expanding on group buying deals, with aims to use industry relationships with groups such as FIRST Super to look after the retirement nest eggs of members. Increasing apprentice uptake, further growing the reach of ACFA across Australia, and taking on more staff to better manage the growing demand upon the organisation are all identified as priorities going forward. With these priorities in mind, ACFA will continue to support the furniture, cabinet making, Kitchen Drawer, and joinery sectors as the industry progresses.
AT A GLANCE
Australian Cabinet and Furniture Association (ACFA)
What: Peak body for the Australian furnishing, cabinet making, kitchen, and joinery industries.
Where: ACFA is headquartered in Gosford NSW
Website: portal.acfa.net.au