Barrett Homes
Making things happen
Business View Oceania interviews Phil O'Reilly, General Manager of Barrett Homes, for our focus on the New Zealand Home Construction Industry.
More choice, better quality, and an enjoyable build process are standard fare at Barrett Homes, creating a customer experience that's second to none. An all-inclusive build package means no unexpected surprises and much more value; landscaping, fixtures and fittings, in-house interior design advice and the unique Barrett Better Build Programme that keeps clients updated every step of the way. With over 700 completed builds, they have a world class system for every project from concept to completion and are constantly striving to deliver great outcomes and results. New Zealand owned and operated, Barrett Homes has a wealth of outstanding builds in their portfolio and a well-earned reputation for making things happen.
The company's in-house designers are specialists at making wishes come true. Clients can choose from a comprehensive list of packages or customize a bespoke plan tailored to their own needs and dreams. Plus, every Barrett Home comes with a 10 year independent building guarantee for extra peace of mind. Design and construction solutions include assistance with subdividing land, removing an existing dwelling, remove and rebuild projects, or a complete home and land package. In the past five years Barrett Homes have developed over 300 lots in subdivisions they have controlled from start to finish. Finance is also made easier, as the Barrett team works closely with lending institutes to bring about a successful purchase and coach clients through the process and increase their financial literacy. In addition, access to an online build management program allows clients to track their build through the construction phase. From start to finish clients are able to view progress pictures, approve change orders, and view any documents relative to their build.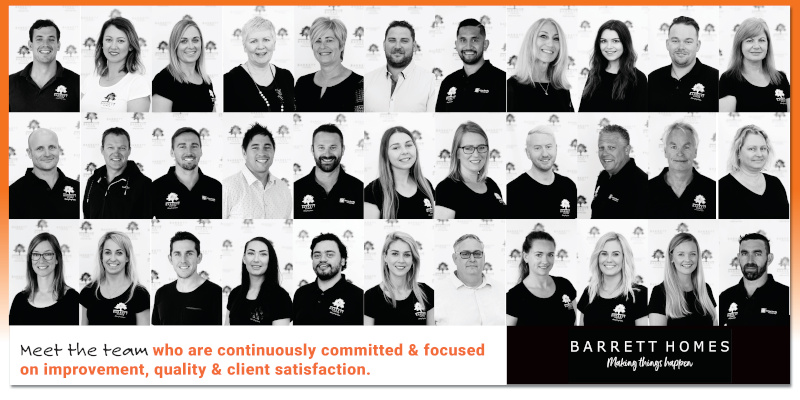 Phil O'Reilly, General Manager of Barrett Homes, recounts, "Barrett Homes was formed in 2013  by co-owners Grant Eynon and Mike Bryant, so we're now into our seventh year of trading. The company grew exponentially from making three or four homes in the first year to where we now do about 120 per year across the nation. When you grow so big over a short amount of time, sometimes how you deploy your strategy, execute your action plan, grow your business, isn't as structured and rigorous as it should be. So, in the fifth year, we went through an organisational adjustment, we had a good look at ourselves and introduced sound policies, streamlined our workflow and workforce, added wellbeing to our Heath and Safety system, invoked cost reduction initiatives with the aim of being agile and functional to ultimately achieve best practise and create a world class environment/culture. This process is always challenging, but we got through it and now operate a business that's effective, efficient and fun."
Barrett Homes is not a franchise and they are proud of this. Fundamentally, it operates from the head office in Papamoa, Bay of Plenty where the majority of staff (38) are based, and also has satellite locations in Cromwell and Whangarei. Growth is imminent and there are irons in the fire to switch on two other regions over the short term. All the IP and systems are the same at each location. Standardization is the key to reduce variation and maximise consistencies. The company has a different recruitment model than most and has a waiting list of people wanting to work for them in a variety of positions. O'Reilly explains, "Instead of hiring third party recruitment companies, we hunt and gather ourselves. We network across the industry and encourage referrals. If it's someone we want, we'll go through that process internally. Our induction process allows newcomers to quickly understand our purpose and what we stand for with a mantra of fronting up and contributing whilst being immersed within a values-based environment. We really strive for a balanced workforce with an array of personalities but with one commonality; we are genuinely good quality people willing to be better than we were the day before. As we grow we have aspirations of growing capability within the business. As new opportunities are created, having our employees as successors when stepping up into a leadership or management roles is definitely a focus for us. We're all about internal movement and opportunities and helping people advance into roles that we know they're capable of." Barrett Homes is split 50/50 between men and women. "We're big on diversity and inclusion," says O'Reilly, "and we offer our fantastic Mums flexible working arrangements before and after maternity leave to cater for the population of people who aspire to be just as successful at work as they are on the home front."
Community involvement is of great importance to Barrett Homes. Their passion for giving back is obvious in the number of community projects and initiatives they sponsor, including those related to mental health & wellbeing. According to O'Reilly, "We have absolute responsibility to look after each other. We encourage speaking up when things don't feel right. It can be hard when juggling the pressures at work and home, so creating a nurturing supportive environment is an important priority for us. We collaborate with other groups and people in the wider region who are also wanting to make a difference to improve our communities and be that point of difference we need to see in local population."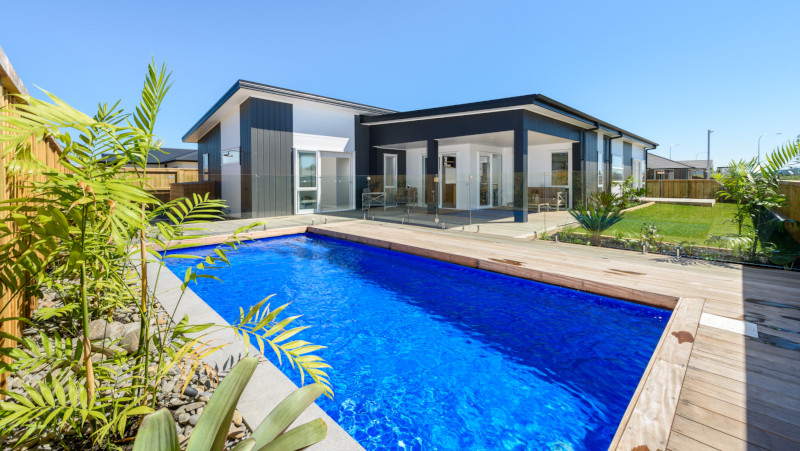 The company has a roster of exceptional go-to contractors they rely on for the builds: DMG Construction; Alluvium Contracting, Z Construction, Phil Vercoe Builders, Complete Electrical Services, Master Plumb and Gas to name a few. O'Reilly states, "Barrett Homes is known to have a great culture, where people want to come to work. We work very closely with our contractors when solving problems to improve today so we can enjoy tomorrow. We pride ourselves on completing a build within suitable timeframes and understand this is absolutely critical to the success of our business. We have a very experienced and professional construction management team who are about quality and safety and doing what we say we will. Knowing our clients are getting a high quality product is the very antidote that will have clients share with friends and family about how happy and easy the process was. Word of mouth is still marketing 101 and a very influential tool to gain more business and build more homes".
Because the business is young and much of the revenue is invested into land acquisition and development, there isn't a huge budget for marketing via conventional TV and radio advertisements. So the team at Barrett came up with an intriguing alternative. Knowing how people love home renovation shows, they decided to take part in an upcoming TV building show. Working hand in hand with the production company, they now have three episodes as part of 'Dream Home Dilemma.' Each one was produced in an area where Barrett Homes operate. The concept was designed to share what the company does. To let people know it has a transparent process; that they make it simple from the beginning right through to completion. It also introduces the Barrett Better Build Programme that maps out the process and how customers can participate. The episodes will be airing on Prime TV.
The project went so well that they're also filming another series: six 30-minute episodes, all around the building process and focusing on house affordability, employing locals, and using natural materials. O'Reilly notes, working with Sir John Kirwan and bringing to life the vision he and his wife Fiorella have for the build has been thoroughly enjoyable and rewarding. "We're trying to bring in some young people in the area to coach them on building processes. This could morph into another show to promote the construction industry. We will be working with local Iwi and businesses and growing the people who domicile from the area. This is a big part of our strategy and a real focus for us now and in the future. We will go out into the community and find companies willing to offer roles as apprentices for people who otherwise might not have those kinds of opportunities. Our philosophy is about connecting community through construction. A very powerful Maori proverb asks the question, what is the most important thing in the world? The answer is 'He Tangata' (the people). So, while buildings and infrastructure are great, you've got nothing if you haven't got your people on board."
Currently, the company uses consultants and third-party engineers. The long-term strategy is to have a team of civil and structural engineers in-house, which will help to drive builds through the pre-construction and construction phase at pace which will help reduce lead time. When it comes to eco-friendly construction, Barrett strives to adhere to Homestar standards for efficient homes. Homestar is the comprehensive national rating tool run by the Green Building Council. O'Reilly admits, "People are apprehensive when it comes to things like going solar as technologies are constantly being improved and there is always a conversation around the capital expense needed upfront vs the savings over the long term. We're also working with DVS on mandating ventilation systems for all Barrett home builds for moisture control and air quality. Educating our clients about the benefits is a big part of this standard approach and we stand by this as an absolute must for living in a healthy well-ventilated home. Our lighting systems are all LED and we use high quality insulation too."
In essence, the company is about having a great working culture, good top-down policy deployment and client satisfaction. Helping people achieve their hopes and dreams and delivering to a high standard and long-term quality. Ever the motivator, O'Reilly continually inspires his team with words to live by. In summing up what makes Barrett Homes special, he shares, "We are personable and authentic, creating a great story and bringing people along for the ride. We are wrapped in a little bit of mystery and not afraid to get out of our comfort zone. We are passionately creative and innovative, we are an ideas company and ready for opportunity."
AT A GLANCE
Barrett Homes
What: Design and construction of quality homes
Where: Head office in Papamoa, New Zealand
Website: www.barretthomes.co.nz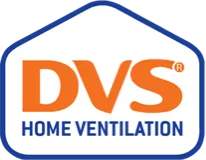 DVS – www.dvs.co.nz
Today's buildings are constructed and designed to seal in the heat, making it much harder for them to ventilate naturally. It's a dilemma many Kiwis have been struggling with for years – keeping the warm air inside while also letting in fresh air. Ventilation is the mechanism by which we do that. 
A ventilation system works to control moisture and condensation, continuously pushing out the moisture-laden, stale air, replacing it with fresher, drier air. In other words, taking the bad air out and letting the good air in. 
Recognized by Asthma NZ, and BRANZ appraised, DVS Home Ventilation complies with New Zealand's building code. DVS can specify, design and certify acoustic building code-compliant ventilation systems with requirements assessed by building consent. We manufacture, install and service a full range of home ventilation equipment and control the delivery of the product from manufacturing to warranty support. 
Our involvement in providing ventilation systems for new homes spans more than two decades. Kiwi-owned, with 90% of the components made in New Zealand, DVS uses energy-efficient technology to ensure the best results for our cold, damp climate. 
DVS provides a design and quotation directly from plans. E-mail your plans to hoppy@dvs.co.nz and receive a quote and specification within 48 hours.