How the flexible work revolution can increase productivity, profitability and well-being, and create a sustainable future
The 4 Day Week is an essential and exceptional guide for business leaders and employees in almost every industry. A book with global implications for a sustainable, profitable future, heightened productivity and improved work-life balance in the realm of the fourth industrial revolution. And let's face it – wouldn't we all love to achieve career success while putting in less hours at work and enjoying the benefits of more time for ourselves?
Author Andrew Barnes successfully trialled and implemented the 4 day week concept in his own New Zealand trust company, Perpetual Guardian. The key was not forcing a pre-planned set of rules on employees, but rather asking his staff to design a four-day week using the 100-80-100 rule that would allow them to meet 100 percent of their current productivity requirements at 100 percent of their current salary but with a 20 percent cut in work hours. The results of the eight-week trial were astounding. Happier, healthier people, more engaged in their personal lives and productive in the office.
The experiment made news around the world and is changing perceptions around the traditional ways of working. The book 4 Day Week is now an international bestseller that spurred the creation of 4 Day Week Global Foundation to fund research into the future of work and workplace well being. Andrew Barnes and his partner, Charlotte Lockhart, now dedicate their time to expanding the 4 day week community on a global scale. For more information and to order the book, visit www.4dayweek.com
Exclusive Q & A with CEO Charlotte Lockhart
Business View Oceania recently had the pleasure of speaking with Charlotte Lockhart, CEO of 4 Day Week Global about the revolutionary concept and how it can positively impact the future of work, health and the planet Earth. The following is an edited transcript of our enlightening conversation.
BVO: Welcome Charlotte! Can you tell us the evolution of 4 Day Week Global?
Lockhart: "Thank you for the opportunity to share our story. Andrew and I developed 4 Day Week Global after a rather successful trial of the 4 day week in our business. Because we ran research alongside it, it got quite a lot of global attention. We divide our time between New Zealand and the U.K. and as we travelled, we connected with a lot of interesting people. They all wanted to tell us, "This is going really great; this is my perspective," and it became clear that there was a need for a community to create a uniformity that meant that all the great work that's being done around the world had a cohesion and a way of communicating and being inclusive.
So that's when we decided that making 4 Day Week Global was what we wanted to do. The entire 4 Day Week movement is funded by Andrew and I. We are setting up some foundations to ease the burden because we're just two people and we need to have that additional reach. We're trying to essentially create a collective and that's what 4 Day Week Global realistically is."

"As we moved on with our conversations, we saw there was a need for three things. One is funding – and that's where the foundations will come into play. Two is the boots-on-the-ground strategy. That's why Andrew wrote the book because there are so many people out there who wanted to buy him a coffee and pick his brain – and we literally cannot drink that much coffee! So the book gives us an opportunity to share the idea. It's not just about our experience, it's also about working less as a society. We're in the process of licensing consultants to help companies be 4 day week compliant. They'll be independent contractors and we'll give them a system where they can support businesses in this journey.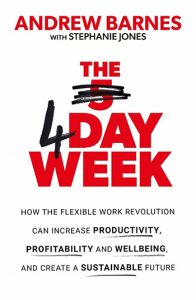 "We are also launching a Global Academic Board because quality research and aggregation of 4 day week research is also needed. A single place where government, businesses and other interested parties can find the correct information. In addition, the Board would be responsible for identifying gaps in that research and ensuring that research projects take place around the world to fill the gaps. They will also support companies to do internal research projects for their own Board and key stakeholders to prove why 4 day week is a good thing."
BVO: When you and Andrew implemented this concept at Perpetual Guardian and then published the book, did you have any idea of the overwhelming reach it would achieve?
Lockhart: "Not at all! This started as a really interesting academic exercise, as far as Andrew was concerned. It was something we were looking to do as an internal adventure into measuring productivity, because if we could improve productivity, could we reward our staff with time off. And we have an excellent PR firm that said, "We can get you in the local paper and possibly Breakfast TV and that would be worthwhile for your brand." We agreed, and it just went from there. We were fortunate to do research alongside it and we had a couple of excellent academics in New Zealand that became very actively involved in the project. That was a large part of the success.
"Unfortunately, the mindset people have is '4 day week = 3 day weekend' and that's not what we're talking about. The conversation now is, how will we work if we believe that AI is going to take all our jobs. And we will have different ways that we need to work. This is something we have to confront and should have an answer for. Because otherwise, the technology piece will choose the answer for us. For the most part, the working population is made up of people who want to come to work, feel that they've done something meaningful for the money they've earned, and feel productive and then go home to their families and be able to have proper lives.
"We were talking to a University professor and he couldn't get his head around it because he was so infinitely busy and what he couldn't understand was that his busyness was getting in the way of his ability to be productive and put boundaries in place for himself. But when you are hyper stressed and burnt out, that ability isn't easy to see."
BVO: Are you a victim of your own success with the popularity of 4 Day Week and how many days do you work?
Lockhart: "We are so much more fortunate than 95 percent of the workforce because we have self-determination of our use of time. And because of the type of work we do, our work life looks like most people's dream life. I spend my days talking to really interesting people about changing the world. However, we do have to exercise some real discipline around having time out from doing it. We don't necessarily need more time with each other because luckily we work together. But we need to make sure we spend most of our life together not working.
"So we have little hacks. For example, we use iPads for reading digital magazines and articles, etc. and we don't have email on them. So we can take off for the weekend and read as much as we want but we're not distracted by constant 'ping' notifications. I also have two telephones, my "big life" phone and a personal phone. So, particularly when we're travelling, my elderly mother can get hold of me. I carry that phone with me and when it rings I answer it. Compared with if I'm taking some time out, I can leave my work phone. These are just simple things in our world of being 'always on' that a lot of people don't do.
"We actually block out space in our diary so we take time out to refresh. Andrew is a keen sailor, we have a lovely classic yacht in New Zealand, so he will take off and sail on weekends and get a true break. It's quite well recognised that if high performers have an active sport or method of relaxing which takes them away from their ordinary life, it tends to create higher performance. The sailing is a huge part of that for Andrew."
BVO: Where will you take it from here, will there be a second book down the road?
Lockhart: "I think so. The focus for us at the moment is the boots on the ground strategy so we can help more companies start to activate a 4 day week. And the Global Academic Board so we can set loose on the world a process by where all this research is being gathered and structured. We're in discussions with the publisher around what the next book will look like. Arguably, there will be two because it's an interesting story around how you create a movement and where that movement goes and how it was formed. And then there's an additional how-to guide, an airport-style book, where people can be looking for little life hacks. Some are things that a business might do to create a better workforce. And others will be ones we can take personal responsibility for. Focusing on how to create work that allows you to be high performance without burning out."
BVO: What are the most important insights you'd like to share?
Lockhart: "Our top objective at the moment is to get a structural program in place that means Andrew and I can walk away from the day-to-day running of the program and work on more of the high-end aspects; engage with governments and have discussions with large businesses like Microsoft to show them how they can find the way. Most companies are grappling with what is the future of work and how do we create this? Doing yoga at work only goes so far towards propping up mental health in the workplace… the key is that we're just working too much. If your life is falling apart because you're not having any time to be you, then anything you do at work isn't fixing that.
"Do we want a planet that's falling apart because we work too much? We can't fully create gender balance until we give men the same opportunity to step out as we've given women to step up. There are a lot of issues that sit with us. If we accept that our young people want a different way of working – and it's statistically proven that they will forego income for time – how are we going to create that workforce that they will participate in? They watched us work hard and burn out, and they were brought up not having us around as much as they would have wanted, and they watched us be conflicted by that and they're saying for themselves, I don't want that. If we accept that we always want the next generation to have more than we did, a better life, that better life may well just be not burning out. Having more time.
"Andrew often says, you don't get many opportunities to change the world, and there was a moment in time when we realised the effect of what we were doing and that this was an opportunity to change the world. We feel it was our social responsibility. And we couldn't be happier to take it on."
Charlotte Lockhart and Andrew Barnes share their insights on how the"4 Day Week" concept and book would help people as they adapt their businesses and navigate reopening during the new COVID-19 version of normal. Here are their thoughts:
"It's quite amazing what we have been able to do here in New Zealand. It helps being an island (actually a group of islands) at the end of the world. We have been having lots of conversations about 4 Day Week. It's a very interesting time.
"Reopening after Covid-19 presents us with some unique opportunities to reshape and frame the workplace in a style more suited to our lives. Prior to the work from home requirements the biggest obstacles to flexible and remote working arrangements were management fear and trust. How can I measure your productivity, and how can I make sure you are doing your job if I can't see you?
"Now that our people have been working well, and in many cases more productively, these questions have been answered. The irony is that the workers who wanted flexible and remote working were the parents. And we gave it to them while the children were off school and had to be educated at home! The future of work is here. Let's grab the productivity, social, health and environmental gains with both hands."