Bord Products
Your Specifications, Your Product.
Business View Oceania features Bord Products, with the help of CEO Melinda Moodie and Evan Danahay, for our Manufacturing View.
Since their establishment in 2014, the team at Bord Products has supplied clients across Australia in the spheres of joinery, interior fitout, cabinet making, and furniture, with commercial timber panel and veneer products. Supporting key initiatives such as FSC, PEFC, and Responsible Wood, Bord Products are setting a great example for the timber industry in environmental best practices. The company is a proud member of the Timber Veneer Association of Australia and gives back to the Australian community through their relationship with the McGrath Foundation. Bord Products are doing a wonderful job assisting their industry and the wider community, and will continue to provide top quality products to the timber market while doing so.
Bord Products contributes to the market through their extensive range of quality panel and veneer products. With supply partners such as Elton Group, George Fethers, Ventech, Briggs Veneers, Australian Panel Products, Laminex and D&R Henderson, Bord Products have amassed a broad network to ensure all clients are matched with a product to suit any specification. Available products include timber veneer, plywood, laminate, melamine, raw substrate, reconstituted veneer, and edging.            The company also supplies specialty products; black PVC waterproof boards, white PVC waterproof boards, and OSB oriented strand boards. All products and specifications, including Bord Products' specialty range, are available for distribution Australia-wide, and are built by design through the company's advanced manufacturing facility in Melbourne, Australia.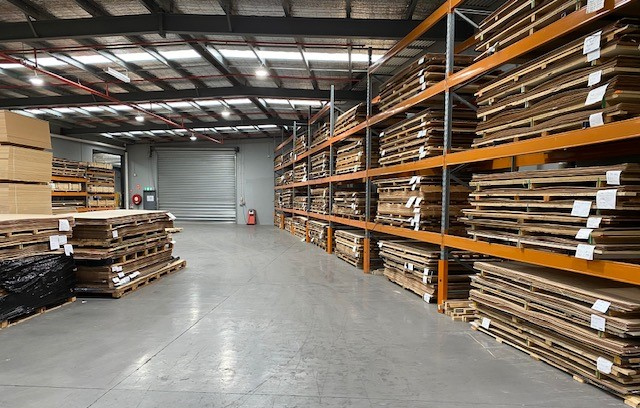 Evan Danahay, Operations Manager at Bord Products, shares his knowledge surrounding processes and innovations that help to facilitate Bord Products' great work. "We have a purpose-built veneer and laminate press, located within our Melbourne headquarters. We actually commissioned it out of Spain six years ago, and it's been a big hitter in the factory. It's very heavy-duty, puts out great volumes of product, and can be run with minimal people. It's cost-effective, has state of the art safety features, and gives us great control over the products we produce. We are actually one of very few companies in Australia that can make use of something as advanced and heavy-duty as this."
Continued innovation through technological advancement is a core value at Bord Products, and one they take very seriously. Alongside their custom-built press is a new automated Storage Cell. Taking over work that would traditionally be carried out using forklifts, the storage shelf improves safety by moving workers off the floors, and greatly increases efficiency. Mr. Danahay explains, "There are three factors that make this piece of machinery so effective. First of all, because of the way it operates, we can store probably three times as much in the same space as we could previously. It runs 24 hours a day, seven days a week, so it works while we aren't there, and that in turn means we have more time to focus on bigger, better, more important things like timber selection and specification details. We seem to be the only ones in the industry that have gone down this path as far as we have; we have implemented technology across the board, but have really focussed our efforts in our warehouse and manufacturing areas to streamline those processes as much as possible."
Bord Products foster core values of speech, efficiency, quality, and leading-edge technology in their business to ensure the best customer experience possible for clients of any size. A team of 18 staff split between logistics, manufacturing, and sales, Bord Products appreciates the diversity of all staff and is proud to represent and support all manner of cultural identities, gender identities, and ethnicities within their workforce. Operating under a primarily business to business structure, it is incredibly important to the company that all voices are heard and considered of equal value, Mr. Danahay explains. "If we can't make our own staff feel heard, then the companies and suppliers we work with won't feel heard either. A big part of running a successful business is building those relationships and giving your partners confidence that they can come to you with any ideas or issues they might have."
Recently, as a result of the ongoing COVID-19 pandemic, Bord Products has expanded their range of supply to retail customers and end users. Mr. Danahay elaborates, "We previously would only deal with companies that used our products to build their own. But everyone's been at home working on their own projects during lockdown, so the DIY boom has really made us take a look at our internal processes and shift how we do things a little bit to suit those retail customers. It's a market we haven't really been a part of before now, but we think our business translates very well into other spheres, and we have the skill and expertise to facilitate it, so we have been able to take advantage of the opportunity."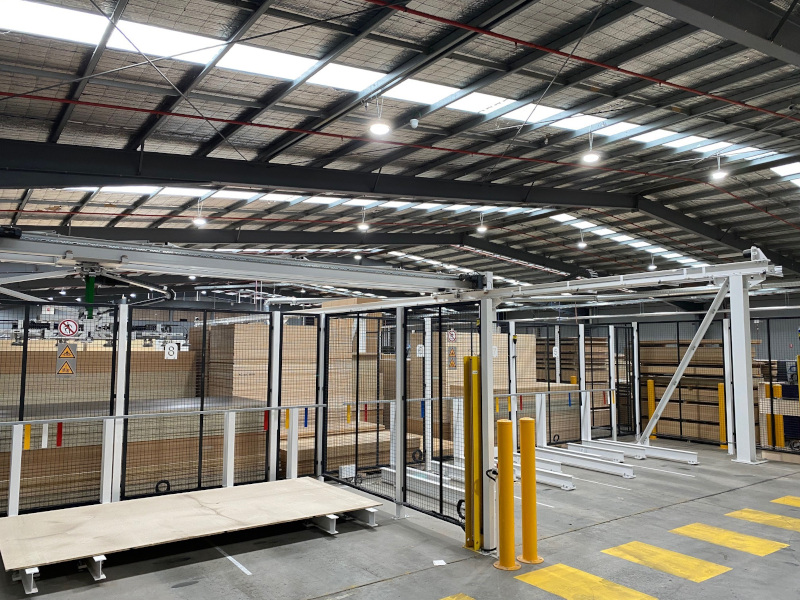 In differentiating themselves from their competition, Bord Products credits their success to their flexible approach, positive applications of technology, and the expertise of their leadership. Having been a part of the timber industry for over three decades, CEO and founder of Bord Products Melinda Moodie has been a vital player in developing the business to its current standing. "Melinda has been in the business for over 30 years, and that experience and expertise definitely shows," Mr. Danahay shares. "When founding the business, she brought with her a wide network of customers and business partners. They already knew her, even if only by reputation, so there was a high level of trust in her ability and therefore ours as her staff. I would attribute a lot of our success to her wealth of knowledge, and her motivation to do the industry justice."
In the future, Bord Products aims to continue expanding their facilities and using technological advancements to their advantage in all areas of the business. As Mr. Danahay explains, they will also continue to lead the way in environmental best practices. "As well as being FSC and PEFC certified, we are very waste-conscious on site. We recycle and upcycle wherever we can, producing as little waste as possible overall. I would like to see some more uptake of that sort of working environment in the industry going forward, and think it's important for associate industries like construction, furniture, and facilities management to do the same." Bord Products plans to utilise their new facility, located in Somerton, Victoria, as an educational hub for the timber industry, and would like to invite associates from the wider industry such as designers, architects, suppliers, specifiers, and end user representatives to be part of raising awareness both inside and outside of the industry on relevant issues and educational initiatives.
Bord Products would like to conclude by thanking their extensive network of suppliers, business partners, and long-term clients for their support. George Fethers, Elton Group, Halifax Vogel, Prima Architectural, Carjo Furniture, Timberfy, BorCor Commercial Joinery and Australian Panel Products.
AT A GLANCE
Bord Products
What: Manufacture and distribution services of timber veneer and panels Australia wide
Where: Bord products is headquartered in Melbourne, Australia
Website: https://www.bord.com.au/

HOMAG Australia Pty Ltd – www.homag.com
As a HOMAG subsidiary HOMAG Australia is a full-service provider for the woodworking and furniture industry including the networking of single machines and integrated plants, e.g., from design to data preparation for production, production control technology and digital assistant apps such as Edge, Sort and Assembly assistants. With head office in Sydney, the country has sales, service and admin staff stationed in NSW, VIC, QLD, WA and NZ (also servicing ACT, NT, SA and TAS).
We have great respect for the design capabilities and expertise of our customers. Therefore, we support our customers from stand-alone solutions up to very flexible integrated machine concepts to give them the greatest possible design freedom while at the same time enabling them to manufacture the products economically. Our customers are served by our incredibly competent employees, who have an extremely high level of industry expertise and who are enthusiastic about our products. We offer excellent service throughout the complete life cycle of your equipment. After all, that's where long-term customer loyalty is decided.
Our team of specialists have a high level of process engineering expertise for all product segments. In cooperation with our HOMAG Group partners, we can provide our customers with comprehensive support – from product cost optimization to optimal manufacturing concepts and complete networking, from the web store to goods tracking after delivery. In addition to service and intensive customer contact, we offer the largest selection of customer-optimized combination options with over 120 machine series and the associated automation and software solutions.
When it comes to digitalization, we are right at the forefront. HOMAG's digital assistants and apps enable our customers to support their individual workstations during specific operations. This is how we accompany our customers step by step on their approach to digitalization. In addition, by using HOMAG simulation software, performances can be calculated exactly, and our customers have a high investment security and the assurance that the required performances are permanently guaranteed.
From idea to your solution. Customers can grow with HOMAG Australia from an SME to a group of companies.  HOMAG Australia – All from one source