Brianna Tilt Trays & Towing Pty Ltd
Getting noticed in Tasmania
Business View Oceania interviews Clint Broomhall, CEO of Brianna Tilt Trays & Towing Pty Ltd, for our series on Transportation and Trucking in Australia
When you see that large brilliant yellow vehicle on the road, you know Brianna Tilt Trays & Towing is on the job and taking care of business for somebody in need. Since its establishment as a body shop (Brianna Bodyworks) in 1970, Brianna Tilt Trays & Towing Pty Ltd has become one of the largest heavy vehicle towing and repair workshops in Tasmania – offering a variety of specialised services including towing and vehicle recovery, escort, panel repairs, sandblasting, spray painting and baking for heavy duty trucks, tankers, semi-trailers, buses and earthmoving and mining equipment. Heavy vehicle drivers from across the state rely on family-owned-and operated Brianna for professional service, expert advice and a broad range of replacement parts and accessories.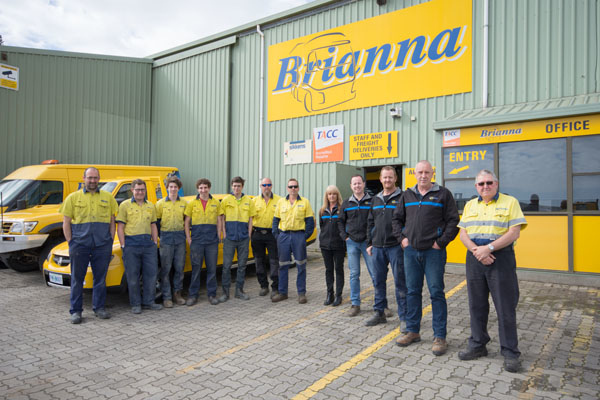 CEO Clint Broomhall has been in the auto industry since 1985, starting his apprenticeship in the family business under his father. He was soon joined by his brother Kurt, who apprenticed as a painter in 1991. When their father retired in 2011, the brothers took over as partners in the business. Broomhall reflects, "My dad started the company as a body shop but, as time went on, the car repair side of the business wasn't doing well financially, so the decision was made to move into truck smash repairs and towing. We just started saying no to the car insurance work and general customers off the street and concentrated on trucks. At that time, we had one tow truck which basically towed the cars into the body shop for repairs. We decided, instead of doing crash tows, to start moving machinery and access equipment. We began working for Coates Hire (called Wreckair back then) and ended up buying their trucks and doing all their work for them. And the transport business grew from there, to the point where we have 13 trucks now."
Towing & Transport and Smash Repair are two different divisions of the business– each with a separate IBAN (International Bank Account Number). Broomhall reports that the transport division (Brianna Tilt Trays and Towing Pty Ltd) did about $2.4 million turnover in 2019 and the body shop (Brianna Bodyworks Pty Ltd) was about $1.8 million. He adds, "The business was based originally on my parents' property, only five minutes from where we are now in Burnie. The present facility is in an industrial area with offices, customer car parking and staff parking. We are also a Manheim Auctions rural agent – so we have a compound where all crashed vehicles are kept and auctioned for sale. And we have a workshop which is over 1,000 sq. metres, and a spray booth that can do semi-trailers and trucks, and a wash bay and sandblasting bay. Parts we just buy in as needed; we do our own general maintenance and body repairs but we use all the manufacturer dealerships to do specific servicing."
The northeast side of Tasmania being a mountainous region can present difficulties for vehicle recovery. Many accidents involve rolls down over banks, and there's always a challenge for the tow drivers of not having room to manoeuvre. The Brianna Tilt Trays & Towing team has attended truck rollovers where there is timber to be collected; milk tankers where the milk has to be pumped out first before recovering the truck. Every call is a different scenario.
As for competition, there are no other tilt tray fleets, only a few single operators. And only a couple other truck smash repair businesses in the state. Brianna Tilt Trays & Towing doesn't work with long-term written contracts, it's mostly repeat work on providing the service and several loyal customers use the company exclusively. "We rent our property from Debruyns Transport," says Broomhall, "and right from the beginning they've been our biggest supporter – both with transport and we paint all their trucks and trailers. They have about 130 trucks so they keep us very busy. We use about $10,000 a month in paint."
And speaking of paint… a pivotal moment for the company came when they decided to paint their trucks yellow. At the time, they only had four or five trucks – in a variety of colours because they were purchased second-hand from different places. Broomhall believes that image is the best thing for customer relations because if you've got something that looks clean and tidy and late model, customers feel like they're getting something for their money, rather than turning up with dirty trucks and old gear. He recalls, "So when we were ordering our first new truck we decided we wanted a fleet with a standard colour that wasn't fancy but that not many fleets run – and not many people had yellow trucks. So we painted them all the same, and then everybody started seeing them and telling us, "We see you're carting for so-and-so, you could do our work, couldn't you?" And we'd say, "Yes, we've always been able to do your work." But they didn't realize that until the yellow caught their attention on the road and they were seeing, say, a tractor from another company on the back of our truck. We've always had lots of tilt trays, they just hadn't noticed them because they were white."
Dispatch is an around-the-clock responsibility which Broomhall does himself. "I take the calls and we have a roster, so I know who's available and then I pass the job on to our employee," he says, adding, "I'm on call 24/7 but I don't actually do ALL the job." There are seven drivers currently on the team, with an opening for another one at the moment. However, finding skilled workers isn't easy and there is a great deal of training involved for a new hire. Brianna Tilt Trays & Towing does in-house training for operating a tilt tray, then pays for additional training to get them compliant. Because they do a lot of access equipment, elevated work platform licenses are required. To do machinery for TasRail, they need excavator and loader licenses. To drive tractors on and off at dealerships they need a load and unload ticket. They need forklift tickets; a Marine Identification license for TasPorts; tollways – it takes about four weeks after a new driver is hired to get them up to speed before they're working on their own.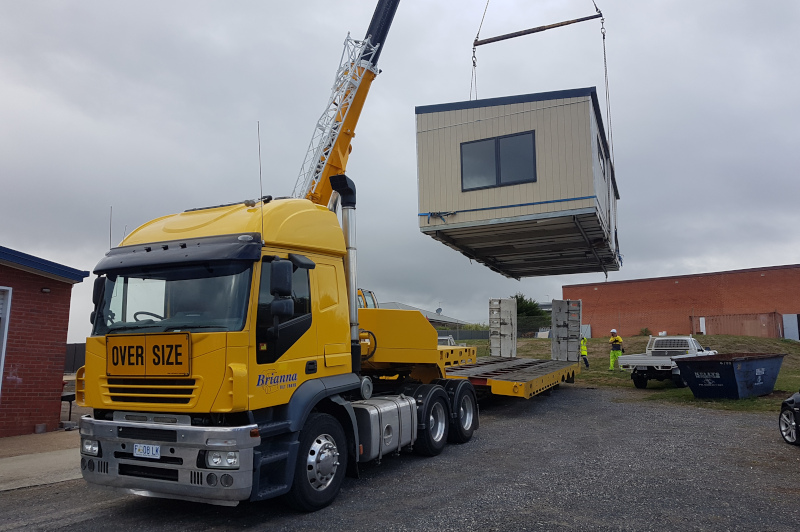 Achieving Trucksafe accreditation is a source of pride for the entire Brianna Tilt Trays & Towing team. Broomhall explains, "It basically means we're being independently audited and it gives our customers peace of mind that we're meeting all the core chain of responsibility codes that just recently came into effect in Australia. According to the law, a company can't engage a subcontractor without checking them out first to make sure they're doing everything right. For example: if you employed me to do a job and I was working someone 20 hours a day and they fell asleep at the wheel and crashed, then you would be liable because you didn't make sure that my company was running a proper show and you only used them because they were cheaper. All the bigger companies are worried about making sure that everybody they use has all their safe work systems in place. We used Trucksafe, so people can check us out for accreditation. That tells another business that Brianna has everything in place and we're safe to use."
Even though Brianna Tilt Trays & Towing is based in Burnie, they have trucks in Hobart every day. Looking to the future, growth plans would include dedicated depots in other areas for drop off and pick up and then operating in those areas, primarily. And the business is destined to remain in the family for some time to come with the third generation already at work. Broomhall notes, "My son, Seton, completed his panel repair apprenticeship and works in the body shop. He also has his truck license, so he covers if we're flat out or if people are on holidays. My brother Kurt and I are half owners; Kurt oversees all the truck repairs and maintenance and also drives when people are sick or on leave. My dad doesn't drive the trucks anymore but he does a lot of piloting for us. When we have wide loads he's one of the escort vehicles. "Brianna" is a combination of my mom's name (Anna) and my dad's (Brian) put together.
"I'm proud that we do the work to the best of our ability and we also look after our employees the way they should be. We're running the best gear available, paying employees like they should be and still maintaining a fair price. One of the reasons our employees stay long-term is that they love the variety of work. We do everything with a tilt tray: furniture containers, crashes, oversized loads, overweight loads, and every pickup and delivery is a different place so it's not monotonous. They do big jobs, and some weekends, and they might get a call out occasionally in the night but generally it's a five-day week, during the day. No shifts. Brianna is a great place to work and a great company to work with."
AT A GLANCE
Brianna Tilt Trays & Towing Pty Ltd
What: Family-owned, heavy vehicle towing and repair business
Where: Burnie, Tasmania
Website: www.brianna.com.au

Webster Trucks – www.webstertrucks.com.au
At Webster Trucks, our ambition is not just to be the market leader for trucking services in Tasmania, but to foster a business culture of continuous improvement. We're one of the only trucking companies in Tasmania certified to ISO9001:2015 standards. Our staff have been trained to the highest industry standards, and our technicians regularly participate in competency programs to ensure they keep pace with the latest developments and technologies.
Webster Trucks is committed to providing the best customer service in the industry. That's why our motto is 'we go the extra mile'. It's not just a cliché but an actual promise we make to our customers.

WB Truck 'N' Trailer – 6431 1511
WB Truck N Trailer Pty Ltd was formed in September 2008 with us being appointed the North West Tasmania Parts & Service Dealer for Iveco Trucks Aust. Pty Ltd servicing both Iveco and International trucks – in May 2016 we were also appointed the Parts & Service Dealer for Western Star/MAN/Dennis Eagle.
We have been associated with Brianna Tilt Trays for over 12 years and congratulate them on being chosen for the Australian Transport & Service Industry feature.
Brianna Tilt Trays are our preferred supplier for the recovery of disabled vehicles – they always deliver and nothing is ever a problem when we request a tow job to our Workshop.
We are also fortunate that some of their fleet comes under our banner and we carry out service and repairs to these vehicles.
Congratulations Clint and Kurt and we wish you well for the years to come and look forward to continuing our relationship.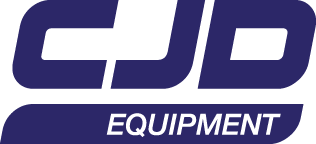 CJD Equipment – www.cjd.com.au
Founded in 1974, CJD Equipment is a leading provider of world class equipment and trucks. Offering a diverse range of products from iconic brands such as Volvo CE, SDLG and Kenworth and DAF trucks, CJD's branch and dealer network spans the country, with 24/7 sales, parts and service support from over 500 highly experienced staff.