Business View Australia – February 2015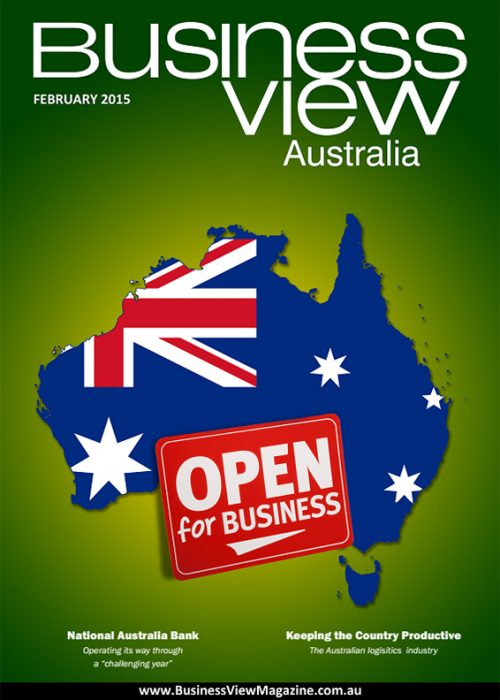 Dear Readers,
Welcome to the January-February issue of Business View Magazine, a global leader in business-to-business profiles, news and opinion – whose mission is to detail the inner workings of today's most influential companies through direct one-on-one contact with their key decision-makers.
As always, our coverage touches a broad range of industries.
Informative features in this month's edition include coverage of bounce-back efforts for National Australia Bank, a financial services organization with more than 42,800 employees — operating more than 1,750 stores and business banking centers — and more than 529,500 shareholders.
The group's main operations are based in Australia, with interests in New Zealand, Asia, the United Kingdom and the United States. The group aims to have fair products and services, fair fees and charges and world-class relationships built on the principles of help, guidance and advice.
The additional provisioning for UK conduct related matters helped make 2014 a challenge, combined with capitalized software and deferred tax asset (DTA) provisions was disappointing. However, these issues are being dealt with transparently and appropriately, and the underlying performance of the group remains strong.
The group continued to better align the business to the changing economic landscape and customers' evolving needs. It continues to focus on enhancing the core Australian and New Zealand franchise. At the same time the group continues to manage its international portfolio for value.
Check out the full-length banking piece as well as other feature stories in this month's issue, including pieces on the franchising expansion plans of the Hooters restaurant chain and BHP Billiton's demerger plans that include creation of an offshoot enterprise called South32.
Please feel free to contact me with any comments or critiques, as well as suggestions for ways we can continue to provide a publication that's pertinent, educational and entertaining.
I wish you good health and good business.
Regards,


Stuart MacAdam | Editor-in-Chief