Business View Australia – June 2015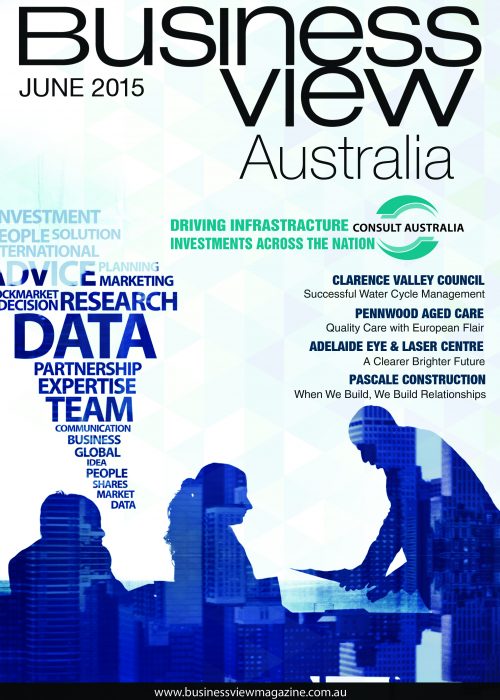 Dear Readers,
There is a very special organisation on our cover this month. Consult Australia, an industry association for consulting companies in the built environment sector, has been representing its members interests to industry, the community and most importantly to the government, since 1952. The association has witnessed Australian firms growing their local operations to a national and in many cases, a global level, over the years and has been at the forefront of these changes.
Construction companies and the organisations that provide Australia its infrastructure have served to make the country one of the most modern in the world and given its citizens facilities which are at par with the best globally. In this issue we explore the workings of some of the top names in this sector – Clarence Valley Council, Buildcor Projects, Pascale Construction, Vati Projects, Mitie Construction and the Green Building Council. Our in-depth articles will explain what makes these organisations leaders in their respective areas.
The healthcare and aged care industries in Australia are growing rapidly and we take a look at several companies which have achieved the highest standards of excellence in this sector – Adelaide Eye & Laser Centre, Pennwood Aged Care and Grace Villa Aged Care.
The franchise industry in Australia has the second largest number (after New Zealand) of franchise outlets per capita in the world. We studied the franchise business model by analysing the operations of two franchise businesses, Kick Juice Bar and Superfinish Express, and discovered the factors that have led to their success.
Australia is known for its meat industry and is one of the largest exporters in the world for this product. In this issue we take a close look at the Australian Wagyu Association, Bald Ridge Wagyu and Genetic Edge Australia and Greg's Family Gourmet Butchers and find that this industry is strongly rooted in the country and has excellent prospects.
We hope you enjoy reading this issue as much as we did preparing it!
Best wishes,

Ravinder Kapur | Editor-in-Chief