Business View Australia – September/October 2015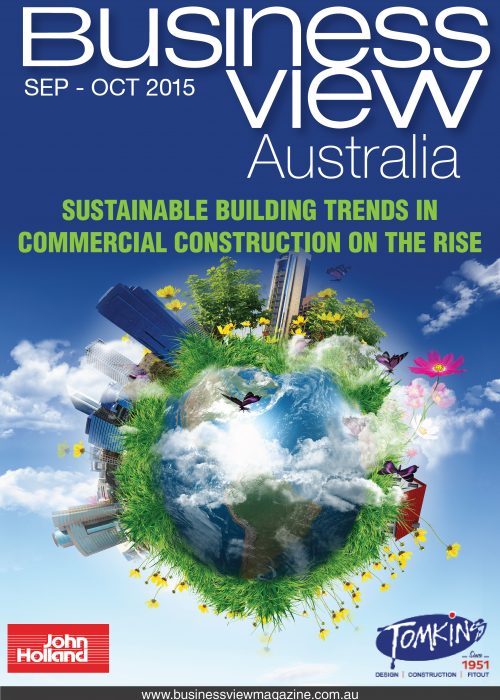 Dear Readers,
Australia's construction industry has established a strong reputation for itself by virtue of having completed a number of difficult and large-scale projects, not only in the country but in overseas locations as well. John Holland, which has recently become a part of the China Communications Constructions Company, is an extremely successful and reputed building contractor. In the current month's issue we examine its accomplishments with special reference to its adoption of sustainable practices.
Tomkins Commercial & Industrial Builders Pty Ltd is a family owned and managed construction business based in Queensland. In the last six decades it has completed a number of prestigious projects. Our story looks at the company's management philosophy and the reasons behind its growth and spectacular achievements.
The market for luxury homes is booming and Riverstone Custom Homes, a 20 year old company based in Perth, has established itself as an accomplished builder catering to the high-end of the market. We find that it offers a range of options and its prices provide excellent value for money. In this issue we have covered another company headquartered in Perth, Pritchard Francis, a leading consultancy specialising in structural and civil engineering.
With our special focus on the construction industry this month we have reports on J & B Projects, Lewence Construction and T.C. Clarke and Son and we examine the important role being played by bodies such as the Australian Constructors Association and the Green Building Council. We also bring you details of an association in the related area of property, the Real Estate Association of Australia.
This issue also carries a story on Mondo Di Carne, a wholesale and retail meat business catering to customers in Western Australia and beyond. Finally, we have a piece on an institution promoting the cause of energy conservation, the Energy Efficiency Council, which has been set up by several leading companies in the energy and electrical related fields.
We hope you find the information about the featured companies and associations useful and interesting.
Best Regards,

Ravinder Kapur | Editor-in-Chief