C.I. Maintenance Services
Caring for Christmas Island
Business View Oceania interviews representatives of C.I. Maintenance Services for our focus on Facilities Management in Australia
Located in the Indian Ocean approximately 2,650 kilometres northwest of Perth, Christmas Island boasts some of the most fascinating and unique ecosystems on earth. The island is an Australian non-self-governing territory known for its biological diversity, providing habitat for endangered, threatened and migratory species as well as endemic species. Residents of the island highly value its beauty and the relaxed lifestyle, even while facing the distinct challenges associated with living as a small population (approximately 1200 people) isolated by long distances and expensive flights. That being said, Christmas Island is a unique and rewarding place to do business and call home.
Originally a mining company on Christmas Island, Phosphate Resources Limited (PRL) is a diversified and integrated business with a portfolio that includes a phosphate mine, fuel supply including storage and distribution to the Island, pilotage services and a shipping business. The company operates on Christmas Island and has Corporate Headquarters in Perth, Western Australia; Agri-businesses and Fertilizer Production in Malaysia and New Zealand; and Logistics and distribution networks in Singapore and Malaysia.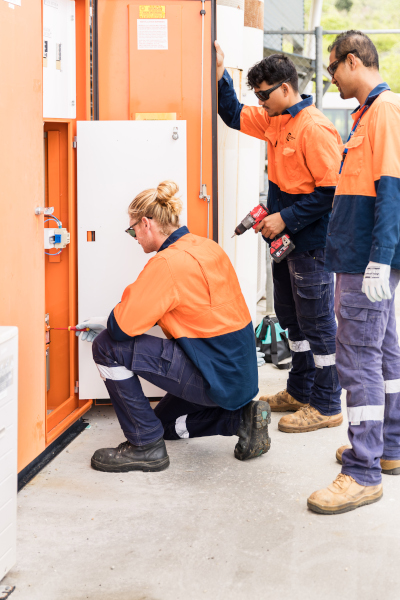 Formed in 2007, C.I. Maintenance Services (CIMS) is an integral, wholly-owned subsidiary of PRL that covers Facility Management, Cleaning, Grounds Maintenance, Construction, Demolition, Trade Services and Project Management to a range of key Government clients on Christmas and Cocos Island. Key clients include Australian Border Force and Federal and State Government departments plus large national private companies.  CIMS is led by an outstanding team with extensive experience in asset and facilities management, mining, construction, security and project management. The result is unparalleled service and performance delivery to customers.
Nicholas Gan, COO at Phosphate Resources Limited (PRL), recounts, "CIMS is part of the Phosphate Resources Limited group (PRL), which started operating on Christmas Island in 1990, primarily around phosphate mining – phosphate being a mineral that goes into fertilizer for agriculture. Over three decades, the company has diversified its interests, with a really strong presence on Christmas Island. One of the businesses we started was an asset maintenance business, called C.I. Maintenance Services. It began with some small asset maintenance contracts and quickly evolved into managing a range of government assets on Christmas Island. We now manage a large proportion of the Commonwealth assets on the island."
PRL being the biggest private employer on the island and having a large cohort of skilled tradespersons, it was a natural fit for CIMS to get into asset maintenance and provide a range of services to the Commonwealth. CIMS covers a full suite of maintenance services, from cleaning and security, to engineering, all the trades – electrical, mechanical, hydraulics, etc. – as well as pest control and fire services.
Dayle Silcock, General Manager of C.I. Maintenance Services, explains, "The nature of our business is to provide a quality service to our clients, and being on a remote island that could mean anything. Essentially, we develop solutions for them. In terms of growing the business, we look at the services we currently provide to customers and what other services they need, that could be better sourced from a local provider. For example, there are some mainland providers that supply more operational type services for the assets, as opposed to maintaining it, which is what we do. So, it's an opportunity we would consider for future growth."
Much of the company's growth and success is due to an emphasis on building strong relationships with their customers. Over the years, CIMS has strived to be the provider of choice to the Commonwealth – cultivating good relations and being there at times when they need something is critically important.
The COVID-19 pandemic impacted CIMS significantly on Christmas Island but in a positive way. According to Dayle, "We were actually asked at short notice, to prepare critical facilities for quarantining purposes, thus the COVID pandemic certainly had a big impact in terms of intensifying the services we provide on the Island."
Nick adds, "With the COVID situation Christmas Island was quite fortunate being a remote island, and the Commonwealth through the Territory Controller moved quickly to lock down the place. Equally challenging was the impact on flights when state borders were shut down. That really added to the advantage of CIMS being a maintenance provider with a strong local presence. Not being a fly in, fly out operation, they were able to provide a full suite of services to the Island throughout the pandemic."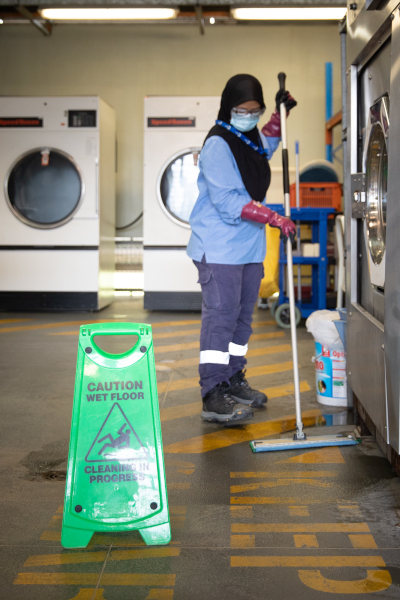 Being so remote, finding a skilled workforce on Christmas Island is one of the biggest challenges for CIMS. Over the last 12 months, having access to a larger workforce that was less transient gave CIMS the ability to provide continuity of service. However, there are still challenges, in terms of training and having the appropriate trainers for specialist areas. Logistically, it's been hard to get the right people in and out of mainland Australia, due to flight restrictions.
Like any successful organisation, CIMS is always looking to continuously improve its operations. However, up on Christmas Island, technology poses its own set of challenges. Internet and basic services aren't always available, depending on weather and other conditions. With maintenance being a high-volume business, the company relies on software platforms to manage the work. That technology is ever-evolving and does play a significant part in the way they operate.
Dayle acknowledges, "Our client, being the Commonwealth, can be quite demanding but the exciting part for us is being able to provide unique solutions that work for them and at the same time to bring our staff along on that journey. Having the opportunity to work across the many facilities we operate gives them exposure to different conditions and experiences, which they can take forward in their careers, should they choose to leave the island." About 70 percent of current employees either started with CIMS or have worked on and off for them. The business as a whole is made up of people who were there from the beginning.
In September 2019, CIMS took on a larger portfolio of assets for the Commonwealth, which resulted in significant expansion. Today, the facilities they look after range from camp-style accommodation, through to apartments and other types of accommodation facilities. The major asset they maintain on the Island is the Commonwealth Detention Centre.
"Typically, our Commonwealth clients will come to us with a scope of services they require," says Dayle.  "Other clients may come to us with an idea, whereby we will develop a solution for them. It's a bit of a mixed bag. We tend to tailor things around what our clients want but with our Commonwealth clients it's a bit more prescribed. Sometimes they find it challenging, or less cost-effective to develop a solution that originates from the mainland and they'll come to CIMS and ask if we provide this. On every occasion our focus is on developing solutions for them, even if we don't provide the services under our current work scope. Through the larger PRL group of companies, we're able to provide additional services from fuel supply through to shipping, earth moving, waste management, road maintenance… it's endless, really."
Nick notes, "Being part of the Phosphate Resources group does offer an advantage to the business. Having, for example, the backing of an entire mining operation that has access to resources in the trades – heavy machinery operators, engineers – it gives CIMS some additional firepower to be able to offer additional services."
Looking to what they'd like to achieve in the next three to five years, Dayle shares, "For CIMS, it's all about creating a business that's sustainable into the future. In particular, retaining Commonwealth contracts but ensuring that there's also the opportunity to grow outside of those contracts. Like any other business, creating a sustainable base for the island and local jobs is probably the most challenging and important part, going forward."
Nick concurs, saying, "It's about sustainability of the business and I think the way we do that is by training the younger generation and the local workforce and bringing skills in-house, so we're less reliant on labour from the mainland. Our advantage is that we are based on Christmas Island and so the more services we can provide in-house, the stronger chance we have of sustaining the business for the long term."
"Our aim" adds Dayle, "Is to be seen as a provider of choice in the region, and to grow the business into other remote locations. Christmas Island has a population of approximately 1200, of which PRL employs directly about 220, including 64 people at CIMS. The PRL group's, direct and indirect employment accounts for almost 50 percent of the Island's workforce and a staggering 49 percent of its Gross Regional Product (GRP), thus a significant part of the economy. It's not just important for PRL and CIMS, but for the entire economy and a future for the community of Christmas Island."
AT A GLANCE
C.I. Maintenance Services
What: Provider of a full suite of facilities management services; wholly-owned subsidiary of the PRL group
Where: Based on Christmas Island, Australia
Website: www.cimsfm.com.au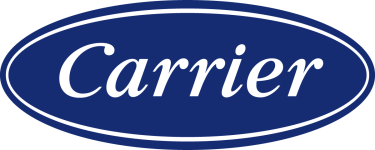 Carrier Australia – www.carrieraustralia.com.au
At Carrier, we are one of the experts in HVAC – and we have a history to substantiate it. Established since 1932, Carrier Australia builds on the legacy of Willis Carrier, the founder of modern air conditioning. Today, this legacy and expertise enables us to deliver superior service & solution offerings for your HVAC systems. As one of the world leaders in HVAC systems, we integrate our products and services to offer "turn-key" building solutions.