Cable Logging Geraldine
Tackling Steep Slope Harvesting
Business View Oceania interviews Helen May, Michael May, and Tracy Burrows of Cable Logging for our Clean and Green focus.
The team at Cable Logging Geraldine has been servicing the Geraldine area in forestry harvesting services since their founding in 2001. Led by senior representatives Helen and Michael May and Tracy and Avrill Burrows, who each have upwards of three decades of industry experience, the team utilises the latest innovative harvesting methods to provide high quality, cost effective and timely logging at low cost to the environment.
Cable Logging Geraldine provides mechanical felling of plantation forest trees, followed by basic cutting and processing, and loading for transport. Over the last 20 years of operation, the company has evolved to a highly mechanised business model, and maintains an approach that is focussed on innovation, flexibility, and health and safety. The team is located in Geraldine, South Canterbury (New Zealand). Mr. May explains, "We save having a lot of workers on the ground by making sure our machines are placed strategically and kept up to date. We have great knowledge of our location having been here for so long; our familiarity of the land and the long-term relationships we have built here are of great value for us and our forest owners."
A close-knit team of eight, Cable Logging Geraldine fosters values based around trust, respect, family, sustainability, and transparency. Being a family-run business, Mrs. May says employee relationships are paramount to their success. "We have a responsibility to keep our worker morale high. Look after your workers, and they'll look after you. And in an industry like ours, where the work can be very unsafe if you aren't doing the right thing, it's especially important that we are all on the same page. So I'm really proud that we have built such a strong team; the level of trust between all of us is very high."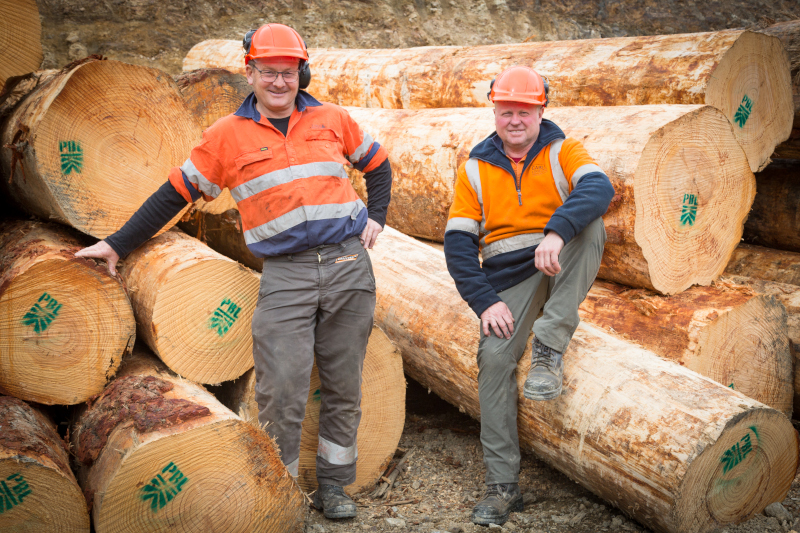 Health and safety is the main focus for senior management at Cable Logging Geraldine, Mr. May shares. "We do everything we can to actually keep workers off the hill. Given that we work on steep slopes and in all sorts of weather, its incredibly important to keep our team safe. So there's really nobody on the hill at all on our jobs; by keeping them out of the danger zone, we eliminate the risk of felling accidents while boosting the efficiency of the entire operation. Further mechanisation has been a real priority for us and we keep an eye out for the newest developments in that space to see if there are any new machines or methods of operation that we may be able to take on." Another area of focus for the company is sustainability. Protecting local waterways and native ecosystems is always on mind during operation, Mr. May says, and is supported by their relationship with the Forest Industry Contractors Association (FICA).
FICA was formed in 2002 to give a common voice on relevant issues and to foster development and improvement in the New Zealand forestry contracting industry. Cable Logging Geraldine is one of over 200 member companies supported by FICA through advocacy, industry information, resources, representation, networking, and education and training. CEO Prue Younger is committed to her role and truly passionate about providing a national voice for those within the industry. Mr. May shares that Cable Logging Geraldine is proud to be associated with the organisation. "We have a great relationship with FICA. Their support has been invaluable to us as a small business, and we feel confident that we will always be backed by them should any industry issues arise."
Challenges facing Cable Logging Geraldine over the years have been largely based around natural disasters and weather events such as flooding and high winds. The changeability of the forestry market and the seasonal nature of the industry has also posed some challenge, but Mr. Burrows explains the specificality of their operation has allowed the company to remain strong. "Log Markets tend to soften every so often and as this occurs it can affect production plans. But because we work in the one area and for the one forest owner, we are uniquely protected in our space. Our forest owners have been very good to us over the years; we have a fantastic relationship with them and our values are very much the same. They are loyal to us and us to them, so we feel confident when slumps happen that our workers will remain employed."
Cable Logging Geraldine is contracted through New Zealand forest owners Port Blakely. Port Blakely own and manage forestland across New Zealand, growing, harvesting, and replanting radiata pine and Douglas fir species. The forestry management company supports domestic and international markets through forest-to-mill production, and the provision of harvesting and marketing services to private woodlot owners. Port Blakely maintains an international certification system covering 38,000 Hectares in New Zealand.  This certification is focused on its social, environmental, and economic performance. Port Blakely also have stringent environmental policies in place to ensure the natural environments around their forests are protected.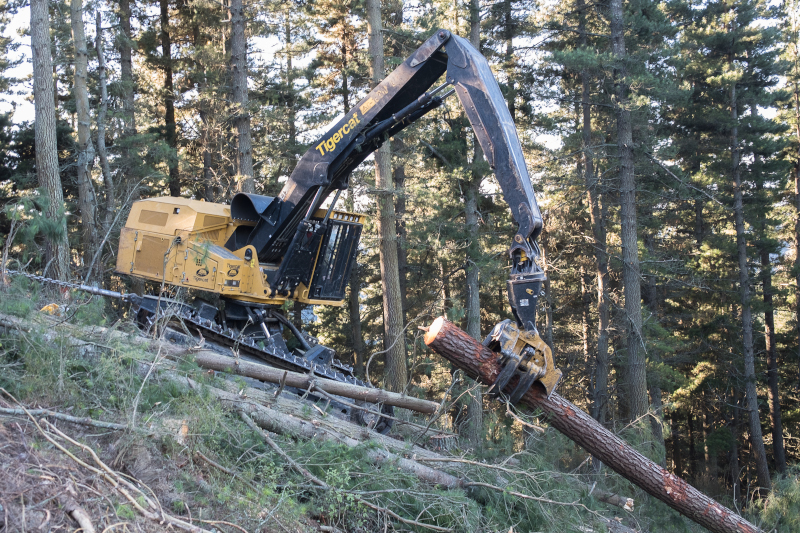 Apprentices, trainees, and students are supported by Cable Logging Geraldine's involvement in the three-year apprenticeship scheme. Mrs. Burrows explains, "We are continually training our workers to get them up to and beyond New Zealand qualification standards. Our commitment to apprentices has always been a big part of what we do, but under this new scheme, we are able to better align them with government standards and report our findings more efficiently. We recently had one of our guys win the New Zealand Modern Apprentice of the Year award." Other awards and nominations for Cable Logging Geraldine include Logging Contractor of the Year through the Canterbury West Coast Wood Council, an organisation the company joined this year.
Cable Logging Geraldine supports education and sustainability initiatives such as the 'Wood is Good' programme, which was recently held at Geraldine Primary School. Cable Logging Geraldine worked in collaboration with Port Blakely and Philip Wareing (Ltd) to provide an educational session on the importance of sustainability in the forestry industry, and gift students with Be Safe, Be Seen vests. Looking to the future, senior management at Cable Logging Geraldine hope to continue developing the company for eventual transition of ownership to valued employees.
Cable Logging Geraldine would like to conclude with their thanks to their forest owners, Port Blakely, alongside key suppliers, service providers, and business partners in the Geraldine area that have been a huge part of company success. The company will move forward confident in their ability to do as they have always done; provide safe, efficient logging services for the Geraldine region that help to protect and develop their local economy and environment.

Pirtek South Canterbury 2000 Ltd – www.pirtek.co.nz
Pirtek South Canterbury has been operating in the Mid/South Canterbury and North Otago areas for over 20 years, offering a 24/7 hydraulic repair service with 2 fully equipped mobile service vehicles Pirtek South Canterbury prides itself on safety, service and product.
Phone 0800 747 835