Cairnfield House Rest Home & Hospital
Where Quality and Loving Care is Assured
Business View Oceania interviews Lesley Middleton, Facility Manager of Cairnfield House, for our focus on Aged Care & Retirement Villages in New Zealand
Love and laughter abounds at Cairnfield House, resonating through every room of this bright and cheery, family-owned rest home and hospital in Whangarei. With a wide range of activities and outings on offer, residents are encouraged to stay social, active and involved, while receiving professional, specialised care tailored directly to individual needs. Qualified nursing staff are on hand 24/7, plus regular visits from a wide range of specialists such as audiologists, physiotherapists and counselors provide additional assistance and support. Since Cairnfield House is a dual-care facility, clients are able to transition from rest home to hospital with ease on the same premises; assuring continuity of quality, loving care.
Facility Manager, Lesley Middleton, recounts, "The Villa itself was built in 1904 as a family home and was purchased back in the late 1980s by a husband and wife team. They had about 12 residents, and during the time they owned it they added a total of 26 beds that were rest home only. I started in 1993, having just turned 30, and it made me realize how much people could want you and thank you for caring for them. They are just an amazing bunch of people, the elderly. I still have so much passion for this place."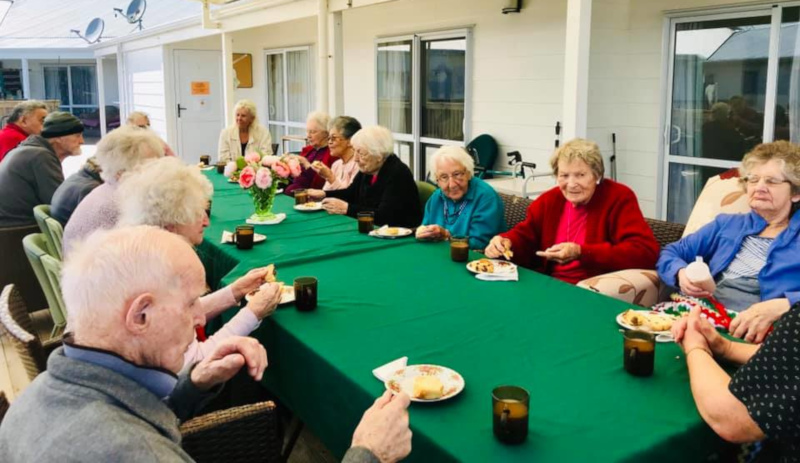 In 1996, Cairnfield House was purchased by a family that had great plans to build a hospital and have very luxurious rooms. The owner set about doing just that – starting in 2000 with 22 new beds and lovely big rooms. In 2005, another 14 beds were added, purpose-built for hospital. Unfortunately, it didn't actually become a hospital during the 16 years he owned the facility. But that was his goal and his dream. So, when he sold in 2012, the new directors set about making those changes. And they never looked back. By 2015, Cairnfield House had 40 dual-purpose hospital/rest home beds, as well as the remaining 26 rest home only beds. In 2016, plans were submitted to build a new, fully-equipped, 20-bed hospital wing, with lounge, dining, kitchenette, nurses' station and medical room. It opened officially in April 2018.
Middleton recalls, "It was a mammoth job in order to provide the services to the wing. We had to do a total refurb to the kitchen, the laundry, the main lounge, even the staff room got a bit of a makeover, because we just couldn't sustain them all without doing that. This is all just starting to finish… we're coming up to Christmas and feel like we need a rest from renovations. It's been ongoing for the last three years."
Throughout her career, Middleton has continued to educate and improve herself, and that dedication transfers to her team. When she first started at Cairnfield there was a staff of 30 and a full capacity of 26 residents. Today there are 95 on staff and accommodation for 88 to 89 (depending on double-room capacity, when husbands and wives come to stay.) "When couples are here, they do bring a special something with them," Middleton quips. "It's just a fun place to be. Mind you, we do have to work – we work hard and provide excellent service, but at the same time we care for each other. The staff, the residents, and their families. We have a lot of wonderful, supportive families."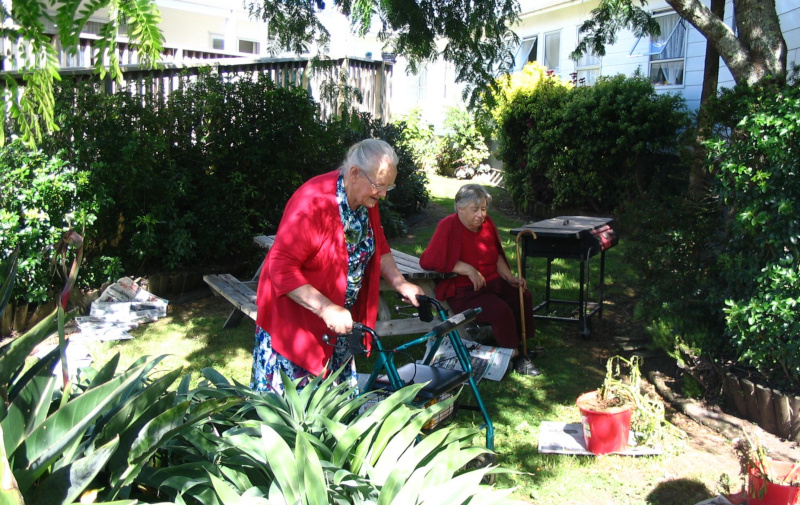 Along with services, Cairnfield provides recreational and community activities under the guidance of activities coordinators, Gemma and Julie, who are in training to become diversional therapists and love entertaining the residents. "Happy Hour is the highlight of every Thursday," Middleton adds. "It's a very big deal, everybody comes and we try to get them to dance if they can, or just feel part of the whole scene. And we challenge them with different things, like Halloween, and we have all sorts of fun with it. If they don't feel they can celebrate that, they don't have to. The choice is theirs, but most people like to get dressed up and do something crazy every now and then."
Cairnfield House is and always has been privately owned. A model that has provided wonderful opportunity for growth, while retaining the culture of an institution with a family kind of atmosphere and values. Most of the residents are local, although some come from the upper north area if those facilities are full. And Cairnfield does have a waiting list. Not surprising, given that the rooms look like hotel rooms. Just lovely. Middleton admits, "There is a great deal of competition with other rest homes in the area, and more coming. Two large facilities – one is about to open, one about to be built. There are many major corporate facilities around and we're standalone, but in a way that is one of our advantages. Families and friends comment on the fact that there is always something going on, there are people everywhere, the atmosphere is welcoming. It's very personalized and, of course, we're not for everybody but we seem to be a preferred home by a lot of people and that's good for business."
Culture is important in the Whangarei area, and the staff at Cairnfield House interact with the community in that way. On special occasions, they host the Kapa Haka (Maori performing arts) groups. From the primary schools to little babies from the play centres; and the Sistema organization (using orchestral music making to empower young people) playing stringed instruments. Having children coming through is a special treat. And pets are great therapy, as well. According to Middleton, "We have birds around the house, and we used to have cats but we had issues with overfeeding, so now families are welcome to bring in their dogs. The SPCA also comes and brings their animals. Every day we're likely to have someone's animals coming through. And they don't just bring it to the family member, they walk through and let other people pet them. A few years ago, one family member came in with a giant white rat on her shoulder. Needless to say, I screamed and ran for my life. She only did it the once. But it's amazing what can happen here. The other day someone came with a puppy and a kitten, both on leashes. It's wonderful, and I welcome anyone to just come to have a look and meet us."
Cubro is a long-time supplier of the facility's medical equipment – wheelchairs, beds, etc. They make regular visits, even though they're not in town. Many smaller companies in the local area are also recognized as valuable suppliers. When it comes to priorities for the next few years, Middleton notes, "Our Director always has something new planned! But keeping ourselves as the best, and staying full, those are the goals we have every day. Our motto is "Quality and Loving Care is Assured" and that's what we will continue to do."
Because of the aging in place strategy, keeping people at home longer, they are a lot older and more frail when they come into care. "Even in the rest home environment, very few are coming through for rest home care," says Middleton. "The facilities being built now start out as retirement villages with extra rooms attached to them. And then they add hospitals and dementia. But there are trends for mental health issues, too. The future in that regard will be challenging. Including looking after the mental health spirit in our own team. I hope they feel they can come to us. We support them through education, training, trying to make sure they have an awareness and understanding.
"We are dealing with more palliative care than ever. Even though we are a hospital and it's what we do, a lot of it is so emotionally draining. To combat that, we have regular staff meetings where we can share our feelings. And we try to do some fun things, as well, so it's not all dealing with serious issues. That's where my activities coordinators really help because they involve the staff in the fun. So even if they're feeling tired or down they can have a change of scene and laughter within the daily job. Laughter is absolutely the most important thing to a person's mental health and we're very proud to have that as part of the special care we give to the residents, to the staff, to everyone."
AT A GLANCE
Cairnfield House
What: 86-bed rest home and hospital
Where: Whangarei, New Zealand
Website: www.cairnfieldhouse.co.nz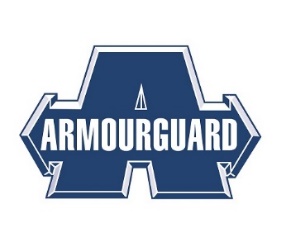 Armourguard Security – armourguard.co.nz
Protecting New Zealanders for 80 years 
As New Zealand's most experienced security services provider, we have been safeguarding people and property for more than 80 years. From small beginnings in 1939, Armourguard Security now operates around the clock in every part of the country.  Having a team of more than 2000 security professionals ensures we can be counted on to meet any type of security need quickly – even in extreme, emergency or short-notice situations. 
Working with many different public and private sector organisations across a wide range of sectors means nobody knows security like we do.  This deep security knowledge and insight means we can take care of it all – professionally and to a high standard – freeing you up to get on with business. From public to private organisations, large to small, ongoing security support to one off jobs. What's more, security needs can change over time.  That's why we offer fit-for-purpose security solutions designed to help your organisation succeed. 
As New Zealand's only nationwide provider of guards, patrols and cash and high value goods security services, our offering is second to none.  This enables us to tailor the perfect security solution for your short- and long-term security needs.