Central Heating New Zealand Ltd
Bringing comfort to Kiwi homes
Business View Oceania interviews Lyall Smith, Director & Co-founder of Central Heating New Zealand, for our focus on Innovation in Sustainable Heating Solutions
With people spending so much time living and working at home these days, overall warmth and comfort is of utmost importance. And Central Heating New Zealand, the largest specialist central heating company in the country, is on a mission to bring that whole home comfort to Kiwi residences. Based in Christchurch, Central Heating NZ services Canterbury residential and commercial clients with high-quality European central heating products and systems and a wealth of expertise. Outside of Canterbury, their technical sales representatives work with a network of experienced install companies, backed by time-tested product reliability and inhouse after-sales service.
Central heating is a method of whole-home heating in which warm water circulates through a closed network of pipes, carrying heat around the house. These pipes can lead to water panel radiators or can be laid in the floor for underfloor heating. It is not uncommon for homes to have a combination of both. Energy efficient heating appliances supplied by Central Heating New Zealand to heat the water for these systems include the latest technology of gas, liquid fuel, and biomass (pellet, log and chip) boilers. As well as the refrigeration technology air to water heat pumps and high tech geothermal/ground source heat pumps.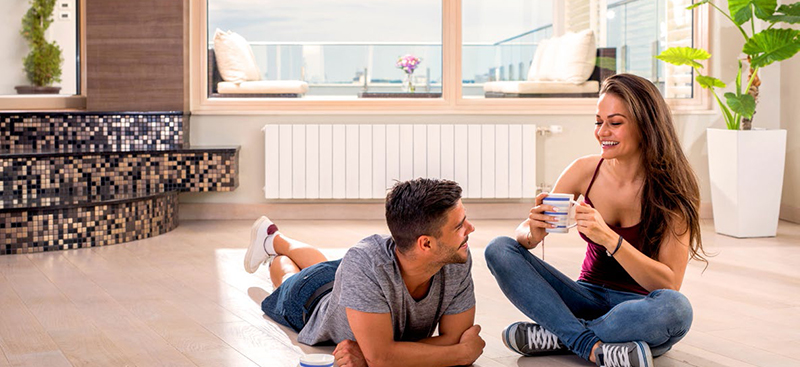 Lyall Smith, Director and Co-founder of Central Heating New Zealand, recounts the interesting origins of the business: "The company was incorporated in 2002 by my brother Lewis and myself from very small beginnings. We have Irish wives and when they came to New Zealand they felt very cold in our homes, so we needed to do something about that. The heating systems experienced in Europe and North America were amazing, so that was our obvious thought. New Zealand is not as cold as many other countries, but the homes are not heated well and are actually colder to live in. Although there has been some central heating, it was hard to attain and so I suppose we popularised it. That's our claim to fame out of the last 18 years – making it more accessible."
Currently, about 98 percent of New Zealand homes have a singular heating appliance like a log fire or a split air to air heat pump that heats only the living room, and just two percent warm all or more of the house with central heating. One thing that holds people back is the perception that a full central heating system is expensive and is more than they need. But they have no experience to compare it to. That's where education to shift priority comes in. Smith admits, "Our systems may seem expensive but we explain the value so they understand that it's worth the investment, in the feeling and the health you get from central heating."
Central Heating New Zealand's primary role is as a distributor to other companies across the country, providing bespoke designs and products for new and existing homes and the growing commercial segment of the market. James Steele, Commercial Design Engineer, explains, "We have a pretty low level requirement for insulation in New Zealand compared to many other countries. So when we're working on a design for a building, we strive to get it heated to a healthy level as well as being energy efficient to run. Those people who have existing homes are the most satisfied because their home is transformed from being inhospitable to super comfortable with reasonable running costs in a matter of days when a central heating system has been retrofitted."
These days, James spends his time designing and tendering for commercial projects, from small commercial up to multi-storey office buildings with hydronic or water-based heating and cooling systems. According to Steele, "Commercial central heating has been in our office buildings, hospitals and schools for a long time because consultants and owners realise that every square metre of those buildings needs to be heated very well. With regards to air flow and ventilation, some aspects of that need to be closely controlled for a healthy environment, so radiant heating becomes a popular choice for those spaces, where you can reduce moving hot or cold air around."

Refrigerant-based air conditioning heat pumps are popular for heating and cooling commercial buildings, but the move in Europe has been towards replacing refrigerant-based systems with water-based systems. Smith notes, "Chilled and hot water systems are much better for the environment, and the buildings' occupants. It's one of the big pushes happening out in the commercial market at the moment and it's right up our alley."
Thirty percent of the company's commercial business is replacement products for existing buildings that have some sort of hydronic central heating or cooling system. Many old boilers in hospitals and hotels are coming to the end of their operational life, so Central Heating NZ replaces plant rooms with new, more efficient condensing boilers, for example. And they supply retrofit solutions that include modern, efficient radiators, fan coils or surface heating and cooling products.
According to Smith, "The majority of our business is the design and distribution of products to plumbers, heating installers and mechanical contractors throughout New Zealand. We do have an installation division here in Christchurch; a team of installers, project managers and salespeople who sell and install central heating for domestic homes. That's utilised as an R & D wing for us as well, to test new products before we push them out to the entire market. Also of note, we've formed a joint venture partnership with Rinnai New Zealand – a large water heater manufacturer with a parent company based in Japan. They are involved in the heating and hot water market, so we became partners to compliment each other and to grow this more comfortable and energy efficient form of heating."
Firebird, a long-time manufacturer in the heating industry, was Central Heating NZ's very first supplier back in 2001. "We also were their first export customer," says Smith. "They have since grown their export markets around the world. We have popularised warm water central heating in NZ with their product and transformed thousands of cold Kiwi homes. In 2019, we jointly launched with Firebird a NZ specific liquid fuelled boiler that suited the local installation conditions and also has a leading blue flame technology burner for the lowest NOx emission currently possible." A more recent supplier in just the past two years is a company called Itap. Smith acknowledges, "They have a very good product – a high flow stainless steel manifold – that is assisting us in getting super efficient surface heating and cooling systems to the market."
Geothermal ground source heating and cooling is a small but important part of Central Heating NZ's offerings as it is the best form of renewable energy, being available 24/7. "We pioneered the systems in NZ and rate this technology highly," says Steele. One of the more exciting advances in the upper end of the market is a new surface heating and cooling concept out of Europe called "activated surfaces" from a company called Variotherm. It has a great future commercially and residentially. It runs in the walls, floors and ceiling using smaller diameter pipes than in standard under floor but works the same way – pumping heated or chilled water through the wall, floor and ceiling panels. Having actively heated and chilled walls, ceilings and floors means maximised comfort and efficiency of the system. Controlling how the system works is very important. Central Heating NZ offers quite a range for different customers, from simple controls with minimal user interface, right to the other end of the market with infinite control via phone apps and sophisticated geolocation switching.
Steele explains, "It's definitely the path of the future. More and more as time goes on, the market is looking for smarter ways to control their homes, and heating and cooling has to play a part of that. What we really struggle with in New Zealand is that the way our homes, and therefore our heating and cooling systems, are built is actually quite different from the way they're done in Europe and North America. So we put a huge amount of effort into developing control systems that are specifically suited to the New Zealand climate and our customers."
Looking ahead, the company's focus will remain on educating Kiwis about the benefits of world class home comfort. But the appliances that run those systems will change over the next few years with global climate discussions and the resulting regulations that will come to New Zealand. Easily transferred into existing systems, new technologies in both the heat pump and the biomass will become a greater part of the firm's offering, and the ways to generate the heating and the cooling will get better. Smith attests, "The major business objective is to encourage stewardship in our industry. Everyone here is serving to a greater cause and I like to encourage that in every area we are involved with, whether it's the dealings of internal staff with each other, or with customers and also our suppliers and the intermediaries we work with."
Summing up the importance of company culture, Steele says, "Speaking as an employee, the unique thing about Central Heating New Zealand is that everyone here gets up and comes to work every day to improve the comfort of New Zealanders. We're very driven on assisting them to understand real comfort and that is a massive difference from a lot of other companies. I've sat in many meetings with external consultants and so many have said how surprised they are that we all have the same goal and drive, rather than just making money or being successful, to expose New Zealanders to the type of comfort all other parts of the world enjoy. And it's a good feeling."
AT A GLANCE
Central Heating New Zealand Limited
What: Largest specialist central heating company in the country
Where: Based in Christchurch, NZ
Website: www.centralheating.co.nz

ITAP SpA – www.itap.it
ITAP SpA is an Italian manufacturer established in 1972 and is a European leader in HVAC industry. Strong in innovative technology, stainless steel manifolds for hydronic surface heating and cooling were developed in 2015, enabling greater thermal transfer for low temperature applications. Resulting in optimal efficiency and comfort in buildings compared with traditional air systems and more ecologically sustainable.