Cerno Group
Going the extra mile
Business View Oceania interviews Donovan Moodie, Senior Manager (Assets) at Cerno Property Services, for our focus on Facilities Management
'Cerno' – a latin word from the Greek 'Kerno' meaning: To discern or distinguish; to reveal insight and understanding; to separate or sift.
Cerno turned out to be a very fitting name chosen back in 2004 by Michael Figg and Paul Di Cristo to represent their newly-established company. At the time, the pair had a vision of creating custom-tailored property investment and project management solutions for clients on the east coast of Australia. Over the years, the founders' focus expanded, and their business followed suit. Today, the four divisions: Cerno Property Services (CPS) – property, facilities and leasing management; Cerno Management (CM) – project delivery services; Cerno Real Estate Investors (CREI) – sophisticated real estate investment products for institutional and wholesale investors; and Cerno Capital (CCAP) – multi-level financing solutions for investors and developers, collectively form Cerno Group.
Based in Sydney, with a satellite office in Melbourne, Cerno Group has earned a fine reputation for its diversified, highly-integrated approach to property, combined with a consistent track record and breadth of experience in dealing with complex assets, ownership structures and projects. The firm caters mostly to major cities and metropolitan areas across Australia's eastern seaboard, with expertise in multiple sectors including retail, industrial, fit-out, commercial, education, mixed-use, hospitality, clubs, health, aged care and seniors' living.
CPS, the Group's property, facilities and leasing management division, is a licensed real estate company. What differentiates CPS from competitors is its integrated approach. Through the close affiliation with the Cerno Group, CPS has understanding and experience across the entire property ownership investment phase – from acquisition to redevelopment, re-positioning, operations and disposal. More than merely maintaining an asset, CPS understands optimising the value of the asset. Donovan Moodie, Senior Manager – Assets, explains, "This achieves a value-add management perspective of each asset we manage. Our philosophy is to manage all assets as if they were owned by CPS."
CPS's approach is to take total responsibility for the management and control of all facets of asset management. Moodie continues, "Everything goes hand in hand – it isn't just facilities or just property management standing on its own. You need a whole suite of things working together to effectively manage an asset. Our services therefore include financial management, risk management, lease & tenancy management, and capital expenditure management. For example, we have a 24-hour help desk, and one of the most important aspects of our facilities management is our insurance risk management component. Because if something catastrophic happens we need to ensure that our client and the asset is protected. In addition, we provide on-site facilities staff to manage engineering requirements, soft services, tenant support, capital expenditure and general asset management."
To give the company a competitive edge, CPS uses industry-leading systems and best-in-class software to provide fully-integrated web-based reporting and analytics that centralises information. Centralising information efficiently enables all stakeholders on a project (contractors, tenants, clients and staff) easy access and linkage into the same systems and the same information. "We believe this makes us a judicious property services company that actively initiates asset management decisions," says Moodie. "Where other companies see difficulties, we look for solutions and tailor our services to clients' requirements and needs. We specialise in enhancing the value of the property investment, reducing costs, mitigating risk and supporting tenant tenure."
Cerno customers and stakeholders consist of individual investors, joint venture partnerships, independent property trusts, institutions, superannuation funds and tenants. The Group recognises their clients as business partners – a partnership that focuses on optimising the value of the asset. Moodie acknowledges, "Our service is custom tailored, and client driven. We are honest, authentic and we go the extra mile. We have a track record of fostering long-term client relationships that are built on mutual trust, integrity and honesty."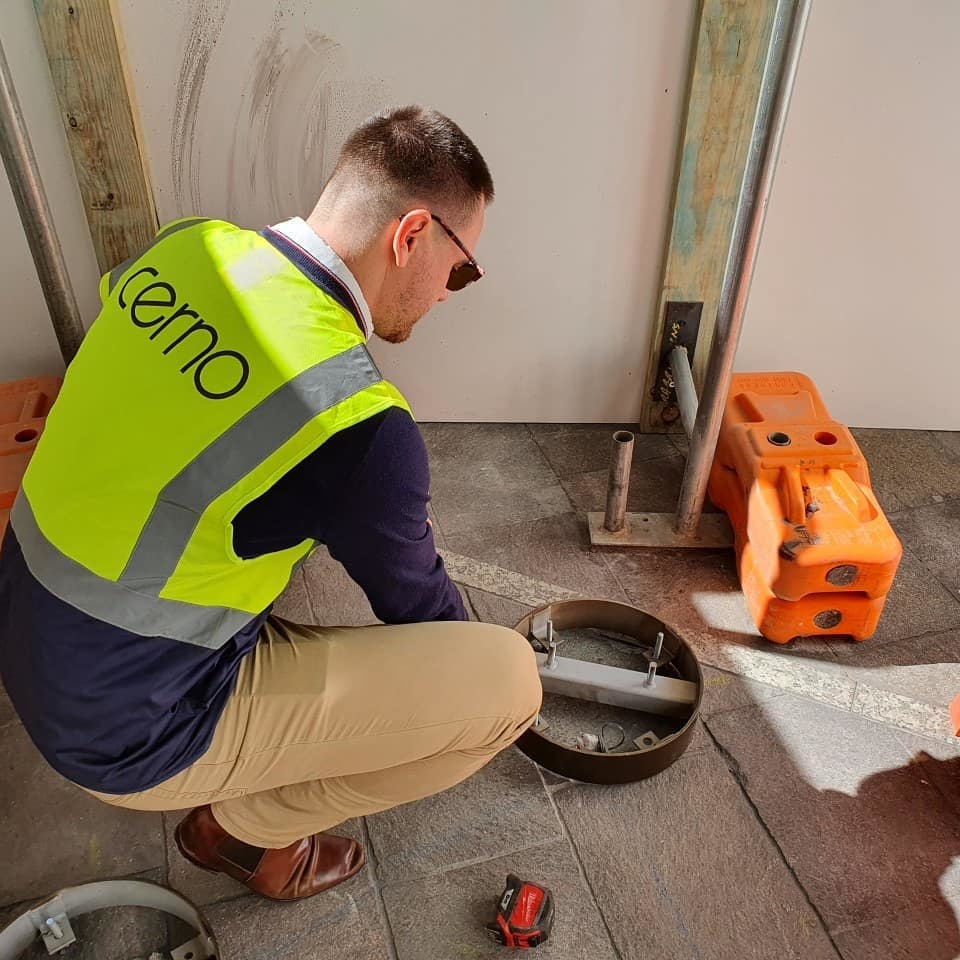 Some examples of CPS's valued clients are Coles, Toga, Lion Nathan, Priceline, Orora, Lathan, BlueScope Steel, I Med, Iveco, Downer EDI, the complex mixed-use asset Woolloomooloo Wharf, and more. Cerno Group specialises in complex assets, complex ownership structures and complex projects. "Where others might see problems, we specialise in finding solutions," explains Moodie. Much credit for creating those solutions is owed to the Cerno team, which consists of 27 staff across the different sectors. All are young professionals, very enthusiastic, with an average age of 35 years.
Moodie proudly shares, "We have longevity ahead of us since we tend to retain our staff long-term. For instance, our Property Manager has been with us eight years. We go to great lengths to make sure all our staff regularly get together. We have quarterly board meetings and staff updates where the different divisions present on interesting projects. That gives them the capability of understanding everybody's division better. It's a big part of our culture. We also have regular social events because it's not all just work. There has to be a bit of play. It's important to us that there's a cross-over between the different divisions because we draw on each other's strengths. That's a great culture to have and allows us to promote from within. We're a lean team of professionals – each and every one specialises in their field and is very capable of working in isolation as well as working in a team."
On the facilities management side of CPS, one individual facility manager can manage multiple sites and multiple contractors because all the verticals and all relevant systems are in place to do it very cost effectively and efficiently. A lot of decisions can be made by facilities managers, or one level up by a property manager, or the next level up to an asset manager, before it has to go to the board. Moodie notes, "In the case of an emergency, or an unexpected event in the middle of the night, for example, you need to be able to mobilise and find services quickly. Our facilities managers are only one phone call away from a contractor to deal with the issue. We're a small team but it's also easy for us to expand as the need requires."
CPS takes pride in using their in-depth expertise to mentor and educate clients on best value for their ownership and/or tenancy. The company's strong, long-term alliances with a trusted network of preferred consultants, builders, sub-contractors and suppliers means they can procure services quicker and with trusted certainty on the quality of services that will be provided. The value add to their clients is the assurance of an expertly and cost-effectively managed asset. Moodie reports, "With our business philosophy of only doing business where we believe we can truly add value, we have identified property owners in the smaller Not For Profit sector as a focus of expansion. We are confident that our differentiation values, our software, our technology, and our best-in-class protocols gives us a solid blue print to be successful in this space."
No longer is facilities management merely the 'repairing and maintaining' of a building assigned to a trades person looking after bricks and mortar. A number of factors are changing the facilities management landscape in Australia. Cerno Group attests that an increased focus and demand on legislation and compliance in the property sector is directly affecting the delivery of facilities management. So too is property insurance that has become exponentially more expensive in recent
years; low interest rates that are resulting in property investments becoming more sought after; and the zero-emission drive throughout the world that is forcing smarter and better operational efficiency of buildings.
Effective and value-add facilities management has now shifted to those teams with ability to demonstrate additional skills – skills in understanding and interpreting legislation, in negotiating insurance, in interpreting investment financials, and expertise in emission efficiencies of buildings. Teams with expertise in these areas, in addition to the core facilities skills, are best placed to become leaders in the field. Moodie sums up the reasons behind the company's continuing success, sharing, "At Cerno Group, we strive to be authentic and contemporary. We genuinely care and have built a professional team of people that go the extra mile to meet our clients' needs. This is how we do business."
AT A GLANCE
Cerno Group
What: A diversified property group with expertise in facilities management
Where: Headquarters in Sydney, NSW
Website: www.cerno.com.au

Scott Winton Insurance Brokers – www.scottwinton.com.au
As a client-focused brokerage, Scott Winton is dedicated to serving the best interests of our clients. Regardless of what type of insurance you're after, whether it's for Property, Professional, Business/Office, Retail, Liability or Specialist Industries, our dynamic team will deliver the solution you're looking for.