Chadwick Forklifts
Wholesale Hire, Service, and Logistics
Business View Oceania interviews Cliff Chadwick and Shane Mathias of Chadwick Forklifts for our focus on Facilities Management.
Formed by husband and wife Melissa and Cliff Chadwick, Chadwick Forklifts was established in 2003 to provide quality second-hand forklifts to clients in metro areas across Victoria, Australia. Nearly two decades later, the company has bloomed into a multi-purpose supplier of forklift wholesale rental, transport, and servicing for customers throughout Victoria and beyond. Now a team of 20, Chadwick Forklifts runs a full rental fleet and supports Tier 1 rental companies in both metro and regional areas. The company is also proud to support small businesses and is committed to maintaining a safe, flexible, and environmentally conscious working environment for all employees in their Sunshine and Braeside (Melbourne) offices.
Chadwick Forklifts offers wholesale rental of buggies, telehandlers, high mast and container mast forklifts, electric reach, walkie reach and deep reach forklifts, counter-balance forklifts, pallet trucks, stock pickers, and WAVE units. They also provide a full range of fixed-price servicing and maintenance for client assets, including site or workshop servicing, log-book servicing, preventative maintenance, and breakdown, emergency, and after-hours repairs. All servicing can be applied to LPG, electric, or diesel-fuelled assets, and is conducted by qualified technicians with OEM training. Chadwick forklifts has a substantial fleet of technicians and service vehicles available to support their clients 24 hours a day, seven days a week. The company also has an extensive transport and logistics division available for all assets, whether they need to be delivered for hire or taken off-site for servicing.
We caught up with Cliff Chadwick (Owner/Director) and Shane Mathias (General Manager) to discuss Chadwick Forklifts' growth since their last feature, in 2021. Cliff begins, "Chadwick Forklifts recently won Rental Company of the Year at the 2021 HRIA Hire Industry Excellence Awards. Since we received that award, we've invested heavily in both people and branch assets. We upgraded our Sunshine branch to a larger premises nearby, which allowed us to increase our staff and expand our capabilities in the northwest metro area. We also spent around $7,000,000 on new equipment, which is all specifically targeted to support local Victorian infrastructure and construction projects. We are now a completely integrated company that is capable of providing for clients across the entire state in rentals, services, logistics, and transport. Our team supports apprentices and senior technicians alike, which is fantastic, because there's a really diverse range of skills, experience, and new ideas constantly being brought into the business."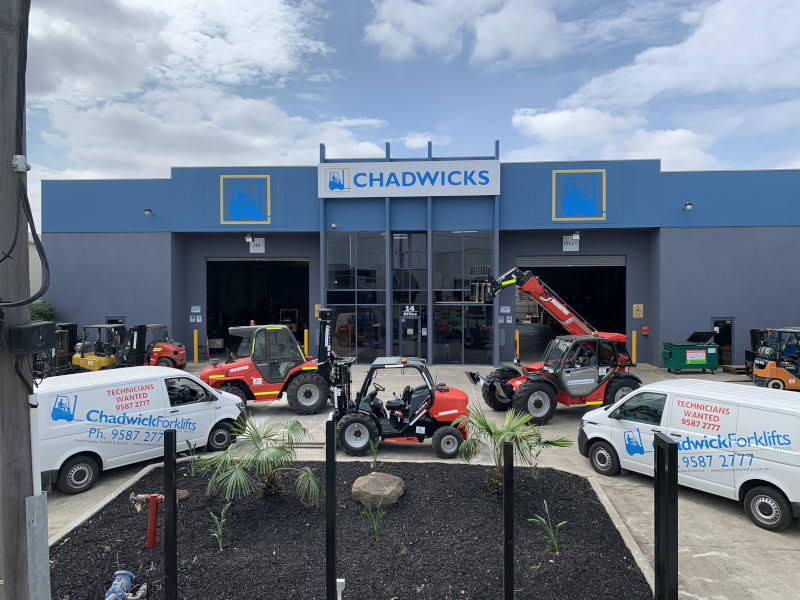 Chadwick Forklifts has recently upped their competitive offering with forklift machines that are used on the majority of Victorian infrastructure and construction projects- large and small alike. Shane elaborates, "Our main affiliations are with CYP, the North East Link expansions and tunnel projects, building the new Sunshine Hospital and MCity in Clayton, as well as all the general city construction that is ongoing around Melbourne. Chadwick assets are across all of those, so we support most of the work happening around the state right now, and by extension, supporting the industries that work develops. On top of all this, we remain genuinely committed to our end users in pharmaceuticals, food and chemical production, healthcare, etc. We are busier today than we ever have been before."
Cliff adds, "It's important to note that we attribute a lot of this recent growth to our winning of the HRIA Rental Company of the Year award. Since being crowned in 2021, we've taken the opportunity to fuel more and more investment. We haven't taken it for granted- it's certainly not a tokenistic achievement for us." Despite the massive growth Chadwick Forklifts has experienced over the last year, the team have remained true to their values and positive working culture. Staff pride themselves on their commitment to respect, professionalism, mutual growth, and positive relationships. Cliff continues, "My wonderful wife, Melissa, actually performs regular checks on our staff, during which she just gives them a call and touches base to see how they're doing. This is a great example of our culture here at Chadwick Forklifts, and again, it's not a tokenistic thing. It's very genuine, and all of our staff appreciate it."
The importance of modern, reliable equipment on building sites is paramount, Cliff says. "The sites our assets are placed in are very demanding. We are required to provide a current risk assessment and recent service history, along with safety equipment like wheel chocks, reflective tape, estops, lockable battery isolators, and more. There are so many requirements, and our customers expect the assets that come out of our yard to enter their yard or site in immaculate condition and ready for immediate deployment. We have purchased around 160 brand new machine in the last two years to keep up with demand and make sure we are meeting all industry obligations."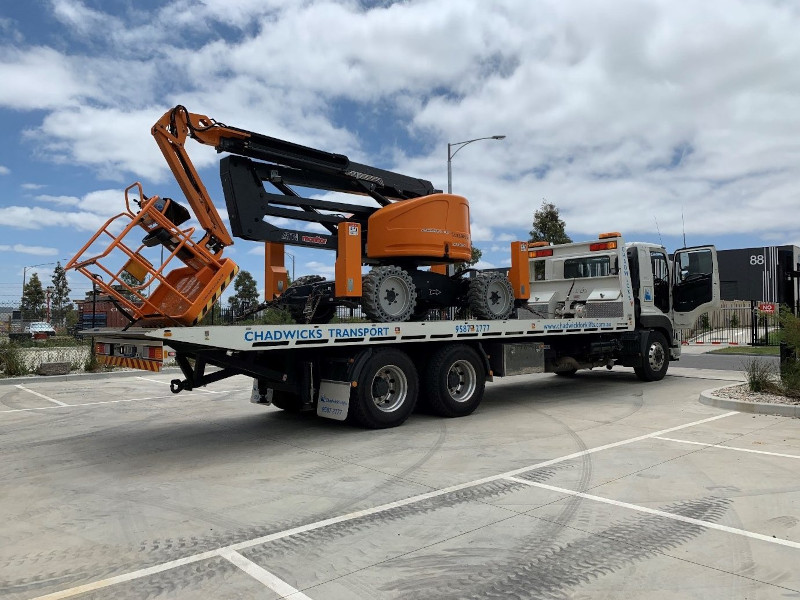 Shane adds, "Customer expectations have certainly changed alongside industry regulations. No longer can a company cut costs or throw an outdated machine onto a work site. Everything has to be of the highest standards in safety, efficiency. It means that a lot of unsafe industry practices have been cut out, and generally the industry is safer and more reliable. And we aren't just investing in new equipment- we are making sure we can support that equipment. It means we can deliver, pick up, and changeover on site quickly, and most importantly attend breakdowns fast."
Environmental regulations have also evolved drastically over recent years, Shane continues. "Safety isn't just about personal risk anymore- it's about sustainability. Our equipment and our company must be environmentally responsible. Given that a lot of our assets for tunnelling projects are used underground, there's a high demand for Tier 4 or catalytic converter engines as well as battery electric all-terrain units. Naturally we feel it's important to supply those, in order to sustain and improve both our economic position and environmental footprint."
Next on the cards for Chadwick Forklifts is significant dedication to interstate growth. The company plans on having representation in Queensland as soon as possible in order to be part of infrastructure developments leading up to the 2032 Olympic Games, which are set to be held in Brisbane. Cliff and Shane are excited to see where further growth leads- with grand plans to eventually service Australia on a national level. This is certainly a space to watch!
AT A GLANCE
Chadwick Forklifts
What: Provider of forklift wholesale hire, maintenance, and logistics services throughout Victoria, Australia.
Where: Chadwick Forklifts has offices in Sunshine and Braeside, Victoria, Australia.
Website: https://chadwickforklifts.com.au/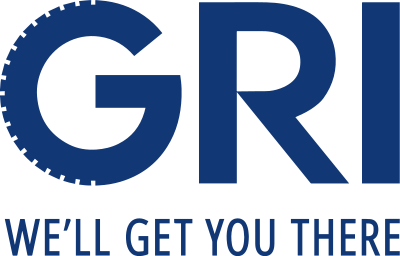 GRI Tires – www.gritires.com
GRI is a producer of high-grade specialty tires for the material handling, agriculture tires, and construction machinery sectors. Founded in 2002 and with a presence in more than 50 countries, GRI is committed to delivering quality, innovative and sustainable solutions from its manufacturing facilities in Sri Lanka through local service and distribution operations.