David Reid Homes
"Raising the standard"
Business View Oceania Ken Beissel, Managing Director of David Reid Homes, for our focus on Franchising and Home Construction in Australia
To say David Reid Homes is not your average house building enterprise is a huge understatement. For there is nothing average about this exceptional business. David Reid Homes is a national building company specialising in unique tailored designs and quality craftsmanship. With 25 locations throughout Australia, superior service is paramount, wherever you choose to build your luxury custom home. Some clients choose to draw their inspiration from the company's suite of concept designs, but that is merely a starting point and each David Reid Home is unique. Design, aesthetics, materials and technology are adapted to each client's vision, resulting in a personalised, bespoke 'dream' residence with all the comforts (and extravagances) of home.
By taking a different approach to franchising, David Reid Homes is raising the standard on quality. And it's their people that make the difference. Ken Beissel, Managing Director of David Reid Homes, recalls, "I came on as CEO in early 2010 and we did a complete restructuring of the company; I'm now owner and Managing Director and we have some of the best young builders in Australia on board. We're very proud of that. It's been a lot of hard work to get where we are and we're only a third of the way to where we want to be. The intention is to keep growing and moving forward."
The life of a franchise is usually six or seven years, but David Reid Homes has some that are nine or ten year operations. Two young franchisee partners in Tamworth are in their late twenties (by age) and could potentially be going for another 20 years. "We've certainly taken custom building franchising to the next level," says Beissel. "We look at the longevity and how good these young blokes could be in five years time. They're exceptional now. I've been in franchising for 25 years and I have a unique relationship with all the franchisees. We're not a traditional franchisor, we don't crack a whip, we work with our people and it's a big family atmosphere. We all respect each other and everyone enjoys the business."
Franchisees get together several times a year at national meetings and an annual national conference. Networking and helping one another is encouraged and breeds a healthy, productive atmosphere. On Sept. 6, David Reid Homes held its National Conference 2019 at Sea World Nara Resort on the Gold Coast, where franchisees had a full day of workshops and mingling with suppliers to enhance their business. The National Awards Dinner held at Movie World completed the day by recognising outstanding franchisees of the year.
Each franchisee has their own territory and the company is grooming some people to become sub-franchisors; to be able to spread their wings and have enough area to do that. When recruiting potential franchisee candidates, the company looks primarily for great young builders. Not necessarily great business people. The franchisor is there to help them become better business people; how to work on their business, not in it. Apprentices in the home building industry are taught how to build, how to swing a hammer and construct houses, but in most cases not how to actually run a business. So David Reid Homes finds it sensible to take them to the next level through training in Business Programs and Construction Management Programs. They come to the company as great young builders looking to take that next step and are given in-depth support and the resources to accomplish that. Each franchisee builder undergoes three days of intensive training when they first come on board. Additional one-on-one training is done remotely. In fact, the Construction Management Program from New Zealand is done entirely on Zoom and Skype.
Speaking to the benefits of a David Reid Homes franchise, Beissel explains, "The reputation and name is important and we have national agreements with every building supplier in Australia. But I don't want somebody to come on because of our buying power. I want someone who wants to learn the systems and really better themselves and be part of this group. Because we have some great people involved and each one is unique in their own area. They've got great reputations before they come on board and it basically acts as a tool to grow that reputation. There are a host of benefits we offer, it's not just a matter of having great designs and plans and buying power. We encourage them to talk to each other, and there aren't many builders out there that can do that because most of them are seen as competitors."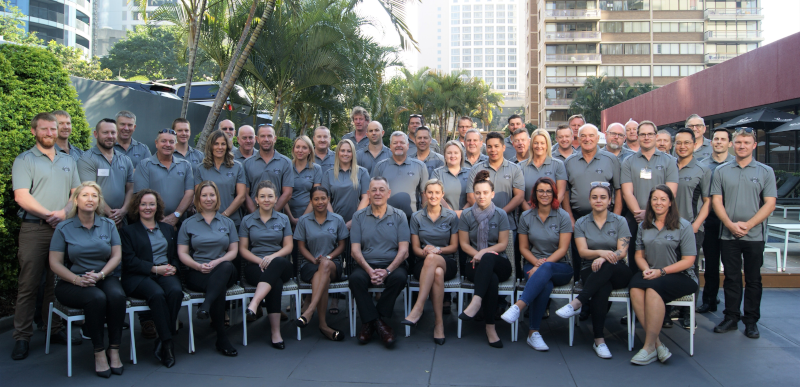 Every franchisee is a custom design home builder and offers more than the traditional project builder. They help the client from purchase, to design phase, to build, to completion. With an extensive portfolio of more than 1,000 designs in the company's library, the client and builder can start with a plan and work together from there… the sky's the limit. And peace of mind plays a key role, as David Reid Homes prides itself on transparency in every facet of the process.
As for marketing, the company is very proactive with social media. "We probably do more advertising on social media than any other builder in Australia," says Beissel. "We average around 25,000 hits a month. And probably 40,000 on our website. So we're getting leads from all over the country, even areas we're not in, such as Cairns which is quite a distance. I have a lot of contacts up there that I've know for many years and I offer the opportunity for an external company to build the house for the client. So nobody misses out. They use our designs, and those builders are quite happy because they may not be looking for a franchise but they do welcome the business. We have a minimal charge for our designs and we're quite open to collaboration if we don't have a builder in the area."
David Reid Homes also supplies a great many opportunities for real estate agents to sell their product. And the company gives back a tremendous amount to communities through charity work, including the signature 'Pie in the Sky' football game fundraiser, and sponsorships each year for the Grafton to Inverell Cycle Classic – the most gruelling bike race in Australia. They also treat their vendor partners with respect. As Beissel notes, "One thing about David Reid Homes, we don't chop and change suppliers all the time. We're not a cheap builder, so we're selective with the product we use. And it's very upmarket. We have fantastic suppliers and they really support us and help this business go forward. We create those relationships and try to keep them in place. We're not a volume builder, we built around 180 homes last year and our average price was about $750,000. But the sheer size of our homes (one with eight bathrooms!) could add up to three or four of some other builders' smaller, less expensive homes. I must say, we do build some beauties all over Australia.
"The business is really starting to grow and we're getting a great reputation. Over the next three to four years, I expect the company to double in size. We've found our niche market, not with a first home buyer, but with a third, fourth and fifth, and our product is exceptional. I'm very passionate about what I do, and looking to the future I would like to think that some of these young franchisees are still on board and taking the company to the fore and moving it forward. They're what's making the company grow. You don't need a lot of staff when you've got great franchisees, but the staff I do have is amazing. It's so rewarding, one thing you can't teach is passion – it's not about the money, you've got to believe in what you do and believe in your builders. And I do believe in each and every one of them. They go out and do their very best and no one can ask for anything more."
AT A GLANCE
David Reid Homes Australasia
What: Custom home building franchise company
Where: Head office in Loganholme, Queensland
Website: www.davidreidhomes.com.au