Facility Management Association of Australia
Managing expectations
Business View Oceania interviews Nicholas Burt, CEO at FMA, for our focus on the facilities management industry in Australia.
The Australian facilities management (FM) industry employs more than 200,000 people and contributes over $32 billion to the nation's GDP each year – impressive numbers that show just how important the sector is to economic stability and growth. Among the broad range of activities covered under the FM portfolio are: security, compliance, cleaning and maintenance, sustainability and resilience, health, safety and wellbeing, and strategic operational planning.
The Facility Management Association of Australia (FMA) is the peak national body for the FM industry;  representing and supporting the professionals and organisations who manage Australia's built environment. FMA offers a wide array of benefits to its members, with services including: research, advocacy, industry standards development, events (e.g. networking, conferences, seminars), education and professional development, and support for special interest groups.
The FMA hosts two flagship events – the FM Industry Awards for Excellence (November) and Ideaction, the National FM Conference & Exhibition (May/June). These annual events create excellent opportunities for networking, knowledge-sharing, and recognising outstanding achievements within the industry.
Business View Oceania recently asked FMA Chief Executive Officer, Nicholas Burt, for his insights into facilities management, current challenges for FMA members, and what lies ahead for the FM industry. His responses were enlightening and positive.
BVO: When was FMA established and what is the current mandate?
Burt: "FMA commenced in the late 1980s as an association focussed on individual members within the industry being able to come together to develop their skills and competencies, and to better understand their role as a profession. Over a period of time, the mandate of the Association extended beyond just supporting and representing individuals, teams and organisations in their professional capacity, to looking at the industry as a whole – for example, making sure the industry has a voice with government and other decision-making bodies. Part of that is providing education and professional development opportunities to individuals and organisations – those in the delivery of facilities management and also people who might engage facilities managers to undertake work for them.
"We currently have about 2700 members in both corporate and individual categories. About five years ago, the decision was made to engage with both individuals and corporate entities and to provide them with a value proposition. It was an important step forward for FMA to being the representative body for the entire industry. We recognise that it's a very broad industry and that the opportunity to represent the interests of the industry is equally broad."
BVO: What are the biggest industry challenges today?
Burt: "Key challenges at the moment include making sure that people understand what compliance looks like in buildings, because we're a highly regulated industry. So one focus is how we, as an industry, influence what that compliance regime might look like. Another economy-wide issue is sustainability and the important role that our members play in tackling things like energy management and reduction of greenhouse gas emissions. That's an ongoing challenge that keeps us right in the spotlight.
"A third challenge, which has been highlighted through this period of COVID-19, is the importance of people's safety and wellbeing when they're using a facility – whatever that facility might be. We have members who operate commercial properties, residential properties, hotels, hospitals… so it's an industry that really needs to understand what facility users are trying to gain, and working to enable that experience.
"In days past, very technical industries would be responsible for making sure the air-conditioning was operating, or the lights turned on, or the elevator was working. Today, it's much more focussed on the experience people have when they're interacting with a facility. That's balanced with the value that facilities managers can provide people in their use of a facility. There is sometimes a tension between those two things, but currently they're both very predominant for our industry to understand and work within."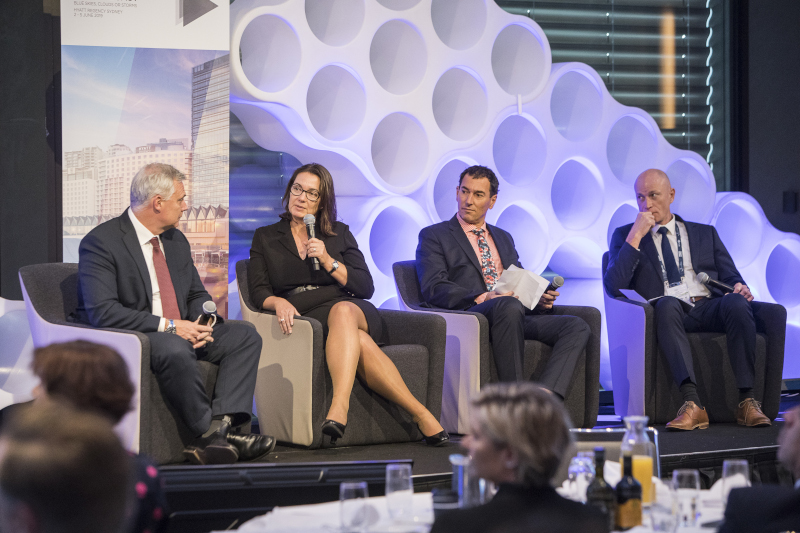 BVO: How has the FM industry adapted during COVID-19?
Burt: "Previously, FM wasn't a very well-recognised industry in Australia. Many people didn't really understand what it was; others had never heard of it. During COVID-19, we were deemed for the most part an essential industry, in order to continue operating facilities and buildings. So people now have a real understanding of our industry and the important role that facilities managers play. The Association spent a lot of time during the early part of the pandemic helping government understand what our industry was doing, what they were capable of, and how they could assist in managing and recovering from COVID's impact on the operation of buildings and facilities. That placed us in a powerful position to be part of the government decision-making process.
"FMA is not a big team, but we have a clear mandate to represent the interests of the industry to government and other decision-makers. We have people who assist us in research – both paid staff and members who volunteer to assist us in compiling research and understanding technical issues. We also work with key members, who are also industry leaders, to be involved in the advocacy process with government. As CEO, I primarily drive that work."
BVO: Do you have knowledge resources for members?
Burt: "For a number of years, we've had a Knowledge Portfolio Group, which consists of FMA members with a particular interest and expertise in three parts of the knowledge equation. The first part is capturing knowledge; the second part is promulgating that knowledge; and the third part is ensuring that we have a repository of knowledge for our members. On an annual basis (planned and also responsive), we contribute to our series of technical "Good Practice Guides", which focus on particular areas – we don't call them "Best Practice" on purpose because there is always opportunity to learn. These guides sit within our knowledge portal. We also create other publications, and we do a lot of collaborative work. As a smaller organisation, collaborating with other organisations who are experts in their fields ensures that we gain the most value out of the work we do."
"We actually own a qualification in facilities management – our Diploma is the only FM qualification that's operating in Australia at the moment – and we work closely with the university [UNE Partnerships] to deliver that. Part of the knowledge base is making sure that the Diploma of FM continues to be fit for purpose, relevant to the industry, supportive of skill enhancement, and responsive to changes in the industry."
BVO: What resources do you provide on the technology front?
Burt: "We host an annual technology summit for FM professionals, which continues to generate strong demand. Given the rapid rate of technological change and its impact on the industry, the summit always features something new on the agenda for people to learn. About five years ago, we embarked on a "Future FM" series of National Summits – we're now doing four summits a year. The summits are a one-day interactive session that offers members detailed information on a particular issue – usually areas that continue to evolve in a way that requires knowledge to be continuously kept up to date. This year we'll focus on technology, contractor management and maintenance management, and residential facilities management – we've seen a significant increase in Australia in the number of people living in multi-unit residential dwellings, whether high-rise apartments or a campus-style arrangement. The other area we'll be focussing on is compliance, which our members feel is a valuable resource to invest in."
BVO: How does FMA address environmental sustainability?
Burt: "We've been working closely with the Department of Industry, Science, Energy and Resources. The Department funded a research project that we adapted into a Good Practice Guide on Energy Management; this was released just before Christmas. We'll roll that out in other formats as well, including some training. It's a focus area that continues to evolve with things like on-site generation, solar PV, and a whole range of other technologies that assist in changing the business case for various applications to reduce or alter the way we use energy. Energy management and demand management is an area with the potential to deliver, at very low cost, positive outcomes for individual companies and the economy as a whole."
BVO: Looking to the future, how do you see the industry changing?
Burt: "Over the last two years, we've seen the industry become more buoyant. According to global reports, in Australia, we have one of the highest levels of outsourced services provision in the Asia-Pacific region. So we're going to see continued growth in the Australian marketplace. That said, the dynamic in our industry is changing to one that is more predictive instead of reactive, due to the rising expectations of users. It's about delivering better value and targeting resources for a much better outcome through the use of technology."
AT A GLANCE
Facility Management Association of Australia
What:  Peak national body for the facilities management industry
Where: Based in Melbourne, AU
Website: www.fma.com.au