Fire Equipment Services (FES)
A Proud Fire Safety Legacy
Business View Oceania interviews Stuart Yarnall, GM and Director of Fire Equipment Services (FES) for our focus on Facilities Management
"Long and proud service" is a fitting description for Fire Equipment Services (FES), which has been operational for a remarkable 119 years. Established as the 'Special Services' division of the former Metropolitan Fire Brigade (now Fire Rescue Victoria) in 1902, FES has evolved from what was initially a fire safety service conducted by firefighters to the sophisticated division it is today.
The evolution of FES, particularly over the last 20 years, has resulted in a more holistic fire services organisation providing a wide-ranging suite of specialised services for building owners and facility managers that include: Inspection and servicing of First Attack Fire Equipment (extinguishers, hydrants, hoses, hose reels, etc.), installation and maintenance of Active Fire Systems (detectors, alarms, fire indicator panels, evacuation warning systems, sprinklers, fire pumps, etc.), reporting and advice on Passive Fire Systems (building fire integrity, fire doors, etc.), assessment and provision of Essential Safety Measures (exit and emergency lighting, means of egress, etc.), instruction in Emergency Training (initial response, fire warden, etc.) and delivery of Emergency Management (emergency procedures, evacuation diagrams, evacuation drills, consulting, etc.).
Stuart Yarnall, Director and General Manager at FES, offers more insight into this fascinating Victorian public entity. When it comes to their emergency management and training, Yarnall explains, "It is aimed at any business or organisation, to ensure their plans, procedures and preparedness for emergencies are in place. This includes the training of designated fire wardens within companies so they know what to do in the event of an emergency. The result is a far more knowledgeable and resilient workforce regarding emergencies to protect both people and assets."
Insurance premiums for clients will of course also be positively influenced by evidence of this type of training, whether in the estimation of premium amounts or the processing of claims. Yarnall adds, "This is understandable given the insurance industry is a key factor in clients thinking regarding the provision of these services by FES, since the mitigation and minimising of risks due to fire and other emergencies is fundamental to the insurance industry."
Facilities covered by FES services range from the largest, such as hospitals and universities, to smaller businesses, including those in the corporate and industrial sectors. The latter includes everything from warehouses and factories to local small business retailers. Another sector covered is hospitality, with clients ranging from hotels to small tour operators.
Being based in Melbourne means the state of Victoria is the core region providing the vast majority of work for FES, although the organisation does have client partners with asset portfolios throughout Australia. The organisation has more than 150 staff and contractors, who in turn partner with facilities managers and other clients covering over 30,000 sites across the country.
Competition is stiff in the industry, particularly from private sector firms, although being a division of Fire Rescue Victoria gives FES a different profile in the industry. This influences the way FES goes to market. For example, most private fire and emergency consultancies tend to specialise in one area, whereas FES is able to provide a service that is multi-faceted and far more comprehensive in the field of fire safety and emergency management by drawing upon the wide range of specialist operational and corporate knowledge within Fire Rescue Victoria.
Advice, consulting assessments, audits and feedback are just a few of the services that FES offers clients. This includes clients who may want a specific service, particularly in terms of legal compliance issues, even though they may normally use another company for their fire-related services. This makes sense, given that it is technical expertise for which FES is particularly well-known and respected in the industry.
COVID-19 had a significant impact on FES and the fire safety management industry in general. Yarnall explains, "Internally, the biggest challenge was migrating all staff to working remotely as safely and efficiently as possible. Naturally, compliance-related obligations regarding fire safety still continued for all clients. Therefore, those services had to continue being provided by FES, albeit with COVID-specific measures in place. The health and safety of our people is paramount, particularly while working in public spaces."
Also, communication and scheduling had to be ramped up with each and every site, given the unusual status quo brought about by the pandemic. For example, a significant issue was that of accessibility, since many of the facilities were closed down during government restrictions. The company's workshops in Bayswater, Victoria, which provides the physical servicing of equipment, also had to be operated with the safety of FES's workforce the core focus throughout the pandemic.
The organisation continued the provision of its mental health and wellbeing support services and Employee Assistance Program during the pandemic. External advisory services and support were further provided for all staff and contractors, including extended families. The company would also check in with staff working remotely on a regular basis during lock-downs, in what was called "a continuity of contact".
Many of these measures remain in place, even as COVID-19 restrictions have been eased in Victoria. Yarnall notes, "An example is the continued deep steam cleaning of every piece of equipment being picked up from and returned to clients' sites, to reduce the potential for exposure." Personal Protective Equipment (PPE) continues to be provided to all field and workshops staff. Temperature checks and other safety protocols are also mandated by the company for employees. Furthermore, internal operations continue to be predominantly digital.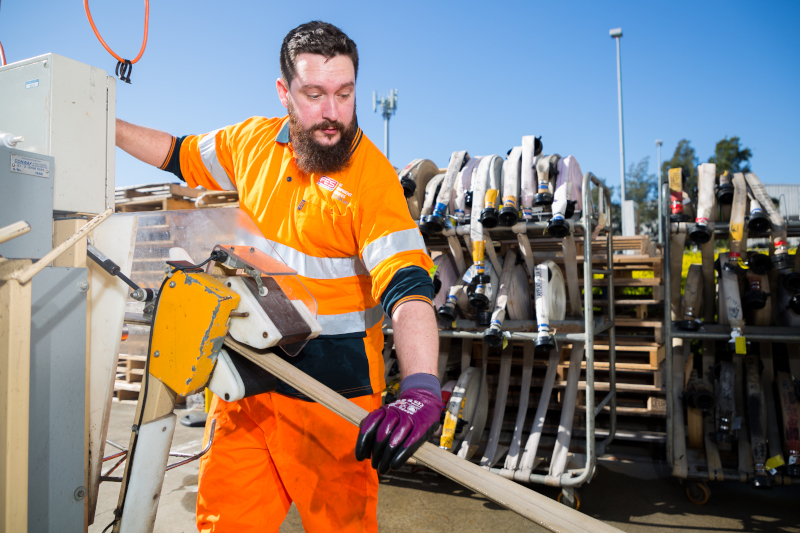 Speaking to whether COVID-19 has changed the culture within FES, Yarnall makes it clear that context is everything. He emphasises being in a division within Fire Rescue Victoria and part of the public sector provides FES with a different context (and, thus, culture) compared to its competitors in the private sector. "The organisation is governed by an ethos of 'public safety first and foremost,' rather than driven by for-profit shareholder expectations. FES is instead run fundamentally on a commitment to public and community safety. Complete regulatory compliance, responsive service and fulfilment of duties is core to FES, including leadership in the industry and the integrity of our people."
Another aspect of FES culture is passion, with staff passionate about everything they do, from those in the workshops to those working in the field, not to mention office staff. "Whatever the role, our people are passionate about their role in community safety," says Yarnall. In the spirit of its commitment to community safety, many of FES' fire technicians are also volunteer firefighters with local Country Fire Authority  brigades throughout Victoria. There are also staff members who dedicate their time and services to different charitable organisations. Yarnall dedicates his own free time to serving on the Board of Fire Protection Association Australia – the national industry association for fire protection services.
Probably the most significant challenge for FES and the wider industry is how legislation, standards and regulations vary due to numerous factors, such as the age of buildings and the different states and territories throughout Australia. Laws and standards are also continually being amended and improved; creating a highly complex environment in which to operate for building owners and facilities managers. Therefore, FES consults widely, invests heavily and needs to remain up to date in this regard, so that compliant services and advice may be given to clients at any time.
Yarnall foresees a future challenge being that of digital transformation and live reporting. He acknowledges, "Clients, particularly at the Board level, will increasingly want access to live data dashboards that provide real-time insights into their asset management portfolio and risk profile. They will want to see customised data reports showing what risks exist, how they're being managed, outstanding actions and further opportunities to ensure compliance and best practice to mitigate risk for their asset portfolio."
He stresses how "extraordinarily appreciative" the organisation is of all its existing partnerships, staff, contractors and suppliers. For FES, the next three to five years is all about enhancing the capability of the community to prevent, respond to and control fire and other emergency incidents. Improved fire and emergency safety features in all buildings and reducing the environmental impacts of the industry are other important objectives, along with digital innovation and transformation. All will be key elements for the success of FES and the fire safety industry going forward.
AT A GLANCE
Fire Equipment Services (FES)
What:  Fire and emergency management services company
Where: Headquartered in Melbourne, Australia
Website: www.fes.com.au

B SHORE Fire Service – www.bshorefire.com.au

With expertise gained from 20 years' experience in Fire Systems testing, B SHORE Fire Service offers Consulting, Diagnostic Testing, Routine Maintenance and Independent Fire Inspections of Hydrants and Hose Reels. Our AFSPAB and FPAS accredited technicians can help ensure your Fire System is compliant with the relevant Australian Standards and Building Codes.