Hetherington House
The home of five-star care
Business View Oceania interviews Olwyn Kunz, Facility Manager of Hetherington House, for our focus on Aged Care & Retirement Villages in New Zealand
Hetherington House is a 50-bed residential care facility owned and run by a community owned charitable trust, providing rest home care, hospital level care, and a secure Dementia unit. The sunny, purpose-built residence sits on beautifully landscaped grounds, where residents have the pleasure of living in a warm, friendly, home-like environment. In this peaceful setting, caring relationships are nurtured, dignity, self worth and independence are honoured and individual rights and responsibilities take priority. Providing five-star care and respect to residents is second nature to the wonderful team of caregiving professional staff.
The home was initially opened in the early 1970s by Dr Rex Hetherington, a well loved local GP, who received an OBE from Queen Elizabeth II – a photograph of the event hangs in the foyer of Hetherington House. Since that time, the home has been extended several times to add on the hospital wing, and the secure Dementia unit in 2011. Today, the facility has 32 rest home beds, 12 hospital beds and 6 dementia beds and offers both long term and short term/respite care and a day care service.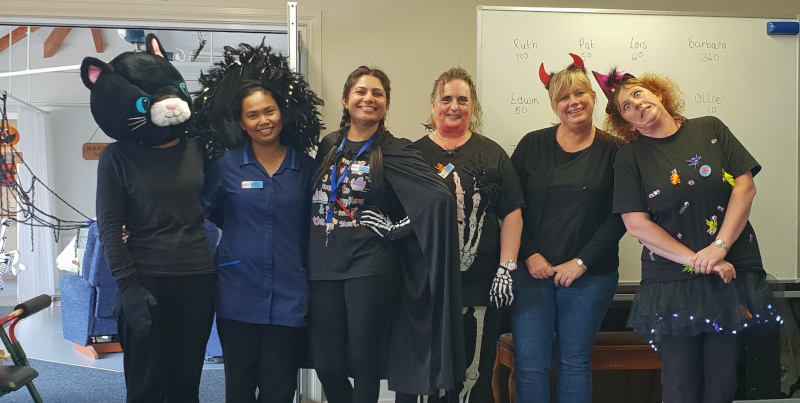 According to Facility Manager, Olwyn Kunz, "Over the last two years, extensive renovating and upgrading has been carried out. The dining room and lounge were painted, this was done through a grant donated by OceanaGold, and new dining room and lounge chairs and curtains in lovely shades of teal and blue were added. The furniture and fittings for these rooms were generously sponsored by private persons, businesses, and clubs. We also put in new carpet, La-Z-Boy chairs in the hospital area were purchased and the inside of the hospital area has been painted. We are also going through the purchase of 41 new electric beds from USL and they are negotiating donating the old beds to the islands. We are assured these beds will be used in hospitals and not thrown on the scrap heap."
Back in the 1970s, a prominent local woman named Francis Bicknell wrote an encouraging letter of support to the opening of the home and was instrumental in helping to raise funds. She later became a much-loved resident of Hetherington House. For some time, the home has been working on a new garden area based on a Chelsea Award winning garden; Francis donated the first plant and the space has now been dedicated as the Frances Bicknell Memorial Garden. Kunz notes,  "When I started two years ago the gardens were in complete disarray. I have a horticultural degree and I'm a keen gardener, so I managed to hire a local lady who comes in every week and does the gardens and they are gorgeous. We're in the process of creating a raised round garden bed and I noticed a picture in a magazine of an award-winning garden at the Chelsea Garden Show. So I sent the owner an email and she kindly sent me a list of the plants. We're using as many as we can and it's starting to look very pretty."
Hetherington House is owned by the community and blessed with incredible community involvement. People pop in with home-grown produce and flowers; the church donates all the fruit and vegetables after their Thanksgiving festival. Residents of Waihi bring in TVs, radios… people volunteer to read to the residents, assist them with eating, accompany them to hospital appointments. "We could not survive without them," says Kunz, "because we are a charity organisation and whatever money we make goes back into Hetherington House. We don't have shareholders, and it is used for the people of Waihi and the surrounding area."
As part of Hetherington House's certification with the DHB, persons are assessed by the government to come in either for rest home, or hospital, or dementia level care. Once they are in the facility, if their condition changes from a rest home to a hospital, the nurses can do a reassessment. The DHB contract also mandates subjects for staff training. Kunz explains, "We do extra training, as well. We bring in external people for that or we send our staff on training courses in the area, especially in palliative care because all our residents will be end of life at some stage. I have also sent staff for leadership courses, especially our registered nurses who feel they aren't able to stand up to some of our stronger caregivers. The courses have helped them incredibly."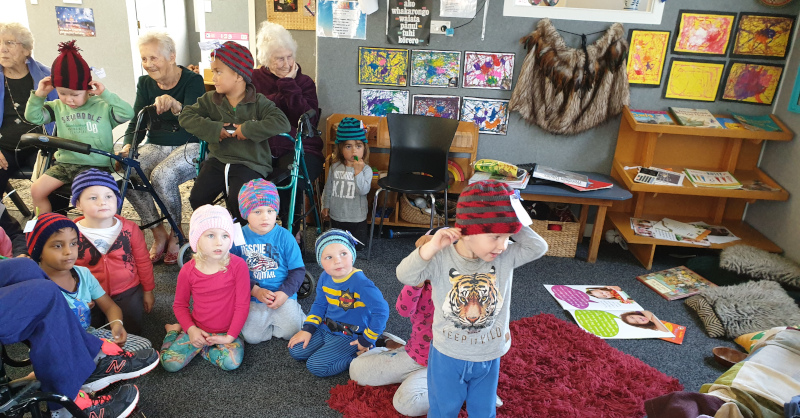 Hetherington House had an occupancy rate of between 98 percent and 100 percent for the last year and has a long waiting list. One amazing attraction is the fact that they have a six-person spa pool (which was donated); perhaps the only rest home facility in New Zealand to have such a joy. The home's diversional therapist does sessions with residents in the pool and it is a relaxing therapeutic time. In total there are 54 employees on staff – a multicultural team coming from Switzerland, the Philippines, India, Japan, Zimbabwe, Viet Nam, and one with Polish heritage, as well. They even staged a show for the residents, wearing costumes to show where they came from. And a fun time was had by all.
New ways to improve quality of care for residents and make the working period for staff easier are always top of the agenda. "One thing we're looking at would be in the hospital area," says Kunz, "where we would put in overhead hoists that run in the ceiling in the room, so staff can hoist the resident by themselves and it goes to the washroom area. They can toilet the resident, get them dressed, and into a chair on their own – they don't need two people like they do with the manual hoist that they are presently using. This would make life a lot easier and more comfortable for both the patient and the staff member." For the long-term future, the focus is to increase the number of rooms at Hetherington House and put in more ensuites. Currently, the hospital has ensuites but not all rooms in the rest home area have them. Lack of storage is another issue, so the home is considering putting a building on the grounds for storing wheel chairs, etc. Every single year, fundraising is imperative to help with such causes.
"We have a lot of projects on the horizon," says Kunz. "We're also going through a rebranding of the company. Our webpage is archaic and really needs to be redone, so we've been talking to a company about doing that. Our logo will stay the same but we do have new uniforms for the staff. Last summer it was terribly hot and their uniforms were quite thick and heavy, so for a period of about three months I had to let the staff work in their ordinary clothes because they were struggling in those uniforms. This has been a big problem but we recently got new BL Stringer uniforms which are lightweight, breathable, teal / blue with daisies… they are so cool in every way. Not what a normal uniform would look like and the residents and the staff just love it.
"There are many reasons why Hetherington House is a special place and much sought-after. Our care is top quality, I have worked in five rest homes in the past few years, and this is way beyond any of them. Our Kitchen Manager has been here over 24 years and the food is amazing. When people come into Hetherington House they always remark on how homely, and inviting and comforting it feels. With our new teal and blue colour theme, we get this "wow" whenever visitors come into the lounge and dining room. One of the residents told me the sweetest thing, she said, "We've gone from a rest home to a five-star hotel."  So we're quite thrilled with the way things are going!"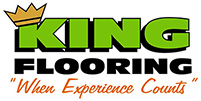 King Flooring – www.kingflooring.co.nz
Why King Flooring? 
With over 25 years in the residential and commercial flooring business our team of professionals are always happy to help you come up with the best flooring solution.  Working with our suppliers our experienced staff are able to confidently help with selection of products, all the way to installation.  With that experience comes a confidence that you will get the best finish and we stand by our workmanship, every time.