Hickory
Building innovation
Business View Oceania interviews George Argyrou, Joint-Founder at Hickory, for our focus on the Prefab Construction Industry
In many ways, the construction industry doesn't appear to be the most innovative within the business world. For too long, construction firms, engineers, and architects have been content to stick with the status quo even when it resulted in buildings that missed deadlines, went over budget and failed to meet community needs. However, Hickory, an Australian construction group, believes that it is time the sector underwent a significant evolution.
Founded 30 years ago, Hickory has grown from a family-owned company to one of the country's largest construction firms. It hasn't always been easy, with the early-1990s recession making it a difficult time to start a business, but Hickory persevered with its belief in doing things differently and is reaping the benefits today.
George Argyrou,  joint-founder of Hickory, believes that an independence of spirit is a significant factor behind the company's success. He shares, "I am always challenging the status quo and so, as a company, we had a commitment to build things differently, and that attracted talented people who kept challenging us. And as our clients grew, so did we." This expansion was also supported by the creation of a friendly and inclusive working environment. "As a business, we were always accustomed to running people, not contracts," Argyrou adds. "So our subcontractors were attracted to us because we treated them as people, as part of our family."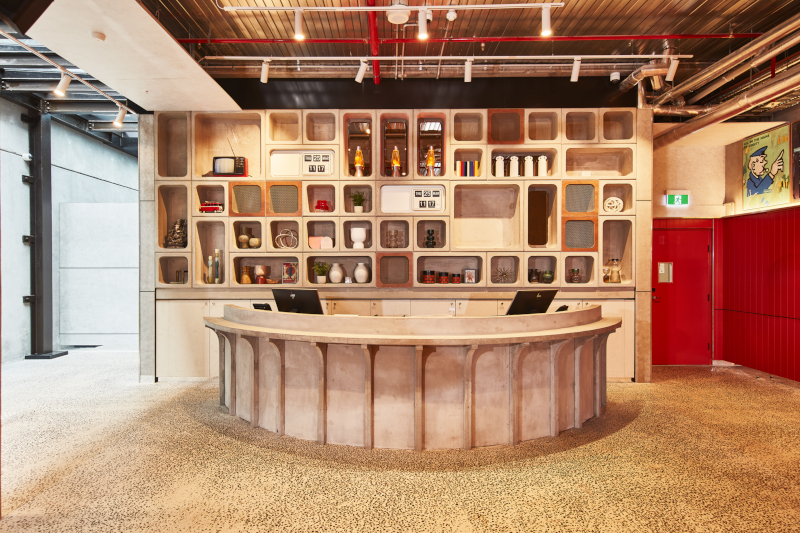 A welcoming atmosphere was not enough to drive Hickory's success alone, however. The company was also extremely innovative, aware that current modes of operation in the construction sector were no longer fit for purpose. "We think the current quality benchmark for buildings is not good enough," Argyrou explains. "In construction, end-users still need to carry out defect checks – just like they would have done with new cars 50 years ago. We saw this as a fundamental problem for the industry, so over the last decade we've looked at prefabrication and other new ways of constructing buildings."
The journey that Hickory has been on has not been without its challenges. However, the transition to becoming an independent, holistic, and forward-thinking company has ultimately led to high quality, more creative, and safer buildings. "Our Melbourne-based factory is now over six hectares in area, allowing Hickory to re-onshore the manufacturing process keeping jobs in Australia," Argyrou notes. "We do SYNC modular bathroom pods, modular kitchens, bespoke fit-out elements, we do our own precast and we have a pre-assembly area where all the different parts go. We believe a building is made up of interchangeable parts. It's no different to the car industry, which has been innovating for many years. It's time the construction sector caught up."
For Hickory, however, it's essential that innovation doesn't just represent faster construction, particularly if it leads to homogenised output. "We believe in the standardization of interchangeable parts but we don't believe in standard buildings," Argyrou says. "Unfortunately, the world is heading that way to some extent for affordability reasons, but I'm strongly against it. I think architects should be able to express their creativity to deliver the best results for the community, the area it's located in and the end-user – not simply follow a standardized approach."
Exemplifying this commitment to creativity are several building projects that the company has worked on in recent years, like Hawthorn Park and Victoriana. "Not all of our buildings begin as prefabrication," Argyrou comments. "A lot of them are produced conventionally. In fact, we don't even like the word prefabrication – we prefer to talk about 'construction to production'. Many years ago, we started using volumetric construction for our buildings, which has now evolved into what we call the Hickory Building System, or HBS."
Another project that has benefitted hugely from Hickory's bespoke construction technology is Collins House. The 60 level, 184-metre project situated in central Melbourne on a site footprint the size of a netball court won the 2021 CTBUH Construction Awards for Excellence but might not have been built at all without Hickory's input. "With Collins House, we unlocked that project by building it with our system, assigning it a contract of 29 months and completing it within that timeframe. It was only through our system that the project became financially viable for the client."
Of course, no business has been able to avoid the disruption caused by the COVID-19 pandemic over the last year. Fortunately, HBS again proved essential, ensuring that project deadlines could be met despite the pandemic. "Because our system means that we need fewer members of staff on-site than with traditional construction approaches, we were able to continue with several projects and deliver the buildings without delay even while COVID-19 restrictions were causing disruption to other industries," Argyrou reports, adding, "Crucially, our system does not dictate the design of our buildings. Our system works for most concrete buildings, but the building dictates the parts that we use and we have an assortment of parts and methodologies that can complete most projects. We have a multitude of tools at Hickory that can make any type of building, either conventionally or using HBS."
The deployment of Hickory's own bespoke system is part of a paradigm shift away from traditional construction methods. Unlike the typical subcontracting model, Hickory runs their own supply chain throughout its building projects. "We had to own the whole supply chain because in construction, the supply chain often cannot meet the requirements for a production facility," Argyrou explains. "So we own the transport business that delivers to each site and our people are the ones who designed it, manufactured it, assembled it in our manufacturing facility in Laverton-North and installed it onsite. We control the entire process. Not because we're control freaks but ultimately we need certainty for our clients and ourselves."
As well as certainty, Hickory's clients also benefit from a more streamlined construction process. "In the construction sector, when we talk about waste, people normally think about materials but waste involves time too," Argyrou says. "If someone has completed something and it ultimately needs redoing, then that is redundant work. For example, we don't believe architects should be producing a detailed design for a cabinet when they're not the experts – the cabinet maker is. Instead, we only want to receive the intent, which can then be sent to a machine to be produced and signed off. Unlike the traditional siloed approach, our design process only takes about 65 percent of the time compared to traditional methods."
Evidently, Hickory is a company that is keen to change and adapt swiftly to new technological and corporate developments. This is clear to see through its ambitious new data centre proposals, which will involve the building, ownership and operation of hyperscale data centres aimed at redefining digital infrastructure in Australia. Argyrou emphasises, "We don't talk about these things, we just do them. We've already purchased land, received town planning permits and begun talking to prospective tenants. This is no small scale project; this is potentially a billion-dollar construction."
Aside from moving into the data centre business, Hickory also has plans to further embrace the prefabrication of MEP (mechanical, electrical and plumbing) within its system, continuing the company's partnership with global construction firm Mace, and working on new iterations of HBS, which is already on its eighth release.
"We've resolved how to construct buildings, we've resolved how to use interchangeable parts for our projects, we've got a very strong manufacturing capability, we've got a robust delivery model and now we're working with some of the greatest architects, designers and service consultants in the industry," Argyrou says. "Our colleagues, clients and partners want to make change together, build new processes, and help the industry to evolve. Unsurprisingly, the excitement that is being generated today is electric."
AT A GLANCE
Hickory
What: One of Australia's preeminent construction groups
Where: Melbourne, Australia
Website: www.hickory.com.au

DP Formwork – www.dpformwork.com.au
We've grown accustomed to working with companies of all sizes, and providing hard working people. We enjoy putting our minds together to deliver quality that adhere to the highest standards of our customers.  DP Formwork is a progressive labour hire company, supplying highly skilled labour across Australia. DP Formwork was formed to engage well equipped, highly skilled workers for formwork, labourers, carpentry and concretors .