Horizon Pools
Melbourne's Leading Swimming Pool Builder
Business View Oceania interviews Daniel Cutugno, Managing Director of Horizon Pools, for our Construction View sector.
Having serviced the Victorian region of Melbourne for over 25 years, Horizon Pools is a top provider of world-class fibreglass and concrete swimming pools and spas. A highly skilled team of individuals with over half a century of combined experience between them, Horizon Pools injects a daily dose of innovation, flexibility, and originality into homes and recreational areas across the city. The company boasts an impressive portfolio, which is complemented by hundreds of satisfied customers and multiple awards and recognitions from Australia's Swimming Pool and Spa Association (SPASA). Alongside their membership with SPASA, Horizon Pools is a registered building practitioner under the Victorian Building Authority, and a member of Master Builders Victoria. They are widely recognised as the most trusted swimming pool and spa builder in Melbourne and are proud to improve the lives of their clients through their top-quality, beautiful creations.
Managing Director, Daniel Cutugno, and the team at Horizon Pools adopt the philosophy that a swimming pool is a lifestyle choice. It's about fun, family and friends, and ultimately enhancing the client's lifestyle. Clients are treated like a part of the family from the moment they first get in touch. Client satisfaction is Horizon Pools' success, and they strive to make the process easy, efficient, and stress-free.
Horizon Pools offers a wide range of small, medium, and large fibreglass swimming pool and spa designs, and provides custom design solutions for concrete swimming pools and spas. Builds of both kinds are managed through the company's purpose-built head office, showroom, and dry display facility.  Working collaboratively and harmoniously with designers, architects, builders and landscapers, Mr. Cutugno and his team provide not only an unrivalled service but an unrivalled finished product. Horizon Pools provides a plethora of quality features on every swimming pool and spa, including superior structural elements, safety features, surface protection systems, and flexible personal fit-out options for use and design purposes. Designs range from entry-level to bespoke fittings that will suit creative visions of all shapes and sizes. All of Horizon Pools' fibreglass range of products are supported by an Extended Lifetime Structural Warranty, and a world patented Lifetime Interior Surface Guarantee- ColourGuard ®- for pools and spas alike.
Mr. Cutugno gladly shares the company's founding story. "We started as a solution to Melbourne's lack of all-inclusive pool building providers. I came to Melbourne having already been in the industry since my teens, and I quickly saw that there wasn't a company that holistically managed the whole build process from sale to construction completion for the customers landscaper to take over; there was no sense of continuation. Horizon Pools was established with the ethos to make swimming pool building easy, enjoyable and affordable for families across Melbourne."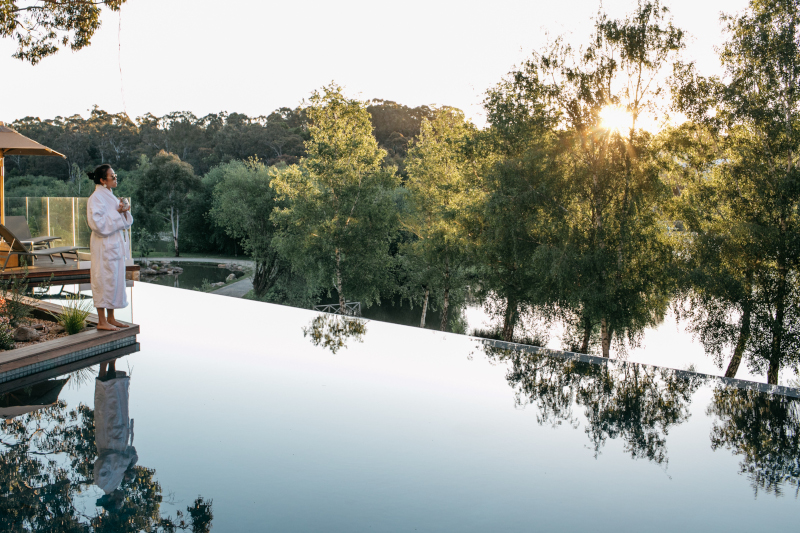 Over the years since their founding, Horizon Pools have taken the lead in a number of projects and innovations to support their brand as well as the wider swimming pool and spa industry. Uniquely, the company provides building services for both fibreglass and concrete pools and spas; Mr. Cutugno explains that his long-term experience in concrete structures has led to Horizon Pools' ability to create custom designs in the material. "We started Horizon Pools offering just fibreglass pools, but as a second-generation concrete pool builder I saw that we could offer bespoke concrete pools to those clients where a fibreglass pool wouldn't fully suit their needs. This lateral approach to problem solving has helped our business flourish. We now have a 50/50 mix of fibreglass and concrete pools, and support both residential and commercial projects."
The company's flexibility and dedication to innovation has landed them the title of Melbourne's most awarded fibreglass and concrete pool builder; their 2020 awards alone from SPASA Australia speak volumes.
SPASA Awards of Excellence 2020 National:
Commercial Project of the Year
Gold Concrete Commercial Pool up to $250,000
Gold Concrete Pool up to $50,000
Silver Innovative Project
Silver Fibreglass Pool Builder of the Year
Silver Fibreglass Pool up to $60,000
Silver Lap Pool- Concrete
SPASA Awards of Excellence 2020 Victoria:
Gold Commercial Project of the Year
Gold Fibreglass Pool Builder of the Year
Gold Concrete Commercial pool up to $250,000
Gold Concrete Pool up to $100,000
Gold and Silver Concrete Pool up to $50,000
Gold Fibreglass pool up to $60,000
Gold and Silver Innovative Project
Gold Lap Pool- Concrete
Silver Concrete pool over $100,000
Silver Pool and Spa Combination
The Horizon Pools team works collaboratively; Mr Cutugno explains that all members of staff have varying responsibilities and a diversity of skill sets that are adaptable depending on their clients' needs. "Everybody contributes throughout the process, from working through RFI's to project management, design consultation through colour selections and lateral onsite problem solving. There is no real division between us or our trusted contractors; we work harmoniously.  We have in-house tilers and plumbers that are experts in their field, but also have qualifications and experience from other areas of their life and we love that diversity. We have people that are qualified mechanics, steel workers, bricklayers, panel beaters, etc. Our tradies know how to work with both fibreglass and concrete. A multi-directional approach allows for flexibility and the ability to tackle any problem that might arise."
As well as celebrating the diversity of their staff and using such a wide range of skill sets to their advantage, Horizon Pools is dedicated to creating a working environment that is communicative, forward-thinking, and committed to quality. The company uses the highest quality product components and equipment to ensure all creations are world-class and built for longevity. Exploring new technologies is incredibly important to the team, from new pumps and filters to structural design elements and surface protection systems. A prime example of the company's consistency in encouraging innovation is their adoption of variable speed pumps during their first release to the industry- almost a decade ago. Horizon Pools was one of the first builders in Australia to take on the new pump systems, Mr. Cutugno shares. "In discussion with a sales representative during their launch of the first variable speed pump to the Australian market, I realised this next generation of pumps would revolutionise the industry by reducing pool running costs from $1200 to $200 per annum. The decision to be one of the first pool builders to launch this variable speed pump as part of our customer's pool package was an easy choice; I haven't looked back and I believe our customers are thankful."
Horizon Pools adopts technology with sustainability and conservation efforts in mind. Alongside their support of eco-conscious technology initiatives, the team sources their supplies, product components, and building materials almost exclusively from Australian owned, Australian made manufacturers. This includes major parts such as fibreglass pool shells, solar heating, filters, and pumps, right down to smaller pipes and fittings. The company works hard to do their part in supporting the Australian market, and prizes quality and sustainability over cost-effectiveness when choosing their suppliers.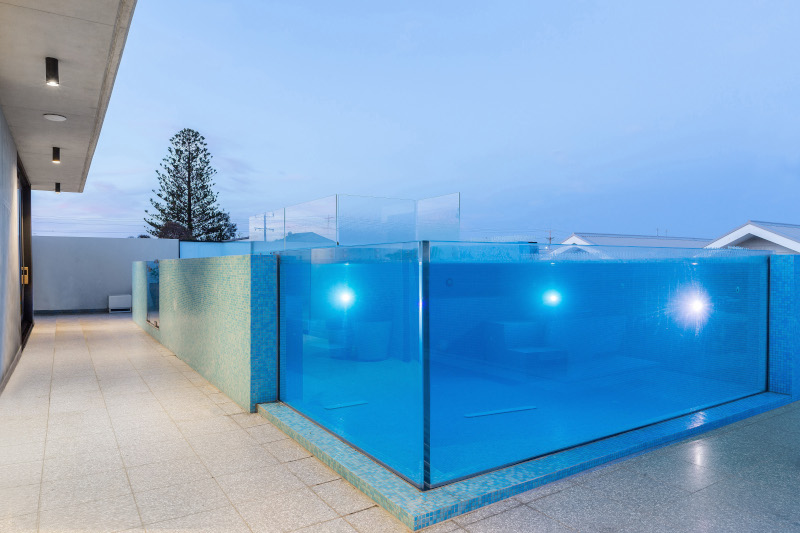 Horizon Pools would like to thank one of their key business partners, Aqua Technics Pools, for their crucial contribution to the evolution of the business. Mr Cutugno shares his admiration for senior representatives of Aqua Technics, and his gratitude for their support. "Probably the biggest contributor to my business is Aqua Technics. I came to know them through a chance encounter with the late Ben Beale of Aqua Technics, Australia's largest and leading fibreglass swimming pool manufacturer. Aqua Technics had developed a product called Pool ColourGuard, a technologically advanced gel coat system that guarantees the colour of the fibreglass pool. This system has revolutionised the industry and taken the Horizon Pools brand to new heights. Through this encounter I introduced the Aqua Technics product to the Victorian market, and later to the East Coast of Australia through the setup of a distribution network. We have challenged our peers and witnessed a remarkable growth within the business since working with Aqua Technics. Since Ben's passing, I have continued to work closely with his family, and am astounded every day by the quality of their work. The company's methodology aligns with Horizon Pools' perfectly; they are all about the class of the finished product being the best it can be. Everything they do is next level when it comes to fibreglass technology and design. So, a huge thanks to them."
Horizon Pools is optimistic about the future of Australia's swimming pool and spa industry. Mr. Cutugno says that continued technological advancement and innovation, a focus on great quality, and an increase in industry commitments to sustainability are all on the cards over the next half-decade, and that Horizon Pools is excited to be a contributor to the evolution of the industry.
AT A GLANCE
Horizon Pools
What: Provider of swimming pool and spa building services throughout Melbourne, Australia
Where: Horizon Pools is headquartered in Williamstown, Victoria
Website: https://www.horizonpools.com.au/

Aqua Technics Pools – www.aquatechnicspools.com.au
Aqua Technics Pools have been the leaders in swimming pool technology for over 45 years.  We are Australia's most awarded swimming pool company, with over 230 awards and 40 modern designs to choose from.  Every pool is infused with Graphene Nano-Tech, advanced graphene nano-technology giving you our strongest pool ever.