IDEAL Fasteners Pty Ltd
Innovation and excellence
Business View Oceania interviews Neville Deutscher, Managing Director of IDEAL Fasteners Pty Ltd, for our focus on Australia's Steel Framed Housing Industry
IDEAL Fasteners is an Australian owned and operated business that commenced in 1992 and carries on a proud family tradition in the fastenings industry that dates back to 1917. Today the company is a leading manufacturer and importer of self-drilling screws, also supplying a wide range of building, construction and industrial fasteners and accessory products. A member of the National Association of Steel Framed Housing and other industry associations, IDEAL Fasteners is recognized by the industry as being the foremost company in terms of expertise, product quality, levels of service and innovation.
The companys' Head Office is located in Dandenong South, Victoria, with a Branch Office in Archerfield, Queensland, supported by a distribution network including customers in all Australian States and territories. Their typical customers are steel frame fabricators, builders and subcontractors, roofing profile manufacturers, metal roofing contractors and distributors & resellers of building, construction, and industrial supplies. Along with excellent service levels and a commitment to high quality products, IDEAL Fasteners has a state-of-the-art laboratory. This laboratory's testing capabilities is what allows IDEAL Fasteners to provide exceptional technical advice and product support that is highly regarded by customers and the industry at large.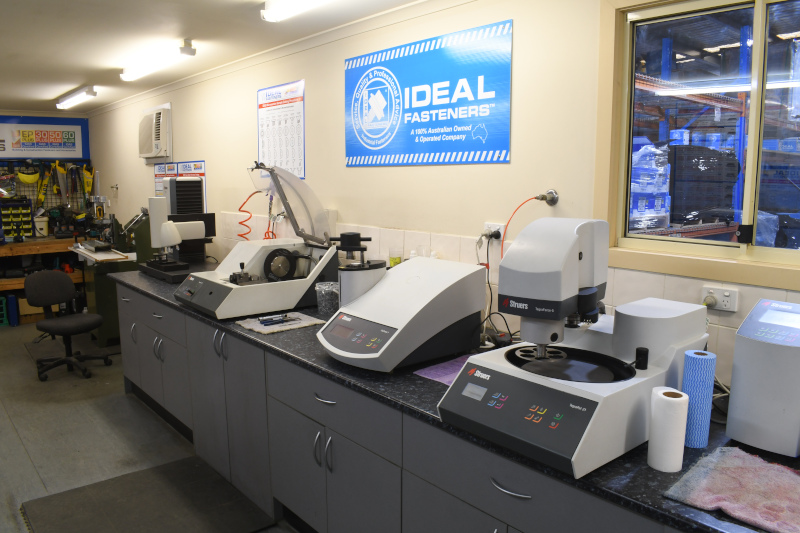 In a recent conversation with Business View Oceania, the Managing Director of IDEAL Fasteners, Neville Deutscher, shared the story of his family's business, some very innovative new products they have developed, and insights into the future of this visionary company.
History
Neville reports: "From 1976 to 1987 I worked for the market leader W.A Deutsher Pty Ltd., which was my father's uncles' company and is now known as ITW Buildex. It was still majority owned by the sons of W.A Deutsher up until 1981, when they sold their remaining shares to ITW (Illinois Tool Works USA) and the company was then 100% American owned. Whilst working full time for W.A Deutsher I completed my Marketing Degree by attending night school at Caulfield Institute of Technology.
With ITW being in total control of W.A Deutsher the family culture of the company gradually disappeared, and it was then, in 1987, that I decided to leave the company. I took a Senior role working for the then largest importer of Self -Drilling screws, a position I remained in for a further five years. I had spent from 1976 to 1992 building my reputation as a person who could be trusted by his customers to provide a high level of service and quality of product. In 1992 the company I was working for decided upon a strategy which would have involved centralizing stockholdings interstate. I believed this would have affected my ability to continue to provide the level of service my customers had come to expect from me and that my reputation would have suffered as a result.
"The most significant aspect in terms of my mindset when starting IDEAL Fasteners in August 1992 was my concern for my reputation with my customers and in the industry, and the damage it could sustain if I remained with my then employer.
"When starting IDEAL Fasteners, the market niche we sought to fill was to provide the level of service and product quality previously offered by W.A Deutsher but with a family culture and a value for money pricing strategy to our customers, rather than the profit maximisation strategy so often adopted by companies operating as a monopoly. When I first started in the industry in the 1970s, and being a boy from the bush, I believed in supporting regional Australia, which was at that time pretty much ignored in favour of metropolitan markets. Over the years whilst working for other companies I had developed and maintained strong relationships with regional customers based on mutual trust. Such is the case with all our customers today regardless of the size, location or dollar value to IDEAL Fasteners."
Investing in Innovation
"The 2000s saw the arrival in the market of low price, substandard, low quality products and although there are always those who buy on price, IDEAL Fasteners continued to grow in size and reputation. Our strategy in the face of this low-price competition was to concentrate even more so on our commitment to providing the highest possible quality of our products and service at a fair price, which led to our significant investment in our state-of-the-art laboratory. This laboratory has assisted us with the development of many innovative products for the building industry including patented inventions such as our BulletS™, PolyMates™, GrubMates® and Self-Drilling Bolt Tensioner® system – all of which were specifically developed to overcome problems and provide improved efficiency, safety and profitability for the steel frame housing and associated industries.
"Our laboratory is frequently involved with the testing of applications for our customers within the steel framing industry and the provision of reports on the strength of connections using our fasteners. This service has also included testing of components for our customers that do not even involve the use of IDEAL Fasteners products. There is never a charge nor fee for this testing, it is all part of the service we offer to the customers that support us.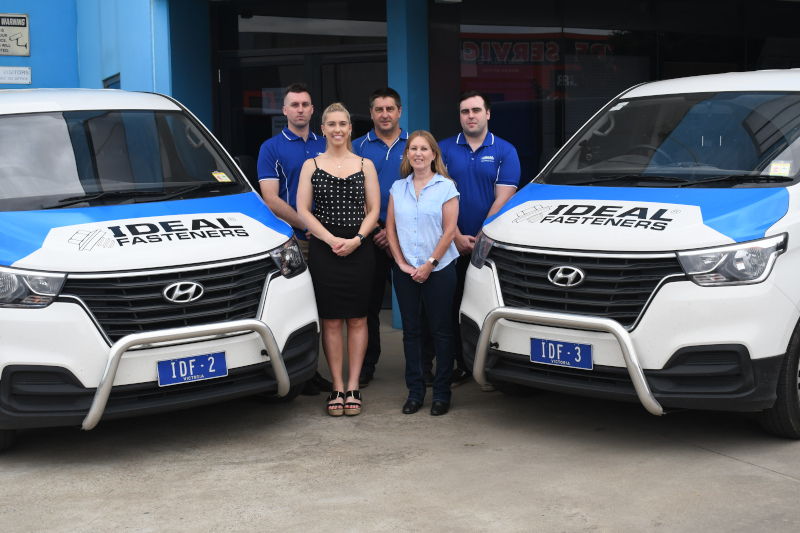 "Coupled with this investment in our laboratory, our existing strengths and technical expertise is our sustained and strong involvement in the development of Australian Standards. Beginning with an active role within, and membership of, the Self-Drilling Fastener Suppliers Association (SDFSA) during the 1990s, I progressed to being the representative for the Australian Chamber of Commerce and Industry (ACCI) on the Standards Australia ME-029 fasteners committee during the 2000s – a role which I still hold today and remain actively involved with."
Differentiation
"There is no other company we are aware of that is prepared to sacrifice the time, resources and costs involved to assist customers with their individual needs. I have often said that I have never sold anything in my life, despite being a salesperson for 40+ years. I simply help people and then they buy from me. Our mission statement is "Service, Quality & Professional Advice". I believe if you do the right thing, most people will return the favour."
Business Partnerships
"I have always held the belief that our suppliers are of equal importance as our customers, for without their support IDEAL Fasteners could not provide the service that we do to our customers. This means that the profitability of the company is often secondary to the maintenance of the relationship with customers and suppliers. Although this could be considered by some as a dangerous strategy, it has proven to have had the opposite effect by ensuring the loyal support of our suppliers and our growing customer base.
"IDEAL Fasteners has worked closely with various other companies over the years to assist with the development and growth of the industry. Having worked with BlueScope for decades, we recently collaborated with them to contribute to a training program they were undertaking with industry to train teachers within TAFEs and other RTOs across Australia who are registered to provide training in Certificate III in Carpentry. BlueScope had identified the need to provide training to carpentry apprentices in how to build with light steel in addition to the traditional timber product.
"IDEAL Fasteners were more than happy to work with BlueScope to assist with this program. Our support included the development of a Light Gauge Steel Framing Fastener Selection guide, which has been, and continues to be, provided to every RTO they train, as well as sample packs of all the screws and fasteners recommended by IDEAL Fasteners. This assists teachers and apprentices in increasing their knowledge for selecting and using fasteners with light gauge steel, and in transitioning from nails to self-drilling fasteners for improved efficiency in construction. This was all done at IDEAL Fasteners' own expense, in the knowledge that the only benefit for us would be that our products would be before the teachers who are responsible for delivering this training around Australia. We think of it as not just an investment in our future but as a community service to the carpentry and steel framing industries."
Future
"Most significantly is the building of a new National Headquarters for IDEAL Fasteners on a 7,500 square metre site in Keysborough, Melbourne. Initial planning was commenced in early 2020 but put on hold due to COVID-19. The future always holds challenges, and it is how those challenges are received that is important. The future for IDEAL Fasteners has to be to maintain and increase our reputation for caring primarily about the customers' needs and translating that into what we, with the help of our suppliers, can do to best meet those needs.
"Hopefully with our continued work with the development of Australian Standards, the NCC and the Non-Conforming Building Products legislation, we will reach the point where cheap, substandard products are driven from the market, leaving the door open for companies like IDEAL Fasteners whose marketing strategy is one of high quality and high service, rather than low price and low quality. At the top of my agenda is succession planning and implementation of the transition of the business into the hands of our children, all three of which are gainfully employed within the organisation."
All in the family
IDEAL Fasteners current family roster includes:
Neville Deutscher Managing Director
Diane Deutscher Financial Controller (Neville's wife)
Stefanie Deutscher Human Relations Manager/Administration
Benjamin Deutscher Operations Manager
Joshua Deutscher Laboratory Manager
Neville shares, "My wife has been instrumental in our success in that she provided the strength and the confidence for us to make the decision to start our own business in 1992. Whilst being a wife and mother she has also worked in the business since day one. We could not have achieved what we have without her being 100 percent on board with the support she has always provided."
AT A GLANCE
IDEAL Fasteners Pty Ltd
What: Leading manufacturer and supplier of industrial fasteners
Where: Headquarters in Melbourne, Australia
Website: www.idealfast.com.au