INTAKS New Zealand Limited (INTAKS)
New Zealand's Leader in Scaffolding and Edge Protection
Business View Oceania interviews Peter Chapman and Joel Warren of INTAKS New Zealand for our Construction View.
INTAKS New Zealand Limited (INTAKS) designs, manufactures, and supplies New Zealand's leading scaffolding and edge protection system. The INTAKS scaffolding and edge protection system, originally designed by Mr. Lew Cleveland, began as an alternative solution to legacy protection systems that didn't meet the local construction industry's need for safety and efficiency of install and dismantle. Utilising international techniques and technology from Australia, Germany, and the United States, Mr. Cleveland spent 15 years developing the system that, once released to the market, would improve efficiency, safety, and reliability on worksites across the construction industry. INTAKS' system allows its primary customers, scaffolding companies, to provide specialised access solutions for clients across the construction sector. INTAKS' customers serve clients in the residential and commercial sectors, including include group home building companies, builders, painters, roofers, and other sub-contractors, as well as individual homeowners and commercial construction companies.
The INTAKS system is extremely versatile, with a comprehensive range of configurations. Set-up is modular, which provides great on-site flexibility. Scaffold and edge protection components are manufactured primarily using aluminium. This means the INTAKS system is very strong but easy to handle. INTAKS Scaffolding products are applicable to a variety of customer requirements. They include attached and free-standing scaffolding for residential building or renovation, as well as maintenance platforms, tilt slab access platforms, and walkways that have commercial applications. INTAKS Edge protection products also cover a broad range of client needs, from roof edge protection on residential houses and commercial 'big sheds', to edge protection that can be mounted on concrete floors, tilt slabs, parapets, and I-beams on large multi-level buildings. As well as being tried and tested on construction sites for more than 10 years, the INTAKS system has been designed and tested to comply with both scaffolding and edge protection standards in New Zealand and Australia.
INTAKS is represented by senior staff Peter Chapman (Managing Director) and Joel Warren (General Manager), who share their expertise and explain the importance of providing construction workers with safe and reliable scaffolding and edge protection systems. Mr. Warren begins, "We have a responsibility to keep workers safe on the job. It's also about the people who are installing the equipment on site. Since our equipment is lighter, installation doesn't take a massive a toll on the body like more traditional products, which are usually made from steel. From a business sense, this ups profitability for our customers. If your staff are more efficient and aren't injuring themselves, wearing their bodies out, or making mistakes due to exhaustion, you don't have to spend extra time or money fixing problems."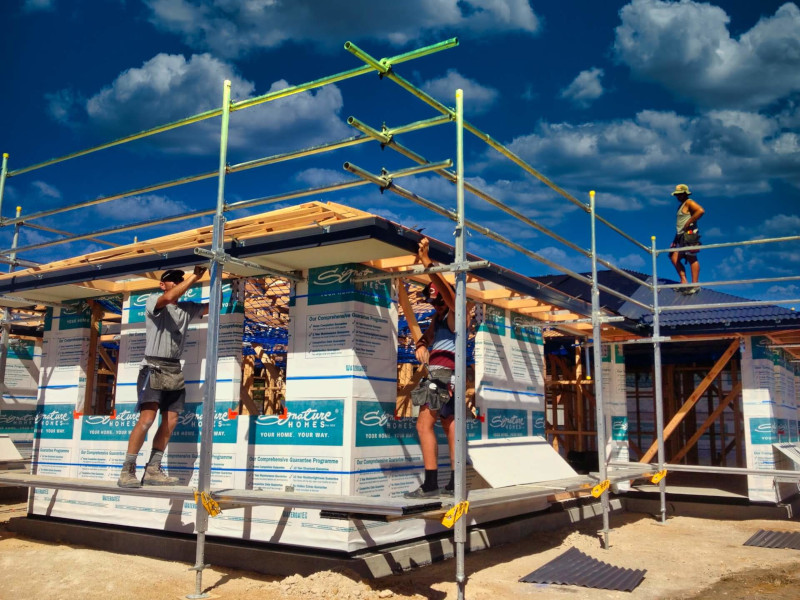 INTAKS is run by a team of six experienced individuals and supported by a number of external manufacturing partners. The team operates nationwide from a base in Tauranga (Bay of Plenty region), where they utilise a main office and warehouse, and a separate indoor training facility. Mr. Warren explains, "Since a key part of our business model is supplying to scaffold companies, we spend a fair bit of time out on the road meeting with them. So we help people set up their business, providing product advice, templates, training, and industry knowledge to help them hit the ground running. And then there's ongoing support, which can range from regular phone calls on a particular issue or concern, to visiting customer sites. Providing this support is really important to us. We've got customers we are still in contact with for advisory purposes after seven years."
INTAKS takes a customer-first approach to its business, fostering collaboration with customers that is transparent, detail-oriented, and driven by solutions, Mr. Chapman says. "We communicate very closely and regularly with clients, particularly those who might need a little more support or advice, and those who are leasing equipment from us. As our business grows, we have more gear out there on the ground and a higher level of supply demand, so it's important from a management point of view that we can support our customers where needed. We also get feedback from our customers that is invaluable. Trust and communication go both ways, so our relationships are very open and honest." INTAKS consistently holds heavy investment in training and support for its scaffolding company customers and their staff as a key area of focus. This focus allows managers to improve the efficiency of installers on site, which will ultimately improve the bottom line of the scaffolding company. Significant investments include the recruitment of an experienced Training and Support Manager, opening of a dedicated indoor training facility, and vital development of concise, user-friendly training manuals to complement existing detailed guidelines for use of the INTAKS system.
The ongoing presence of the COVID-19 pandemic has presented some significant challenges to INTAKS staff in terms of materials supply and manufacturing. Key suppliers and manufacturing partners are all New Zealand owned and operated. This makes close communication and collaboration easier, Mr. Warren says, but border restrictions have made it difficult for some suppliers to get materials into the country from overseas. "With everything that's going on in the world, the entire industry has definitely been affected by delays in getting overseas supplies into New Zealand. As a result, there is a clear shortage of scaffold in the market at the moment. Pair that with the construction boom we are currently seeing, and you get a lot of strain on manufacturing companies."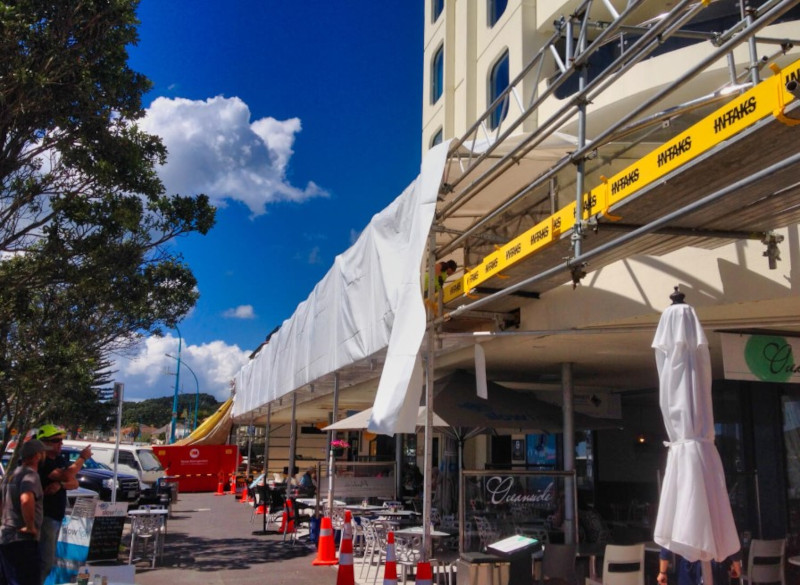 As well as disruptions to import supply chains, INTAKS' customers have had to contend with challenges surrounding site access due to government restrictions. Operations were reliant on government suggestion and restriction enforcement; work ceased completely to comply with level four restrictions but has since been able to recommence under level three lockdown regulations. INTAKS has worked hard during this period to put in place processes that will ensure ongoing supply to customers. Mr Warren continues, "We are also seeing projects run longer due to delays in building materials supply and distribution and site access constraints, so scaffolding requirements have been increasing across the country. We have had customers stay on a project for double the original time estimate. So the equipment on those jobs, which would usually be taken down and moved on to the next site, is having to stay far longer. As new jobs pop up for these customers, they need additional equipment to be able to get started on their new contract."
INTAKS has a number of affiliations, awards, and recognitions that showcase their success, including Best Design from the Designers Institute of New Zealand, Safeguard's New Zealand Workplace Health and Safety Award, and the Site Safe Construction Health and Safety Award. The company is a member of Site Safe New Zealand and the Roofing Association of New Zealand. They are also a recognised National Partner of New Zealand Certified Builders. The company is the only supplier of the proprietary INTAKS scaffolding and edge protection system, and their long-term focus and active approach has allowed them to collaborate with and support a large number of external contractors and companies in New Zealand's construction sector. This is an achievement staff are incredibly proud of.
In the near future, INTAKS hopes to release to the market a number of new innovative components that will work in conjunction with the current INTAKS patented system, and to expand their capabilities to service Australia and neighbouring Oceanic nations. Mr. Warren concludes, "We take our customer focus and approach to workplace safety very seriously. We have a lot of pride in our efforts to keep New Zealand construction workers safe, and we will continue to develop new products and resources to support new and established businesses throughout the sector."
AT A GLANCE
INTAKS New Zealand Limited
What: Exclusive provider of the INTAKS scaffolding and edge protection system throughout New Zealand.
Where: INTAKS is headquartered in Tauranga (Bay of Plenty), New Zealand.
Website: www.intaks.co.nz

Enabling Ltd – www.enabling.co.nz
Enabling builds innovative, client specific and cost-effective business management solutions that work. On budget, guaranteed. With decades of practical experience across a multitude of business sectors, we know what solutions, processes and support can improve your business performance. Enabling better business is what we do.