InterContinental Melbourne The Rialto
A passion for the past
Business View Oceania interviews Erik Steube, General Manager of InterContinental Melbourne The Rialto, for our focus on Resort Hotels in Australia
InterContinental Melbourne The Rialto offers the experience of a lifetime in a much loved Melbourne landmark. Its enchanting Venetian Gothic façade begs to be photographed, while inside, the 21st century is embraced with exquisite modern décor and all the amenities. Located in the heart of the CBD, this quintessentially Melbourne destination offers 253 beautiful rooms and iconic suites, 11 meeting spaces, and award-winning restaurant and bars.
Business View Oceania recently spoke with Erik Steube, General Manager of InterContinental Melbourne The Rialto, about this extraordinary, historic building that he manages. It's a continuing saga that brings the past to life and shows why this hotel is THE place for making memories.
BVO: Let's start with the building's history and how it evolved into the fantastic destination you have today.
Steube: "That part is the foundation of the entire property. Not just in terms of its personality but in terms of its success, its positioning, its appeal, its unique selling point, its WOW factor. It was built in 1891 in the height of Melbourne's boom time. Gold was discovered here in the middle of the 19th century and by 1891, Melbourne was the richest city in the world. There was more money here than you could believe, even though it was a bit of a frontier town. The entire main street, called Collins St., once was filled from top to bottom with buildings like what you see when you look at the façade of this hotel. Hundreds of them. Unfortunately, during the 1970s when things weren't valued for what they were historically, most of them were demolished.
"This particular one was saved because it was part of a larger parcel of land and the buildings on it were kept in anticipation of something happening. The owners wished to build a very large office building next door and in return for the permit they were required to do something to retain this building. So, in 1983, they chose to join it up to the neighbouring building with an atrium-style glass ceiling and create what we have now. They no longer own this building but they are owners of the office building next door called the Rialto Tower, and there's a very close relationship and interfaces between the two buildings and the two management teams.

"The original Rialto building has the neo-gothic façade on the front that runs all the way down inside under the atrium. Back in 1891, it was a very interesting building because structures in those days were not fireproof and they were built for one purpose. This was Melbourne's first completely fireproof building and that was valuable because if you were storing things like your wheat harvest, or bales of your finest wool, you could be sure that no matter what happened in the rest of the city, your things would not burn up. It had elevators which went five storeys and could carry two tons; powered by water using hydraulic pumps. Remember, there was no electricity then. And the building was mixed use. It had residences, offices, stores, factories and entrepreneurial businesses in it – which was very unusual in those days."
BVO: Where do your guests hail from?
Steube: "We have 253 rooms and 180 colleagues servicing the guests in the hotel. The bulk of our customers are Australians and you could almost say we're running two hotels here. The first is our weekday hotel. InterContinental Melbourne The Rialto is located in a part of Melbourne that's a bit like Wall Street – close to bank headquarters, consulting company headquarters, the big legal companies, the court district. So Monday to Thursday most of our customers are here for a business-related reason. During those days, we run at about 55 percent return guests who have business in Melbourne every week. We know all of our customers very well. We have one particular customer who we know so well that we know the order to hang up his shirts that he leaves behind. The Monday shirt, the Tuesday shirt, etc., so that's our first hotel.
"The second one is the weekend hotel and that's a much more broad mix. Even people from Melbourne, itself, having a staycation. There are people from Brisbane and New Zealand and although we have international guests through the week, we tend to get more on the weekends because Melbourne is very event driven. Lots of festivals and things like the Melbourne Grand Prix (The Mercedes Formula 1 team stay here every year, we're their lucky charm hotel.) And so our leisure business is more diverse."
BVO: What makes your hotel a preferred choice for business and leisure guests?
Steube: "We are not a 50-storey brand new hotel with great big rooms and views forever and gold-plated taps. So we have to embrace the pride of our heritage as a 130-year-old building that has been converted into a hotel with all the features and the history retained. Originally, the function rooms were in plasterboard and beige paint and simple carpet. And we said, that's not honest enough. So we stripped back to show the actual bricks and we put a very brightly patterned carpet in. The old bluestone laneway outside the rooms, which is the way that wagons used to get into the building to deliver, is the last private laneway in Melbourne and no one knows it's there. So we had a professional graffiti company paint pictures on the wall. When you're in the Laneway Rooms and look out, you see a Melbourne graffiti wall with a spotlight on it. The reaction has been amazing. It's a unique destination experience in the middle of the city and no one else will ever have it.

"We also have something called the History Project with various interns and college students rotating through doing research. And we use the Melbourne Genealogical Society to help us track down real people and learn their life stories, and we try to connect with their descendants. The space I'm talking to you from is in the basement and was actually a chocolate Easter egg factory. By pure coincidence one of the descendants of the founder of that factory brought some family members and was talking about the space outside my office window and I went out and met them. We love hearing the stories. Architecture is great, but what makes this building the way it is are the souls and stories of all the people who went through it. That's our focus and our differentiator."
BVO: What other special features and technology do you offer?
Steube: "We have an enclosed rooftop pool and gym, that's a lovely place to be. Melbourne is not the warmest in the winter and you can't swim outside, so it's very important to our leisure weekend business. For dining, we have two exceptional establishments. "Merchant" is a fantastic restaurant owned and operated by Celebrity Australian Chef Guy Grossi and is inspired by the rich Venetian culture and authentic cuisine he experienced through his family roots in Venice. We also have our own full service restaurant that features a hearty breakfast; a wine bar and business lunch product; and at night we do specialty dishes based on local ingredients.
"As for technology, it's there but it's under the skin, you don't want it to be overt. An atrium hotel is not usually environmentally friendly because you have to heat and cool it. And in Australia it can be 40 degrees or two degrees, so you can use a lot of energy. By installing world-class building management systems which run our plant, we've managed to cut our energy consistently in big numbers – 17 percent. We also have an iPad in every room and that covers a lot of functions that would have required printing or other services that are not environmentally friendly, and also aren't live. That covers room service, housekeeping requests, limo bookings, bar bookings, next reservation, membership questions, shopping options… a million things on that iPad in a service called Air Service. We're the first hotel in the world to have that particular Air Service."
BVO: What lies ahead for the future?
Steube: "The goal at this point, during the pandemic, is to be agile and flexible so that everybody gets through what we're going through at the moment in the best possible shape. Looking to the future, our owners (Salter Brothers Hotel Group) are very engaged with what comes next and keen to do ground-breaking things in the industry. The key thing is whatever we do has to enhance the special nature of the history and the building. There are spaces that can be added to, such as the atmospheric secret laneway, that is now just a locked off space.
"While we will do something with our rooms and public spaces in the next few years, it's all aimed at bringing to the fore the jewel which is The Rialto building itself. Its connection with Melbourne's past through to today. You can go to a new hotel that was just built last week and it might be a lovely building with a lot of assets but it hasn't been there, soaking up Melbourne, for 130 years. There is a universal truth to this hotel and that is that every single person who walks through the door says "Wow" and then gets out their phone to take a photo. It's just that kind of special place."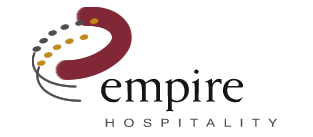 Empire Hospitality – www.empirehospitality.com.au
At Empire Hospitality our focus is on the delivery of cost effective housekeeping services and we continually strive for service excellence, through this method we have built an enviable reputation as a market leader in housekeeping services by providing site specific delivery to each of our clients. With proven experience in providing the best and efficient service, we are the housekeeping partners of the leading hotels and serviced apartments in Australia.