Kerfoot Pty Limited
Strength. Growth. History
Business View Oceania interviews Neil Keane, Energy Manager of Kerfoot Pty Ltd, for our focus on Innovation & Growth in the Australian Energy Sector
Kerfoot Pty Limited is a privately-owned commercial electrical contracting business which has been steadily expanding its operations since 1972. Based in Seven Hills, Sydney, Kerfoot services the New South Wales market providing industrial and commercial installations, maintenance and service for a broad range of public and private sector clients & projects. Service offerings range from general lighting and power through to major switchboard and electrical upgrades, in addition to communications, data and advanced integrated installations.
From a small family business to today's operations in industrial and commercial environments, Kerfoot is backed by a proud history in the electrical contracting industry, with a proven reputation for designing, managing and delivering projects on time, on budget and to client specifications. The Kerfoot journey began in 1964, when Keith Kerfoot and Dennis Drew started the business from the Kerfoot family home in Parramatta, Sydney. Working mainly in the domestic market wiring new homes, the company continued operating as Kerfoot and Drew until 1972 when Keith set up Kerfoot in partnership with wife Barbara. Today, the Kerfoot team, led by Directors Stephen and Richard Kerfoot, and third generation Operations Manager, Josh Kerfoot, has grown from a small family business to become a multi-award winning leader in the electrical contracting industry in New South Wales.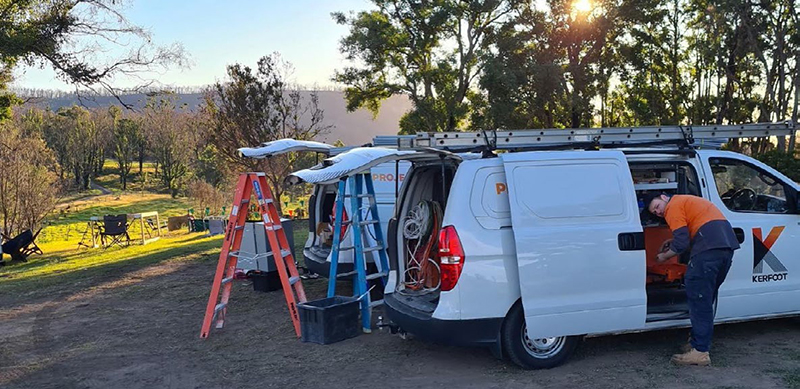 Neil Keane, Energy Manager of Kerfoot, recounts, "The company started three generations back and has grown from a two-man residential electrical business to now 150 employees. Over 47 years, the company has established a very good reputation within the industry for consistently providing quality service. And a lot of the clients we currently work for are ongoing business. It's not just single projects we're doing, they keep coming back to us time after time because they're getting the service they want."
Kerfoot has five core teams operating cohesively within the business. The Projects team look after the larger electrical jobs. The Service team provide all the maintenance service and small projects – replace switchboards, carry out routine annual inspections, maintenance of solar PV systems, etc. The Integration team offer services within the BMS control systems such as launching controls and related solutions. The Mechanical Electrical team do all the mechanical wiring for companies, manufacturing switchboards and all the aspects that go with that type of mechanical installation.
The most recent addition, the Energy team, offer solar PV. Complete turnkey packages from design, procurement, construction, through to the operation following completion of the projects. Keane explains, "We're also offering battery storage solutions, and we're adding a few more product ranges that will include demand management where the buildings are load shedding, reducing demand upon the requirements of the DNSP and the networks in the area. That will be an exciting space, particularly in Australia over the next few years, given the move from fossil fuels and coal-fired power stations to renewables and much more solar. And I would say the networks are behind in where they would need to be to cope with the fluctuating generation that comes from solar, so I think demand management is going to be quite a large part of the puzzle for establishing a stable network."
Kerfoot mainly operates within the commercial industrial space where the bigger projects are, rather than smaller residential projects. From an electrical perspective, the company only covers New South Wales because its employees are based there and it would be difficult to provide that kind of service in other states. But that horizon has broadened for the energy side of the business, which was established about 24 months ago. With the use of specific selected sub-contract installation teams, the company has that service available nationally. Kerfoot is able to provide solar PV, battery storage and demand management (once it's been finalised) and offer it as a package to retail shopping centre customers. The client can then combine that with an embedded network from a provider which is one of Kerfoot's close partners.
According to Keane, "It's a holistic approach to their energy within that building and it also builds a nice financial revenue stream. The beauty of it is that you're able to take a package to a client, who would primarily be looking at the financial aspect of that project. But because it introduces this revenue stream, it makes it much more attractive for them to put a large scale renewable system on their roof. And that's great when you're looking at climate change and reducing CO2 within Australia. So we're quite excited about that."

A company called WinConnect is known within the embedded network space in Australia for being a quality premium provider. "That's a key relationship for us," says Keane, "especially when we're taking our product offering into the commercial retail shopping centre space because the way they operate their embedded networks is high quality. So it's been great for us to work alongside them."
Over the past 24 months, Kerfoot have been looking to establish the Energy team with a very robust operating model and product offerings before pushing it out to the market. "We are now at the stage where we're very comfortable with the product offering," says Keane. "We know it's very high quality and that we're able to deliver it well within the clients' expectations. The next task is for us to drive that forward in the market, so we can build a name for ourselves. We're going to be known within the energy space for delivering the quality product like we do in the electrical space."
And speaking of driving, electric vehicles are making inroads in Australia and Kerfoot is perfectly poised to provide the required charging capabilities. They've recently done a rollout of EV chargers for one council that secured a number of electric vehicles and need to be able to charge them at their depot. And, of course, chargers were installed at the Kerfoot office. Keane forecasts, "Over the next five years, I think the number of electric vehicles on the road, globally, will be phenomenal compared to the previous 10 years. Even since last year, you've seen substantial growth in the number of people considering and purchasing electric vehicles. And if they're buying them they'll have to have the means to charge them. So it makes sense that the EV charge space is going to significantly increase, as well."
Competition in the solar field is strong with many organisations offering similar products. But the major differentiator for Kerfoot is the fact that, being an electrical organisation, they do the full turnkey solution inhouse, including installation. Whereas most of their competitors are only solar organisations that have to subcontract installation and electrical work and don't offer a whole range of products and services.
Company culture is a source of pride at Kerfoot and as a result there is very little staff turnover. Marketing Manager, Rebecca Korman, shares, "Our company culture is very family orientated. The Kerfoots put in a lot of effort to really know their staff and treat them very well. They genuinely care about their health and wellbeing. It's a very supportive culture here and we all work together as a team to make sure we get the best outcome. Our team is forever growing because the company keeps growing. And we're continuing to get good people on board so we can do upgrades."
Looking ahead, the impetus will be to increase the scale of the energy team. The Kerfoot family sees the renewable space as a very important part of Australia's future. That was the original reason for them setting up the energy team. They're very passionate about it. And Keane believes the smaller teams within the business are going to expand and therefore bring the business as a whole to a larger organisation. Keane reports, "From a sales perspective, the teams have been really integrating with one another to bring opportunities, so they're combining it all for what we call the "One Kerfoot" approach.
"It all revolves around all the teams being able to work together on "One Kerfoot" projects," adds Korman. "Going to market with an offering where all our teams can provide a great solution so the customer feels really good about it. We see the value in collaboration and that comes from the top as well. We're very forward thinking with regards to energy and we do care about the environment and we care about the future. That's why we work so hard."
AT A GLANCE
Kerfoot Pty Limited
What: Privately-owned commercial electrical contracting business
Where: Seven Hills, NSW
Website: www.kerfoot.com.au