Kimihia Home & Hospital
"Your home away from home"
Business View Oceania interviews Fiona Morgan, Facility Manager of Kimihia Home & Hospital for our focus on New Zealand Aged Care & Retirement Villages
The word "Kimihia" means: Look here; look for it; go and seek; search out. A name aptly fitting the reputation of Kimihia Home & Hospital as a sought after destination for elder care. On 3rd March 2019, Kimihia Home & Hospital celebrated 40 years of providing aged residential care. It was a significant milestone that underscores the facility's importance to the Huntly community. Today, Kimihia and its 18 village units remain a not for profit, Community Charitable Trust and proud to be 100% Huntly owned.
While most of the original buildings have been developed or extended, Kimihia Home & Hospital stands testament to the hard work and dedication of the Huntly and Districts community and the valuable contribution from Huntly service clubs of the early 1970s. Fiona Morgan, Kimihia Facility Manager, shares, "To celebrate our anniversary, we had an Open Day celebration and invited the service clubs, and local media and people who had an association with the facility over the 40 years – previous staff, previous board members. We had an afternoon tea and a tour around the developments in the facility. It was a lovely reunion. Huntly used to be a big mining town, and the Home was established back in the '70s because those miners were starting to age and there wasn't anywhere for them to go. So, the local community groups and service clubs decided it was time to set up an aged residential care facility here in town."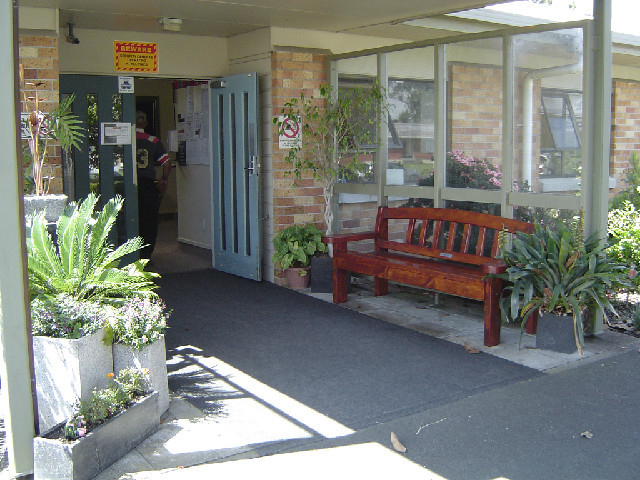 Today, Kimihia Home & Hospital is still a community charitable trust non-profit organization, with involvement from the Rotary Club, the Lions Club and a community board. The original building had 40 rest home level only beds and new sections were added as the need arose, including a 22-bed hospital and a 12-bed dementia unit that was converted from one of the previous rest home wings. In 2013, a dual service wing was opened, allowing residents to come in at rest home level and, as their medical condition or their needs change, they're able to stay because that wing is certified for hospital level care.
Morgan notes, "Those are much bigger rooms that were built so husbands and wives could come into care together. We're aware that in our community it's the emphasis of the government to keep people at home a lot longer, and sometimes it's the carer that needs the care before the cared for person. Our intention was to have couples come in so that the cared for could be looked after, as well as the carer. In our experience, we've found it's the primary carer who has actually passed away or needed much earlier help because it's just so taxing on them." The Kimihia hospital provides care right through to end of life, with two dedicated palliative care rooms. The funding for that was assisted by a very strong previous board member. Before she passed away, she needed the care provided in the palliative care unit, so it was a bittersweet turn in her end years that she actually made use of the facility after it was established.
Studio apartments are another option at Kimihia. Eleven tasteful modern units are available with separate bedroom, ensuite, lounge, dining and kitchenette overlooking local farmland. Not surprisingly, there is a wait list for those because people want an environment where they receive care but also have the independence of living in their own apartment. "We're really proud of those units," says Morgan. "And we also have 18 rented units in Kimihia Village. Everybody there lives completely independently but they do come over for special occasions and when we have Village meetings. They're still involved with the facility in some capacity and a few of them volunteer to visit with hospital residents or assist with meals. So while they're separate out there in their own little world they can still access the services we provide on this side, such as Meals on Wheels. In the event they have their own medical issues, they have sought convalescence care at our facility. And occasionally, villagers come over for our day respite program. We hugely support the transition of people from the village into our rest home when their needs change and they're really encouraged to be part of the makeup of the facility." One of the main differences between Kimihia Village and others in the area is that the units are rented out. There are no Occupation Right Agreements on them. As a result, there is a substantial wait list.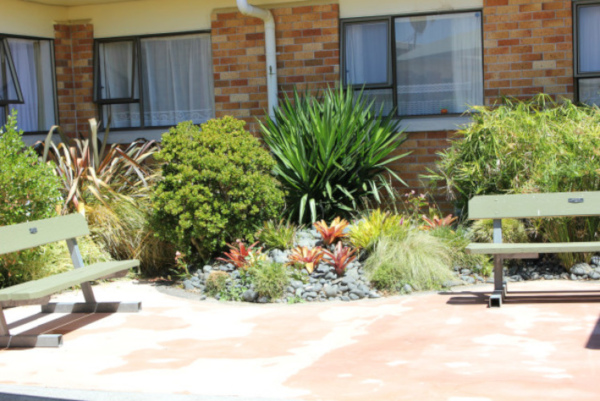 In essence, Kimihia is its own community within the Huntly community. There are presently about 75 staff members, with an average age of 45 and seven employees over 65. "We just had one who celebrated 25 years of employment at our facility," says Morgan. "Nobody leaves, once you work here you're part of the family. Our caregiving staff doesn't tend to turn over very quickly. They know how things run and they have a vested interest because it's part of the community. Our communication style between management and staff is as formal as it needs to be but our foremost priority has always been our residents. The decisions I make are with that in mind – that's my leadership style and I think our staff is of the same mindset that while we get paid to look after our older people, we wouldn't have a job without our older people. So we make good decisions based on their needs and the intention is always to make sure they are safe and comfortable."
Several expansion projects have pride of place on the future wish list, but being a community-owned and operated facility, access to financial resources is limited. Building-wise there haven't been a lot of developments but the "archaic" computer systems have been upgraded with new technology that enables both administration and clinical staff to work more efficiently. Kimihia is hugely reliant on support from a local group called the Friends of Kimihia who applied for funding for some "very cool" high-tech equipment. For example, a Nordic wellness chair that helps people with dementia relax through soothing music and tactile stimulation, and consequently has a beneficial effect on their behaviour and quality of life.
Kimihia also has sensory gardens that are therapeutic for one and all, since the care facility is on the same ground space as the Village units. Another nice stimulating influence is the early childhood centre at the back of the property, so when residents are out walking around the gardens they can hear the children playing. Community support works both ways. With regard to food, all of the facility's vegetables are sourced locally and a good amount of the meat is supplied by the local butcher. Household services staff come from the local community, as well. "And we wouldn't be able to provide the care we do without our local GPs," says Morgan. "They have committed to maintaining the relationships they have with their people from the community. There's nothing worse than coming into care and your GP not knowing who you are and not being aware of your background to know what will make you better. So having that history is very comforting for our residents and their families."
Looking ahead, Morgan states, "We still have some four-bed rooms in our hospital wing and I would like to get rid of them because nobody wants them anymore. Everybody wants their own space now with their own ensuite. People are becoming more private about sharing a space with others. So hospital modification or upgrade is what I would really like to achieve over the next five years. Also, we're in a subsidence area related to the earlier mining industry here in Huntly, and there's an empty block of land that is really only good for grazing cows. But every time we've applied to receive that land back so we can develop more village units, we've always been hit with a snag. We have a waiting list of at least 25 people and we know the development is possible, but it's been frustrating to find someone who's willing to provide us with a lease or ownership of that land."
In the meantime, the wonderful team at Kimihia Home & Hospital continues to do what they do best – providing outstanding care with a lot of heart. Community care done by community people.
AT A GLANCE
Kimihia Home & Hospital
What: Community-owned residential aged care facility
Where: Huntly, New Zealand
Website: www.kimihia.co.nz