Norden Group
Supporting Australian Transport
Business View Oceania interviews Mark Jasper, Rob Anson, and Ryan Anson of Norden Group for our Transportation View.
Founded in 1959 by Mr. Ron Anson, Norden Group supports Australia's transport industry through their four specialist divisions: Norden Body Works, Norden Conversion, Norden Hydraulic Connections, and Norden RV. The company also provides a service division to support wheelchair access conversions, design and engineering assistance, and a small fleet of accessible vehicles available for self-driving hire. Having remained in the family over 63 years and four generations as an Australian owned and operated entity, Norden Group is a prime example of a beautiful combination of consistent, innovative evolution and traditional values.
Business View Oceania was lucky enough to speak with Mark Jasper (Sales and Marketing Manager- Norden Conversion), Rob Anson (Managing Director), and Ryan Anson (RV Business Development Manager), for their insider's perspective on the life of Norden Group. Rob begins, "My father, Ron Anson, started the company as Norden Body Works with my grandfather, Walter Anson, as partner, and they specialised in custom truck body manufacturing for vehicles anywhere from light trucks up to double semitrailers. They also supplied hydraulic fittings for those builds, which eventually formed our Norden Hydraulics division, and over time they gained a really solid reputation for heavy builds that were a long-term, bulletproof solution for clients' needs." Norden Body Works now supplies primarily for van fit outs, bulk loaders, cable trailers, and special vehicle projects.
Rob also provides his insight into the evolution of Norden Hydraulics. "Hydraulics was born out of necessity. We found we were in constant need of supply, so I was able to go and learn my way around hydraulics as I shifted into the business with my father, and as a result we became a distributor for Aeroquip hydraulics. That story is a real testament to our core principle; if we see a problem, we go out and fix it, and we enjoy looking for the most innovative and effective way to do so. Now we are able to supply not only ourselves, but also key players in petrochemicals, food processing, automotives, freight, manufacturing, and more- we have a great range of equipment and the knowledge to match."
Mark Jasper speaks on Norden Group's Conversion division, which has carved out a special place for the business over the last 30 years. "Norden Conversion began when Ron Anson was approached following a demonstration at his local rotary club by an operations representative for the local hospital, and challenged to convert a vehicle for wheelchair access according to a strict budget. Now, Ron was never one to shy away from a challenge- that's a philosophy we still honour today. So in his true entrepreneurial spirit, he said, 'bring it on'. Now, I doubt we actually made a profit on that first conversion! Rob was on the workshop floor when it was built, and they spent many hours getting it right. But eventually, they did, and they saw a real opportunity to fill a gap in the market. Nowadays, we can complete anywhere from 200 to 300 conversions a year." Norden Conversion is now considered an industry leader in vehicle adaptation for access by members of the community with a disability or reduced mobility.
Rob chimes in, "We have worked with non-profit organisations, fleet management organisations, dealerships, taxis, and more. And in line with our values around development and innovation, we committed to a full body crash test. That crash test was attended by representatives of Toyota, VicRoads, and the CPPV (Commercial Passenger Vehicles Victoria), just to name a few. It was a real success. Just recently, two significant vehicle manufacturers have reached out for us for advice on wheelchair access and some issues that they are dealing with. At the end of the day, it's up to them if they want to make noise about it, but it gives us confidence in our reputation with OEM suppliers and vehicle manufacturers."
Norden Conversions also provides servicing up and down the East Coast, he says. "Essentially we thought, if we are building these products and distributing them, it's in our best interest to make sure they perform to a high standard and maintain that quality throughout their lifespan. Especially for large disability service providers that work across and between states, it's important that they have consistency in their services, and who better to see that the people that built the product in the first place? The service division goes throughout Victoria, up into New South Wales, and Queensland."
Norden Group has received a number of awards and achievements for their contributions to the industry. The company was the first in Australia to be confirmed as a Van Partner with Mercedes Benz and took home gold medals at the 2017 and 2016 VACC industry awards for manufacturing and business leadership. Rob shares, "We also have second stage manufacturing capabilities, so our vehicles can be converted prior to registration with approval from the National Registration and sold no differently to any other vehicle. Because of this, we can deliver nationally without any compliance qualms, and there are massive cost savings associated with shipping back and forth across state lines for registration purposes. And we're the only ones in Australia that have done it."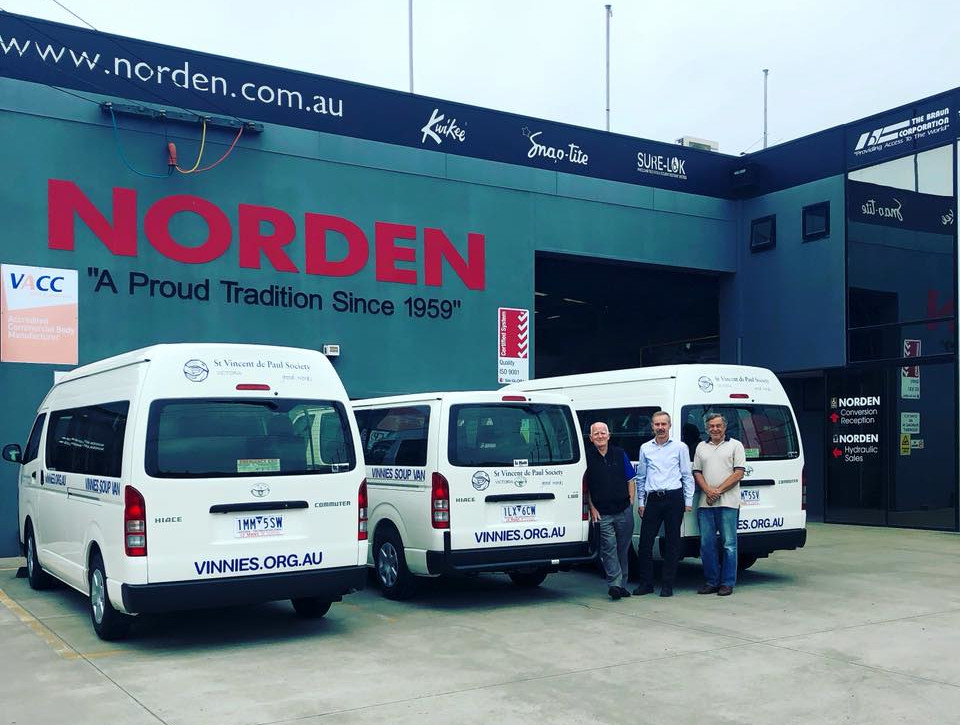 Ryan Anson is the RV Business Development Manager "Our RV department was created to provide speciality solutions to the recreational vehicle industry. We have experienced steady growth since its inception, and have a great range of products including RV steps, levelling, cargo and room slides, utility trays, chocks, cargo control, etc. We focus on products that make life easier and safer on the road."
Norden Group operates as a team of approximately 20 from their headquarters in Melbourne, Victoria. Their honest and transparent approach to business has earned them a reputation as one big family. Mark elaborates, "When I joined Norden Group, it really was like entering a family. We have a number of staff that have worked with us for between 20 and 45 years. For example, our workshop manager started with us over 40 years ago as an apprentice. We even have some key team members that have gone away on their own ventures and have come back to us years later. I don't think you get that sort of commitment and lengthy tenure without a great working environment. The strength of our organisation is definitely in our people and our attitude. We are interested in our clients' needs, their problems, and solving those problems. And we have an open mind- yes, we've been in business for over 60 years, but we certainly aren't stuck in our ways. We are always questioning our methods and saying, 'what can we do better? How can we improve?' even if things are going perfectly. Because that's what a good business does- they keep evolving over time."
Looking to the future, Norden Group expects to grow their Norden RV network, and will develop the technology behind their Conversion division to support Australia's shift to electric vehicles. Rob concludes, "We are getting ready to see how we can work on electric vehicles. There's a lot of preparation to do, and we are looking overseas to research how best we can support the big shift when it comes for the vehicles we convert. We are starting preliminary dialogue with manufacturers to see what their plans are, so we can match our solutions accordingly. We don't have all the answers yet, but we are certainly further ahead than we were a year ago, and we expect significant growth in the months and years to come. Again, it's a challenge, and we do love a challenge- especially one that will demonstrate our ability to meet the market."
AT A GLANCE
Norden Group
What: Specialist transport service divisions to support Australian freight, disability, agriculture, and recreational transport industries.
Where: Norden Group is headquartered in Melbourne, Australia
Website: https://www.norden.com.au/