The Oberix Group
The smarter approach
Business View Oceania interviews representatives of Oberix Group for our focus on Technology in the Facilities Management Sector
Today's built environment plays host to an intricate dance of automation – choreographed by ever-evolving technology systems that are artfully integrated behind the scenes by a team of industry specialists at the Oberix Group.
Based in Australia with offices across Malaysia, Singapore, the U.K., the U.S. and most recently New Zealand, the Oberix Group to date has enabled three smart cities, 73 5 to 6 star NABERS (National Australian Built Environment Rating System) rated facilities and over 3,700 smart solutions around the world. Oberix are leaders in the scoping and development of IOT strategy, system integrations for highest energy efficiency solutions and digital workplace processes  for smart buildings, precincts and cities.
Founded in Melbourne in 1992 Oberix has expanded to a global network with over 300 deep experts across six companies including Operational Intelligence, Conservia, Abakus Analytics, Alerton Australia, Leading Edge Automation and Optergy.
Michael Dowling of Operational Intelligence recounts, "We are an Australian-owned company that has its origins in the time when buildings were first automated with 'BACnet' Building Management System (BMS) – the first open protocol. Our founder, Trevor Owen brought these solutions to Australia forming the foundation for Oberix as a valuable partner to clients to optimize the performance of buildings for owners, operators and tenants while reducing cost and carbon footprint and enabling reportable metrics for environmental performance systems such as NABERS.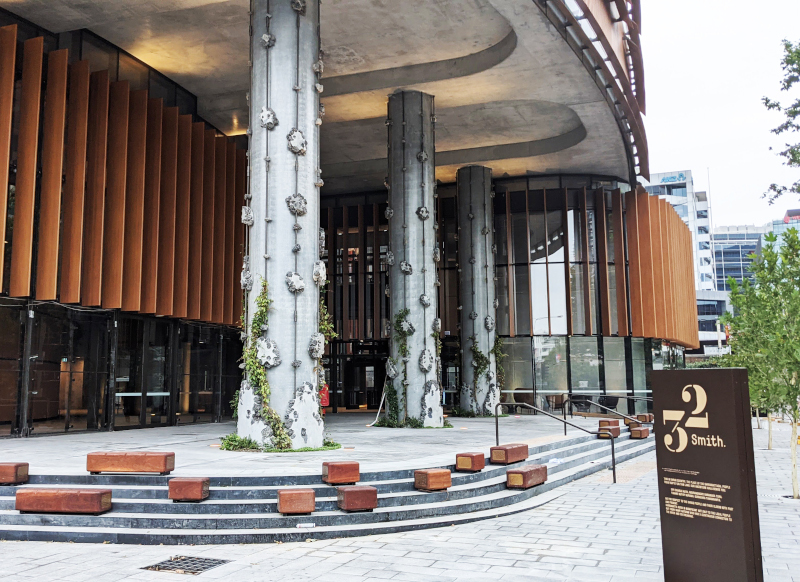 Today, we can leverage connectivity for all aspects of a building, precinct or city. So this includes air conditioning and metering, car park management systems, Wi-Fi, digital displays, room booking and people counting systems. Dowling reports, "This suite of information and its interconnectivity is scoped in line with the sustainability, cost and business case profile desired for a new development or existing infrastructure We're always focussed on delivering the next evolution that can add value in this context for clients."
James Silvestro, Oberix Group, Sales & Marketing Director, agrees, noting, "We use technology to solve problems for clients and add value. So, our business is less about technology and more about cohesive solution development. For example, we use automation and integration of lift and end-of-trip facilities to reduce risk and streamline workplace processes in a commercial building to help manage flow of traffic, to reduce touch points and lineups. We also enable the forward booking of bike, locker space and car parking. We're always looking for ways that can improve operations. We therefore spend significant time with our clients to understand their business, their objectives and ambitions. The conversation therefore isn't about technology but about the performance of a building and the organization and how we can add to that for the investor, owner, operator, tenant and the environment."
Oberix labels, structures and stores data in a meaningful way to be used now and in the future. The company then runs processes between different users and building systems to create building efficiencies. For example, occupancy of a room can be used to trigger lights and air conditioning while counting the number of participants. This not only runs the room efficiently and ensures the space is used most effectively. "It is these process scenarios that we try to understand and turn into key areas of focus for greater operational efficiencies within a property."
Marion Huisman, Oberix Director of Innovation, explains, "Global leaders across industries and asset classes therefore choose to work with Oberix, this is because of the business focus on impacting 'whole of building' and 'whole of business' processes."
In turn, Oberix helps clients drive up capital value, ESG (environmental, social, and governance) credentials and seamless, frictionless user experiences – all of which client businesses need  at their core. This demands focus on efficiency, ESG metrics and driving the cost base down. "Also, importantly, we can take an owner's point of view, a portfolio view, and we can integrate legacy systems," says Huisman.  "Meaning, we can look at brownfield ageing assets and create better solutions. That is becoming particularly poignant because investors are increasingly engaging in global audits of portfolios to ensure climate resilience."
Dowling explains, "We use the term 'master system integration' because it's not just one product. For example, people counting is one thing we do. Some of our projects are just based around counting the population of a building, or a shopping centre, or a university or a public event. But then sometimes, people counting is just one component of a larger project and makes up just one or two percent of the dollar value of the project we deliver. As technology has evolved, we've diversified into these new streams and built solutions that we know are perfect for Australia, which is now distributed across the world."
One of the firm's most notable projects is the $6 billion smart precinct Barangaroo South in Australia,  completed in 2015. Oberix enabled remote visibility and optimised management of the precinct across 220,000 sqm and 3  vertical towers from one dashboard. This solution manages over 1 million data points, multiple facility systems as well as  user-centric workflows for over 200 users.
According to Silvestro, "The technology that is going into buildings today is very disparate. You might have 15 different technology packages going into a building. What happens is that everyone is pulling in a different direction, and you don't get the best results for the users that way."
Dowling and Silvestro explain Oberix bundles all building systems together – whether it's the building automation system, the energy management system, the people counting system, the security system – into one package for the owner or builder.
"So the systems can talk to each other," Silvestro explains. "We can put all the systems on the same platform through integration. This holistic approach not only allows for more competitive pricing, but it also means we can add greater value to the end client at no additional  cost. We've just completed a new building for GPT at 32 Smith Street, Parramatta in Australia. Here we worked closely with the builder, Richard Crooks, in this way. The approach has been highly successful for all stakeholders across the project
With its dedicated team of professionals and a vision focused on a better performing, sustainable and cost-effective built environment, it's no surprise that the Oberix Group is earning global industry recognition.
AT A GLANCE
Oberix Group
What: International provider of building automation network solutions
Where: Head office in Melbourne, Victoria
Offices: 8 in Australia, plus Singapore, New Zealand, Malaysia, UK, USA
Website: www.oberix.com

Dwyer Instruments www.dwyer-inst.com.au
info@dwyer-inst.com.au – +61 (2) 4272 2055
Dwyer Instruments is a leading global manufacturer for a comprehensive range of Instrumentation used in Building Automation and HVAC markets. Our portfolio includes but is not limited to sensors for Pressure, Temperature, Flow, Air Quality, Thermal Energy metering and Test Equipment. Stocked and supported locally in Australia.

Belimo – https://www.belimo.com/au/
Belimo with its headquarters in Switzerland is the global market leader in the development, production, and sales of field devices for controlling heating, ventilation and air conditioning systems. Sensors, control valves and damper actuators make up the company's core business.
Learn more: https://www.belimo.com/au/