Parkwood Retirement Village & Lodge
The benefits of community
Business View Oceania interviews Mark Rouse, General Manager of Parkwood Retirement Village, for our focus on Aged Care & Retirement Villages in New Zealand
Highly regarded as one of New Zealand's most attractive retirement complexes, Parkwood Retirement Village in Waikanae is guided by a simple, meaningful philosophy. To provide affordable, low density housing and a quality environment in superb surroundings for mature people eligible to receive New Zealand superannuation. The added promise of peace, privacy, security, dignity and freedom at Parkwood Lodge makes the location an easy choice over other villages, especially given the attention paid to residents' ever-changing needs.
Incorporated under the Charitable Trusts Act 1957, Parkwood Trust is a charitable not for profit entity under the Charities Act 2005. It began operating as a retirement village in 1971 and now encompasses the retirement village and Parkwood Lodge, a rest home and continuing care hospital. The Board of Management includes professionals with a wide range of experience and two representatives elected by residents, all voluntary.
A member of the New Zealand Retirement Villages Association (NZRVA), Parkwood Village comprises 209 individually designed villas. Residents are issued a Licence to Occupy when they move in, which gives them the right to occupy the villa for life. The price includes a one-time contribution of $35,000 entitling them to enjoy all the community facilities. Residents leaving Parkwood receive 80% of the licence's current market value. The remaining 20% is retained by the Trust for further development of the village and its facilities.
Preferential access to Parkwood Lodge is another benefit for village residents. Situated in the heart of the village, the lodge is a total care rest home and hospital complex staffed by experienced nursing, domestic and kitchen staff. The lodge has two types of accommodation under the care of nursing staff, all of whom are trained in palliative care. Hospital studios are single rooms with ensuite bathrooms designed for residents requiring continuing care. Rest home apartments comprise a spacious lounge, snack and tea making facilities, ensuite and separate bedroom. Residents purchase a Licence to Occupy their rest home apartment and the lodge also has its own bus, especially equipped for less mobile residents.
Mark Rouse, General Manager of Parkwood Village, has worked for the Trust for over 25 years and shares the backstory: "Parkwood Village started in 1971, really before retirement villages were even thought of. It was developed by a group of locals, headed by Lloyd Parker who had a vision of lonely people in the area being able to live in a community of like-minded people and to feel safe. So the Waikanae community gathered some donations, bought a piece of property and it started from there. Lloyd was in his late 50s at the time, retired early from his business and spent the rest of his life working at Parkwood. He was the visionary behind it all, with his wife Joan by his side."
Parkwood Village is defined by its culture of community caring for itself and helping each other. The staff are there for the residents. They're all like-minded and the residents have a large say in the decision making. In fact, a number of them are on the board. The village has a strong residents' association and a singular vision for its direction going forward. "We have 209 units and each one is different," says Rouse, "unlike the current model for retirement villages. And we also have a rest home and hospital. Parkwood Lodge was built 33 years ago and was the first of its type. The rest home apartments are Licence to Occupy, so this is well before anyone thought of it commercially. It was built at a cost of $10 million dollars and put the Trust in a lot of debt at the same time as the stock market crashed in the '80s, so the trust was in a fairly precarious position for a number of years. Lloyd was the one who fought to get the lodge built."
Today, Parkwood Lodge has 25 studio hospital rooms and 54 modern apartments which are principally filled by residents from the village, just a gradual process of care. With 154 people on staff, Parkwood is the biggest employer in Waikanae and one of the bigger ones on the coast. There are two centres, geographically, with each part of the village featuring all the usual amenities – dining rooms, meeting halls, billiard rooms, a big library, fitness centre, arts and crafts room, two restaurants, bowling greens, croquet. Plus 27 hectares of grounds, where residents can walk with a friend or family member, or enjoy being on their own. The scenery and wildlife are quite incredible, as the land joins up to a forested nature reserve.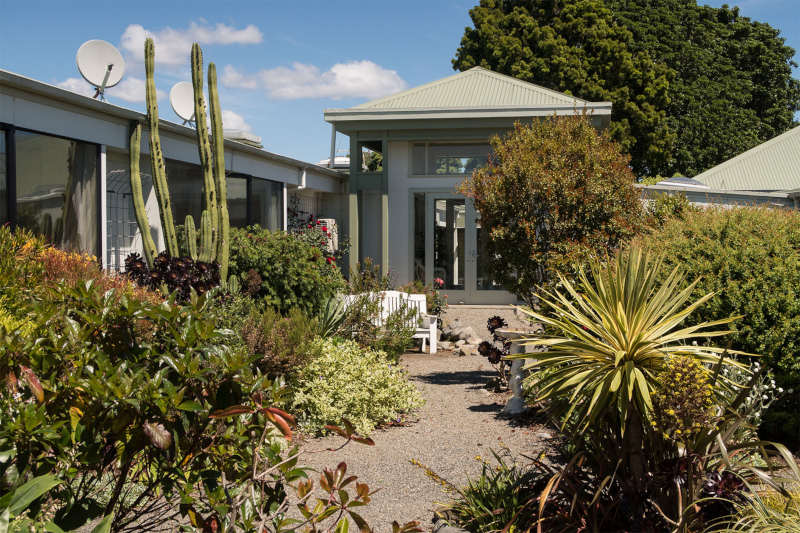 Once someone is living in the village, they can transition to the lodge as their care needs change or increase. A group of nurses known as the 'Village Carers' keep in close contact with the residents – take them to doctor appointments, test their blood pressure, deliver meals when people are unwell, check up on them … and that's all part of the monthly fee. There is no extra charge for visits. Residents really enjoy that service, it's like an insurance policy. They know that even though it's part of their fee, they may not need them from one year to the next. But one year they might need them every week to help. Those 'Carers' are a very big part of the village. They also assess whether people need more services brought into the home and also whether they need to move to the lodge. Currently, there are 59 couples in the village and three in the lodge. And if one of the couple needs to go into the lodge, the other one can remain living in the village.
When it comes to challenges with operating the facilities, Rouse remarks, "As with everyone in the aged care sector, the funding is dreadful. We hemorrhage money in our rest home and hospital every year and we have to recover it through the sales of our licences in the village. That's by far the biggest challenge. And also, getting qualified staff. The problem with the Carers Pay Equity System that came into New Zealand is that everyone thought it would increase the number of people entering the industry, which it didn't. And there's a shortage now, as more people retire and new villages are built, there's a scarcity of the number of employees available. Carers and registered nurses. We're fortunate that we're a long distance from a public hospital because if you're close to one, many of the registered nurses will leave to go there for the better paying conditions in the hospital system. We're all funded by the same people but they get more. We are fortunate in having a lot of long-serving staff, but if there's a shortage generally, there's no one near to recruit. And that's a problem."
The wait list for a normal two-bedroom house in the village is between five and seven years. But because each one has a different design, sometimes a house may go to a newer person on the list because the people ahead of them didn't like it for some reason. But, while it does fluctuate, generally the houses are being shown to people who put their names down in 2012. Indeed, a lot of people in their 60s are thinking ahead and putting their name down now and Rouse believes that is a wise choice.
All ages of the local community are actively involved at Parkwood. In that regard, the facility's administration manager set up a new initiative with the local school, where students in two classes have become pen pals with the residents. They meet every term to chat with their pen pals and exchange letters. "It's absolutely brilliant," says Rouse. "It's wonderful for the kids and the residents. And we also open up our facilities for various organizations in the area because it fits quite big audiences."
In the technology realm, Parkwood is in the process of getting ultra-fast broadband rolled out in the village. Once that is in place, they'll be able to change their database platforms and other systems which are quite old. Rouse admits, "We haven't been able to change them because without the high-speed technology the systems won't be able to run. So we're looking forward to upgrades this year. We're also in the midst of a 10-year project to resurface all our roads in the village with asphalt. That will be finished in 2020 as well. About a million dollars worth of roadwork."
Main goals for the future are to keep the facilities upgraded and improve on any aged care amenities that residents would like. "And to keep on modernizing our houses." Rouse adds. "We've got a 50-year-old verge, so there's a huge amount of maintenance every year and we just need to continue to keep ourselves up to date. Take on technologies as they come. We've got a lot of work ahead just to keep the place looking good. But the residents are pretty happy with the environment they live in here. It's a very caring culture. Staff go out of their way to help them … it's just part of working here. And people get it. I thought I'd be here for three to five years because of the direction it was going at the time, but that has ended up being over 25 years and I'm not done yet."
AT A GLANCE
Parkwood Retirement Village & Lodge
What: Community Trust operated retirement village, rest home and hospital
Where: Waikanae, New Zealand
Website: www.parkwoodvillage.co.nz

Trustees Executors – www.trustees.co.nz
Trustees Executors was established in 1881 and is New Zealand's oldest and most experienced Trustee Company. We have been helping New Zealanders and their families secure their financial futures for over 135 years. As trusted advisers we are always looking for ways to help our clients shape their financial future, whether this is through wealth protection structures such as trusts, wills and enduring powers of attorney, or other complementary investment strategies. We are also a leading provider of back office investment administration services to our institutional clients and as a Licensed Supervisor, our Corporate Trustee Services team are responsible for more than $83bn in client funds. Our client base includes some of New Zealand's leading financial institutions, banks, fund managers and retirement villages.