PPCS Facility Services
Sustainable and safe cleaning services
Business View Oceania interviews Sarel Bloem, Executive General Manager at PPCS, for our focus on Best Practices in Facility Services
PPCS Facility Services is one of the leading providers of professional cleaning and facility services in New Zealand. Boasting three main hub offices, in Auckland, Wellington and Christchurch, in addition to several satellite operations, PPCS is proud to offer the entire country a range of services. These include professional cleaning, facility services, waste management, street sweeping, pressure cleaning and specialist carpet restoration services.
The company, which will celebrate its 30th anniversary in September this year, owes much of its success to founder Andrew Ho, who originally worked for another cleaning company before deciding to set up PPCS and do things his own way. That spirit of independence still burns brightly at PPCS, where the company's commitment to sustainability, safety and quality has seen it stand apart from its competitors.
Sarel Bloem, Executive General Manager at PPCS, explains, "When the company started, we largely focused on the education sector, such as high schools, colleges and universities. Over the last 10 years or so we have started diversifying a lot more into government contracts, servicing a number of local councils and central government departments. Then, over the last three to four years, we've started working in large shopping centres, retail properties, and commercial outlets – a lot of the more traditional markets that other cleaning companies are in."
Earlier this year, with the company continuing to diversify its client base, PPCS started a new food hygiene division, signing up Synlait, one of the largest baby formula producers in NZ. The move required PPCS to enter a highly specialised field, where regulations and standards are on a completely different level to those seen in commercial or office cleaning. Still, the company was keen to tackle a new challenge. This willingness to provide a specialised service is something that PPCS is well accustomed to, having also provided cleaning services to aged care centres in NZ for a number of years.
Sarel acknowledges, "As with a few of the other sectors that we've entered, our food hygiene clients had dealt with a lot of other international cleaning companies operating across New Zealand and weren't getting the level of service they were looking for. That's how they approached us. I wouldn't say we were planning on entering this particular market but we're always looking for the next opportunity."
Like many companies, PPCS found that its plans for expansion were suddenly disrupted last year as a result of the COVID-19 pandemic. Although revenues initially took a hit, Sarel notes that essential services like government departments simply could not cease operating – and so, neither could PPCS. This meant that demand for its cleaning services was actually enhanced, although new approaches did have to be implemented.
"Validation has become very important during the pandemic," Sarel adds. "It's one thing to say something looks clean but how do you actually validate that it's being cleaned and sanitised. We've invested quite a bit of time and money to enable us to do swab testing and random testing on premises that we've cleaned. Our customers love the fact that they can have some sort of validation that the cleaning was done to a specific standard, not just a visual standard. All of this has resulted in our business accelerating to a tremendous degree over the last six to eight months. This growth is great, but it presents a challenge because we want to maintain all our existing relationships as well. We don't want to drop the ball with anyone."
The growth that PPCS has experienced over the last year or so presents another challenge around hiring, namely, finding the right managers to oversee such a pronounced expansion. Sarel says that PPCS conducts most of its new staff training in-house, as it is the best way of ensuring that individuals are a good cultural fit for the company. He emphasises, "People can have all the right qualifications on their CVs, but having the right attitude is more important than having the right skills."
The importance that PPCS places on getting its recruitment right has allowed the firm to largely avoid the high turnover of employees that is normally observed in the cleaning industry. "We probably have the lowest turnover rate in the industry," says Sarel. "We have members of staff that have been working with us for over 20 years. Of course, around 20 percent of our workforce is transient – perhaps they are students or individuals that are between jobs and looking for a stopgap. This turnover will always be there but, on the whole, we have a very stable workforce."
Aside from using a reliable, consistent workforce, another strength that PPCS is rightly proud of is its embrace of sustainability. The company's waste management services in Wellington, for example, utilises 12 electric vans, one electric truck, and two electric cars. In total, there remains just one internal combustion engine vehicle used by PPCS across the entirety of its contract with Wellington City Council.
In a similar vein, the cleaning products used by PPCS also embody the firm's environmentally friendly ethos. "One of our focuses is to be among the most sustainable cleaning companies around," Sarel reports. "Everything we use either has the environmental choice tick of approval or is bio-enzymatic – essentially, chemical-free products that use 'good' bacteria to tackle waste, stains, and odours. Admittedly, there are times where you have to use something that isn't quite as green, but we're always trying to use the most sustainable product available."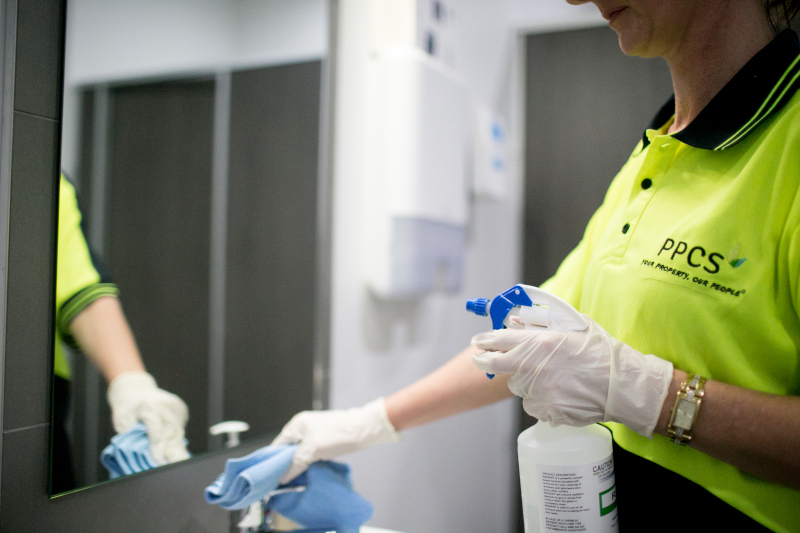 The company's forward-thinking approach does not end with its commitment to sustainability. PPCS has embraced mobile technology to simultaneously improve the quality of its service and keep its staff safe. "We have developed a mobile app that can be used both as a communication tool and a quality management tool," Sarel says. "In addition, we're currently rolling out a program that allows our staff to log in and out of their jobs via their mobile phones. It will be geo-located so when they log in, we actually know that they're logging in at work from their site. It's helping us from a payroll perspective, but there's also a health and safety component, which is just fantastic."
Planning for the future, Sarel adds that PPCS is exploring ways of further incorporating technology into its cleaning services, through auto-scrubbers and other forms of robotics-based solutions. Looking longer term, the company aims to be recognised as the preferred supplier of cleaning services across New Zealand. "For me, it's never been about the size of our organisation," Sarel admits. "Our wish list simply involves becoming the first sustainable cleaning company that our customers think of. It may be a little bit of a pie in the sky dream, but I think it's definitely something we can achieve."
If it is achievable, it will rely on the hard work of PPCS's fantastic employees. "When new clients come on board, they receive a dedicated account manager and, most of the time, are served by the same cleaning team," Sarel notes. "At the end of the day, if you've got a team that knows a site intimately, they are just going to do a better job than someone who has to find their way around. In addition, our teams are proud of their sites. In fact, we often have internal competitions as to who is achieving the highest standards and if our teams always have the same sites, it's easier to do that."
Despite its success, PPCS has never really had much of a focus on marketing, relying on word-of-mouth recommendations. "We've always felt that if you provide a really good service, customers speak to each other," says Sarel. "Obviously, we have a website and look to improve our search ranking but it's more about referrals. We don't have a big sales or marketing team. Our operations team are the guys out there doing the work and we believe their work will speak for itself."
AT A GLANCE
PPCS Facility Services
What: A cleaning, facility services company
Where: Auckland, Wellington and Christchurch, New Zealand
Website: www.proservice.co.nz

SUPERCLEAN DISTRIBUTORS – www.superclean.co.nz
Superclean Distributors is a well established, family-owned progressive Cleaning Supply Company.
Superclean prides itself on exceptional customer service & satisfaction, offering premium Cleaning equipment & consumables to various market sectors such as Education, Healthcare, Hospitality, BSC's and public facilities.
We continue to focus on delivering new innovative products to provide real value.