Q-bital Healthcare Solutions
Temporary Hospital Facilities
Business View Oceania interviews Peter Spryszynski of Q-bital Australia and New Zealand, for our focus on Facilities Management.
Formed in 2019, Q-bital Healthcare Solutions works hard to provide temporary medical facility solutions to hospitals, medical centres, and healthcare providers across Australia. Founded from their sister-company, Vanguard Healthcare Solutions (United Kingdom), Q-Bital has the experience and expertise of two decades in the industry. They are well-versed in delivering knowledge and infrastructure to all areas of the healthcare sphere. The company has proven their worth through statistics such as: over 275,000 procedures conducted in manned facilities to date; over half of hospitals choose to extend their contracts past initial periods; 98 years of combined surgical experience between Clinical Contract Managers; and facilities having been deployed in 14 countries.
Q-bital provides temporary hospital facilities to suit any medical requirement, such as the need for additional capacity, emergency response modules, community healthcare facilities, natural disaster recovery and humanitarian relief systems, full-service delivery modules, and modules to support sites during refurbishment or reconfiguration. Q-bital also works with clients to support bespoke designs and custom builds.
Specific solutions for additional capacity capabilities include mobile clinical facilities, clinical staffing, and medical device equipment packages. For emergency response measures, Q-bital provides mobile and modular facilities that can be deployed rapidly, are fully outfitted, are suitable for remote locations, and can be supported by clinical staff. Community healthcare facilities include mobile and modular units, and prefabricated buildings. In the case of a natural disaster or humanitarian relief requirement, Q-bital offers logistics, liaison, and planning services, a full range of mobile and modular service buildings, and capabilities to support both emergency and elective surgeries. Comprehensive delivery modules include solutions that provide for both infrastructural and human resources needs. They take care of facilities requirements in an end-to-end fashion- from clinic implementation to booking, admissions, treatment, and outpatient care. Temporary facilities sourced from Q-bital can be installed as a freestanding structure, or as a system integrated with existing infrastructure.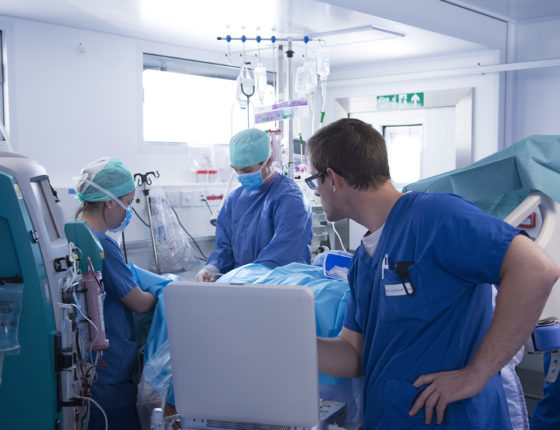 Q-bital differentiates itself in two significant ways; their ability to support medical facilities during refurbishment and reconfiguration operations, and the provision of custom design builds to suit any complex requirement. Country Manager at Q-bital, Peter Spryszynski is glad to share his knowledge and expertise in showcasing the company's importance to the healthcare industry. "We really come into our own servicing facilities when they need to upgrade, refurbish, or rebuild an area. That could be for specific parts of the facility like surgical clinics or administration areas, or major infrastructural changes throughout the entire complex. We provide everything from state-of-the-art operating theatres to waiting rooms and sterilisation facilities, so that hospitals, clinics and the like can focus on updating their buildings without stressing about whether or not they can continue to fully support their patients."
For especially advanced projects and new product developments, Q-bital works with clients to deliver bespoke designs and custom build solutions. This may be required for projects that are particularly complex in nature, on a very large scale, or require a healthcare facility that is not currently stocked in Q-bital's fleet. To match custom requirements, Q-bital employs an engineering and build team made up of highly experienced individuals. Examples of custom requirement builds include Healthports, which bring accessible healthcare to remote communities, healthcare villages for global events, and healthcare compounds for use on sites where existing infrastructure has been catastrophically damaged.
Q-bital's fleet facilitates over 75% of all clinical procedure types performed in major acute hospitals. They do this, Mr. Spryszynski explains, with the help of their highly successful, six-step program. "Our Six Stages to Success guide has proven to be an invaluable tool in ensuring every project is accomplished to the highest standard. We use it to develop a really solid plan and a foundation on which to build the whole project. It fosters an active, communicative relationship between us and our client, and encourages them to be a part of the whole process from beginning to end." Q-bital's Six Stages to Success is enacted through the following steps: Exploration, See it in Action, Tailoring the Solution, Implementation, Commissioning, and In Practice.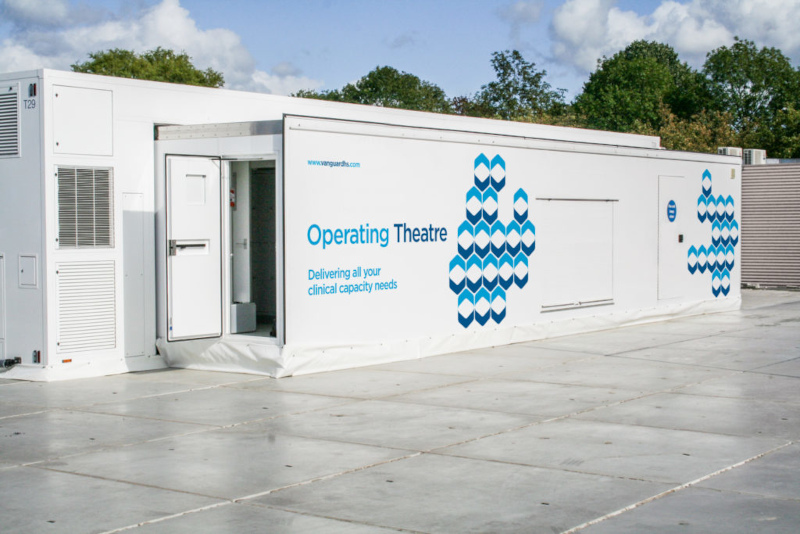 Q-bital has continued to respond to the global COVID-19 pandemic in a carefully considered yet proactive manner, Mr. Spryszynski is proud to share. "Situations like the one the pandemic has presented are what we are made for. We have been on the front lines providing facilities and clinical staff to run them.  This has included not only treatment facilities as well as sterilisation and quarantine areas, but also our ability to make a difference has been most prominent in our provision of temporary modules and mobile clinics to help take some of the stress off hospitals and medical centres. We have used our resources to start bringing down the level of backlog COVID-19 has caused for general examinations and elective surgeries. With many healthcare providers being overwhelmed with COVID patients, it's been incredibly important that patients requiring other care be seen as soon as possible. And that's where we come in."
Mr. Spryszynski continues, "When many of us think about COVID-19, we think of the pandemic as a single event that started in late 2019 and took hold in most places around the world sometime between February and March 2020 – and has been with us since. However, the health response in terms of physical capacity and infrastructure has varied in rather distinct and identifiable stages and is likely to continue to evolve until the threat is considered over. We have seen communities in some states and cities in hard lockdown while other cities were able to go about their business almost normally. Should at some point the tables turn where demand for support grows in another part of the country, it is only a matter of days before a mobile facility can be transported to site, promptly resulting in that location immediately having the additional capacity to deal with the challenge at hand."
Q-bital is run by a small, highly experience team of five individuals, supported by specialist contractors and tradesmen across the country. From their offices in Melbourne, Victoria, and Brisbane, Queensland, they service the entirety of Australia and seek to strengthen across bordering regions.
Looking to the future, Q-bital hopes to see an increase in uptake of their services across New Zealand, and is planning for even further expansion to support the Pacific Islands and neighbouring Asian countries in the long term. Other planned projects for Q-bital's future include a focus on the implementation of module facilities to support regional and remote communities, an increase in support for global events such as the Olympics, and to push for state legislation and regulation specific to temporary medical facility operations. Q-bital would like to conclude with their thanks to key suppliers and business partners, for their assistance in providing medical and infrastructural support to the healthcare industry across the country.
AT A GLANCE
Q-bital Healthcare Solutions
What: Provider of temporary hospital amenities for medical facilities across Australia and New Zealand.
Where: Q-bital Healthcare Solutions Australia and New Zealand has offices in Melbourne and Brisbane, Australia.
Website: https://www.q-bital.com/