RCR Infrastructure (New Zealand)
The future of engineering
Business View Oceania interviews Garry Ko, Executive Director at RCR Infrastructure Ltd. (NZ) for our focus on Facilities Management
RCR Infrastructure has a rich, outstanding history dating all the way back to 1898, when an engineering company, Tomlinson Bros, was founded by Ernest and Edward Tomlinson in Perth, Western Australia. Many years later in 1979, also in Western Australia, RCR Engineering Ltd was established by Ron Stevens, Clive Butcher and Robert Wovodich, providing mainly machine and fabrication services. The evolution continued when Centurion Industries took over a company called Clyde Industries, as well as RCR Engineering. In 1996, Tomlinson Brothers took over Centurion Industries, creating one larger company to be known as RCR Tomlinson.
In 2019, brothers John and Michael Chow – owners of the Stonewood Group – acquired RCR Tomlinson, and renamed it as RCR Infrastructure Ltd. Backing of the Stonewood Group has strengthened RCR Infrastructures' move into the successful multifaceted organisation it is today.
Proud to be a wholly New Zealand owned company, RCR Infrastructure Limited counts itself as an industry leader and national provider of planned maintenance, reactive service, minor and major projects, along with IQP building compliance services. They presently work in the HVAC, refrigeration and electrical industries; delivering quality service and installations throughout New Zealand.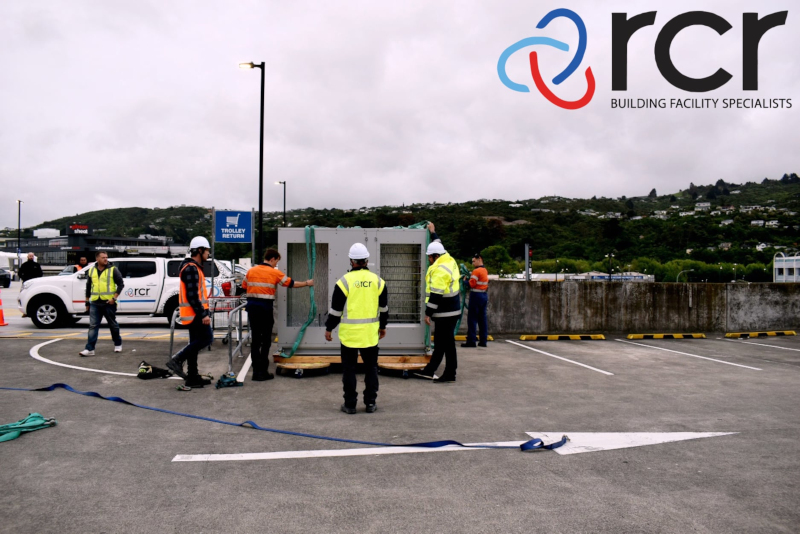 This innovative company has a wide range of commercial customers, from smaller retail stores, to mid-size office buildings, and high-rise commercial retail buildings. They deal with upgrades, refurbishments and retro-fits of existing buildings, but also work on new commercial developments. Each project is different – in some cases they bring their own project management skills to control the work, others they fit in to the client's project framework, working closely with architects, builders and other contractors to achieve the end result.
With branches currently in Auckland, Hamilton, Tauranga, Palmerston North, Wellington, Christchurch and a well established network of subcontractors across regional New Zealand plus more RCR branches on the way, RCR Infrastructure is a great choice to deliver exceptional service & project outcomes across New Zealand. Not only do they plan, design, manage and install commercial building services, the firm also manages repairs and regular preventative maintenance. With a vast number of vehicles on the road around the country, RCR can offer a 24-hour emergency response service that is second to none.
For around 120 years, RCR has been developing and contributing to Australian infrastructure and industry, and now they are a leading provider of electrical and HVAC (heating, ventilation and air conditioning) in NZ with over 130 employees. Garry Ko, Executive Director at RCR Infrastructure (NZ), explains, "New Zealand is a small country, so 130 people is a big number. However, it is a challenge to find skilled workers because of the size of the country, and also during the pandemic the borders have been closed so that makes it even more difficult to bring in more skilled labour."
Recently The Stonewood Group announced a strategic acquisition that incorporates hi-tech 'future energy' capabilities into RCR's national infrastructure service offering.  According to Ko, "Dataguard is a piece we were missing at RCR. We are currently one of the major mechanical engineering companies in New Zealand and this acquisition gives us access to new products and new technology that we can use to transform RCR into the mechanical engineering company of the future."
Two years after purchasing RCR's profitable New Zealand operation from Australian parent company RCR Tomlinson, brothers John and Michael Chow are expanding RCR's services to include future-tech engineering solutions such as EV chargers, thermal imaging, smart building solutions and commercial solar installations, as well as smart grid and AI solutions. The transition of RCR into one of New Zealand's biggest maintenance, electrical and mechanical engineering companies is being achieved through Stonewood Group's purchase of Dataguard NZ's engineering and technical know-how.
Dataguard has traditionally provided datacentres with a focus on uninterruptable power supply (UPS) based hardware power supply-based hardware. However under RCR, its market-leading technical knowledge will be applied to sourcing and importing hi-tech products that will be installed and maintained by RCR's nationwide network of technical experts. The merger of complimentary expertise will see RCR extend its reach beyond existing commercial clients into the residential housing sector, where a growing range of green, future-tech energy solutions are increasingly becoming available that are suited to intelligent 'smart' homes requiring comprehensive automation control.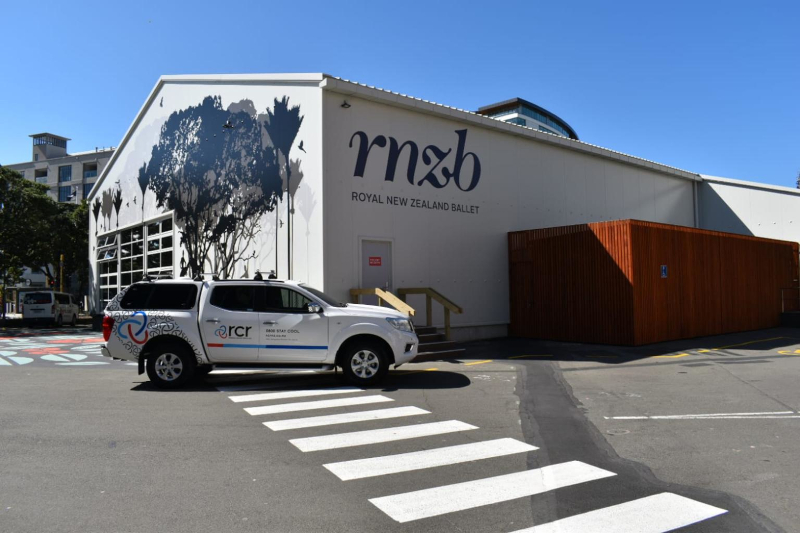 "Dataguard was one of the first companies in New Zealand to use lithium batteries on a grand scale," says Ko, "so incorporating their expertise opens RCR up to the rapidly advancing world battery market – from domestic solar applications through to large scale industrial Battery Energy Storage Systems (BESS) from solar panels through to 5G cell towers. Their engineering knowledge of the world global battery sector alone is unparalleled in this country. After all, data centres are always the smartest building you can have. This is a very strategic marriage of Dataguard's technical insight with RCR's hands-on ability to apply the technology on a national scale. Our goal is for RCR to be New Zealand's most future-focused engineering tech firm, and a one-stop shop for the residential and commercial sector." A tangible example is how EV installers typically aren't importers. So RCR will now be able to identify and import the best units in the world, and then install and maintain them.
Exponential growth is anticipated in the EV charger market in particular, with Government policy statements vowing to end petrol-fuelled car imports by 2030. This translates into a requirement of New Zealand to by then have installed an estimated 1 million EV chargers. Additional emerging imported product markets that complement RCR's current service offering include 'future HVAC systems' as the preferred installer of Midea, Fujitsu, Daikin. RCR is also seeking to partner with new and up-and-coming HVAC companies that are utilising the new green environmentally focussed refrigerant. i.e., precision cooling, low emission HVAC, green coolant R-32 refrigerant, adiabatic cooling and ventilation.
Stonewood Group co-owner, John Chow has long envisioned RCR as the country's leading provider of fully integrated engineering solutions. He notes, "It's been very clear to us where the market is heading in the home and commercial technology space and Dataguard significantly expands RCR's technical service offering. Unlike many of the acquisitions we're known for, Dataguard NZ was not a distressed asset and we've been in negotiations with them for the past two years. The company had the know-how but not the size and national reach that RCR does, so it's been exciting to be able to complete the deal."
As technology progresses and society becomes more aware of the importance of protecting the environment, low pollution and green energy is now the focal point of business operations. Not only are clean energy solutions great for the environment, but in the long term, they also significantly reduce running costs. RCR Infrastructure NZ is proud to take the initiative and propose an ecologically-friendly solution to everyday businesses, by introducing an added service of Electric Vehicle Charging Station installation. New Zealand, a country which has a strong emphasis on environmental sustainability, has embraced the idea of replacing traditional petrol cars, to smart electric vehicles. Statistics show that, as of February 2020, there were currently 19,285 electric vehicles registered in New Zealand, a number expected to grow to 64,000 EVs in the year 2021.
"We're using a lot of old technology and that has created a lot of pollution and chaos throughout the world," says Ko. "The answer is out there –we have a key to the future; the problem is that we have a key but not enough people to open the door. What we want to do with RCR and the Stonewood Group is open that door. Not many engineering companies out there are as forward thinking as we are. To embrace the government change to EV fleets, we need to have the infrastructure. We need the EV chargers, the solar panels, and the turbines to create all the power to charge EVs – to move away from the dirty energy. Also in the HVAC sector, we want to get away from "dirty refrigerants" in the old air con units and bring in the new, environmentally-friendly R-32 refrigerants solutions."
RCR is proud to deliver exceptional results, on time and within budget. The company's approach is 100 percent collaborative and consultative, working holistically to provide cost-effective, high-quality commercial solutions. Ko shares, "In our four year plan, we want RCR to be the engineering company every New Zealander will be using. The future is artificial intelligence and with that AI platform we will be installing intelligent solutions in buildings and incorporating them with a building management system to complete the circle of development of intelligent buildings – not 'smart homes' anymore. We are one step ahead and already embracing the future with a team of young and passionate people."