Retirement Villages Association of New Zealand (RVA)
Supporting Retirement Village Living
Business View Oceania interviews John Collyns, Executive Director at RVA, for our focus on Health and Hospitals.
Established in 1989 by a group of retirement village entrepreneurs with a common goal of developing progressive industry standards, the Retirement Villages Association of New Zealand (RVA) operates nationwide, working with 120 company members across nearly 410 individual villages towards the continued development of the entire sector. Members include operators, developers, and managers of retirement villages, as well as associated individuals and organisations who supply goods and services to the industry.
RVA lists their principal objective as: "To promote a quality living environment for its members and their residents." Key areas of work include lobbying and representation, annual conferences and forums, information, education, and publications, and discount and benefits provision. RVA offers Provisional ad Accredited village memberships, and Associate memberships for non-villages. Members are bound by minimum standards for quality control and accountability purposes: Compliance with the Retirement Villages Act 2003, the related regulations promulgated under that Act, the Retirement Villages Code of Practice (as amended from time to time) and the Code of Residents' Rights ('the legislation'); Completion of, and provision to all intending residents, of a Summary of Key Terms; and Compliance with Best Practice Guidelines for Disclosure of the Right to Transfer to Care within a Retirement Village. A full list of membership benefits is available on the RVA website.
CEO John Collyns shares his valuable insight into RVA's background, purpose, projects, and future plans. "In the late 80s, our association pioneers decided they need to have a regulatory body to create some industry standards, because right then it was a very new industry that didn't have its own framework. A year or so later, they developed the industry standards, which then morphed into our current legislative code of practice. The Retirement Villages Act was passed in 2003, from which the code of practice and so forth came into effect. Its final iteration was in 2007, which is when I joined the association. Our role to date has primarily been to get outcomes from government policy which are beneficial to our members, and that includes both local government through resource management type issues, consuming and campaigning issues, and from central government specifically around retirement legislation, but also other legislation which impacts on the industry, such as building standards, employment law, etc."
Design and construction challenges have made physical development and expansions difficult for RVA members, Mr. Collyns says. "This is an issue that is common across New Zealand and for other industries, not just ours. Finding the right piece of land in the right location and at the right price is near impossible, and finding qualified, skilled workers to run construction efforts continues to be a challenge. Another issue is around regulatory intervention, which we are trying to minimise, because the beauty of our legislation right now is it's very flexible. It allows people to develop new retirement village offerings and different business models to meet changing market circumstances, and we see that as being one of our principal advantages, since it allows us to respond quickly to changing market trends. We work hard to remain consistent it our communication to stakeholders across the industry, which isn't really a challenge as such, but requires ongoing management. We dedicate particular attention to the expectations, wishes and desires of our members and their residents, and do what we can to meet them."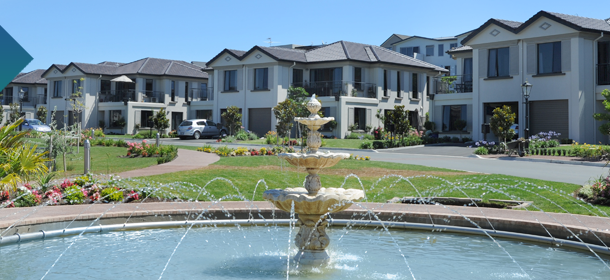 Working collaboratively is a core value for staff at RVA. Mr Collyns shares, "Our member residents are people who can live independently, so our operation is quite lean. We are a dedicated team of four supported by volunteers and external contractors, and we have fostered positive and collaborative relationships with and through them. We always deal with our network and members with integrity at the front of our minds. Honesty is the best policy, and it's important that we remain credible and reliable as an industry body. We want to make sure the industry itself contributes back to the society and communities in which it is based. We want to make sure that our residents live long, happy lives in their villages, and we want to lead by example in our sector-based interactions." In particular, RVA is proud of their working relationships with New Zealand's Retirement Commission, Minister of Building & Construction, and Aged Care Association. They would also like to thank Metlife Care, Occasia Cove, and The Generous Group for their long-term and mutually beneficial partnerships.
RVA recently launched their new professional development and training program, The Te Ara Institute. Mr. Collyns elaborates, "Te Ara means 'The Pathway'. We're delighted that we've got a good uptake of our training program already- we've got 53 learners who have come on board, and we only launched back in March. This is an ongoing professional development opportunity for members that supports staff to improve their operations and build a more competitive offering in their local context." Te Ara provides tools, topics, videos, and workshops designed to develop the most in-demand village management skills and build a community of like-minded, supportive, and professional peers.
Events led by RVA include their annual RVA Conference, due to be held in Christchurch this year from the 22nd to the 25th of August. Online webinars and regional forums are also held intermittently throughout the year. "We will be at the Te Pae Christchurch Convention Centre over four days for our biggest event of the year, co-hosted with the New Zealand Aged Care Association.
We have around 700 delegates and 250 exhibitors, we've sold nearly 150 trade stands, and there's a waiting list for more. We will hold a variety of topical forums, social functions, and have some great guest speakers attending. For the first time, we will also be holding the RVA Sustainability Awards. "We have acknowledged that sustainability is becoming increasingly important, not only for operators, but also residents and their wider communities as a whole," Mr. Collyns explains. "We have launched three awards for sustainability. They are the APL Operator-led Sustainability Award, the EBOS Resident-led Sustainability Award, and the Spaceworks Resident-led Gardening and Landscaping Award. There are 28 nominees, so we're pretty pleased with that, and we're just about to start the judging process. The awards will be presented in collaboration with the Aged Care Association. We also have a Sustainability Committee which is designed to give members best practice ideas about how you might do things like waste audits, sustainable building, electric transport, and more."
The future of RVA and its members looks bright. Mr. Collyns concludes, "Over the last decade or so, the market share of the over-75 industry demographic has steadily increased year on year. In the year ending in 2020, we saw 14.3% of over-75s choosing to live in a retirement village, which equals 50,000 people. When I first started, retirement villages were a boutique, little understood housing option. Today, they're part of the mainstream housing option for older people. They are accepted by the community at large, and we expect that the growth we have enjoyed now for some time will continue to expand and grow. It gives us peace of mind to give them peace of mind. And that, at the end of the day, is really what it's all about."
AT A GLANCE
Retirement Village Association of New Zealand (RVA)
What: Peak body organisation representing retirement villages across New Zealand
Where: RVA is headquartered in Wellington, New Zealand