The Retirement Villages Association of New Zealand
Retirement village development contributes to the country's GDP
By: John Collyns, Executive Director NZRVA
The Retirement Villages Association of New Zealand (NZRVA) recently commissioned some original research from PwC that looked at the contribution villages make to the country's economy. Operators of 213 villages took part and the report focussed on the impact villages have on housing supply, employment, as well as their economic contribution both locally and nationally. We are proud of the sector's achievements and would like to share those with you. You can access the full report on our website – www.retirementvillages.org.nz
It's no surprise to anyone that New Zealand, along with most other Western and many Asian countries, is facing a rapidly-ageing population. Last year alone the number of 75+ year olds in the country increased by 3.9%, or 11,620 people. The number of 75+ people is expected to grow from 306,730 this year to 783,600 by 2043 and make up 13% of the total population. It's against this backdrop that retirement village operators see themselves as part of the solution.
The PwC report noted that there are 82 (out of 401) registered villages that are designing, consenting or building 4,721 units, plus a further 81 registered brand-new villages building 12,163 units.  A total of 16,884 new units coming on stream, and, together with the 10% or so of existing units that are re-sold each year, make a substantial contribution to relieving the housing shortage across the country.
The report also found that the annual percentage growth in retirement village units has been outpacing the annual percentage growth in the overall housing stock, as the figure below shows.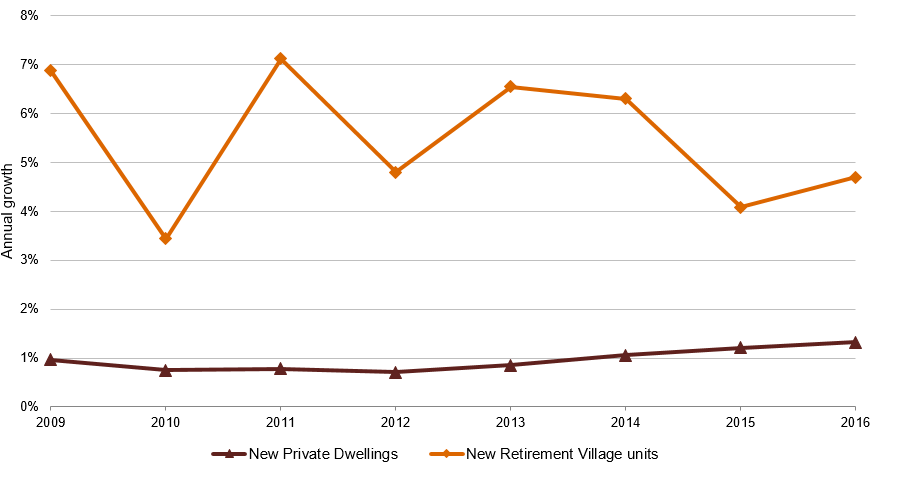 Housing density
The report also looked in some detail at the density of retirement village housing, reinforcing the fact that villages are efficient users of land. A new village can result in improved land use intensity and a higher housing density compared with conventional residential developments. This is particularly true for mid to large-sized Auckland-based villages, reflecting the higher land cost there compared with other centres.
PwC undertook some analysis of this, comparing 4,736 units across 18 Auckland villages with 11,753 units across 53 villages elsewhere in NZ. Unsurprisingly, the analysis shows that Auckland villages have a higher density of units and residents than the national average. Some of the larger Auckland villages are multi-level developments up to six stories high. Such multi-story development is less common elsewhere in the country.
| | | |
| --- | --- | --- |
| Village location | Density of units | Density of residents |
| Auckland-based villages | 1 unit / 164 m2 | 1 resident / 127 m2 |
| All villages nationwide | 1 unit / 273 m2 | 1 resident / 208 m2 |
PwC then looked at how villages compare with conventional residential developments based on the Auckland Unitary Plan. Villages' higher density of both units and people supports the Unitary Plan's intention to improve residential density in the mixed housing suburban and mixed housing urban zones. The following table compares the Unitary Plan's housing density with retirement village density.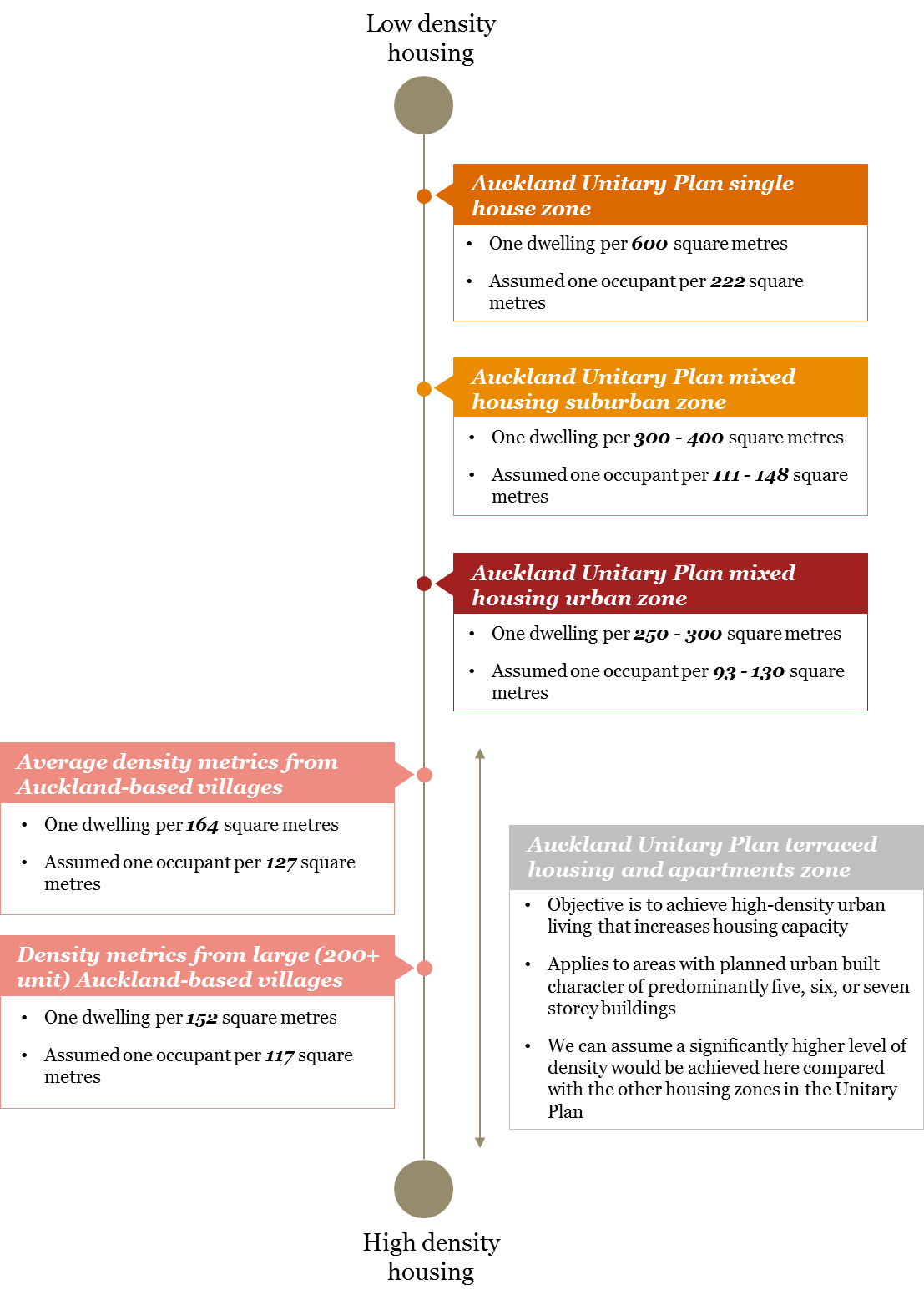 Economic contribution
Day-to-day operations in the retirement village industry contributed around $1.1 billion to the country's GDP in 2017, accounting for roughly 0.4% of the total GDP. This is similar to the value added from department stores or the motor vehicle retailing industry in 2016.
Village operators are also significant employers, with around 19,000 people employed in a variety of occupations – cleaners, chefs, managers, onsite carers, medical staff, activities coordinators, gardeners, maintenance, accountants and others. The wage and salary bill came to $837 million last year, up from $536 million in 2013. The sector ranks 25th out of the 42 sectors in Statistics NZ's Business Operations Survey 2016, comparable to the number employed in real estate or arts and recreation.
New village development 
The report found that the construction of each new 250-unit village directly supports some 303 FTE staff and contributes approximately $21.4 million in design, construction and fittings.
Employment includes:
44 engineers, quantity surveyors, architects and other technical and business professionals,
230 builders and other tradespeople, site managers, building product suppliers, and people involved in land subdivision and site preparation;
15 labourers delivering civil works;
14 people involved in the supply and fitting out of furniture, fittings and equipment retailing.
The economic contribution includes:
$4.8 million in engineering, quantity surveying, architectural work and the like;
$13.9 million in building and construction, supplies and site preparation;
$1.8 million in civil works, roads, drainage and underground services;
$0.9 million in furniture and fittings.
Why do people want to move in?
Older people move to retirement villages because villages meet a number of important needs. Selling the family home not only releases tens of thousands of dollars in pent-up equity, it also releases a family home back to the market. Across NZ as a whole, that's around 4,700 homes annually (approximately 10% of the total number of RV units plus the new builds). Added to retirement savings, the extra cash often means a significant improvement in the older person's quality of life, as they have the resources to do things they couldn't do before.
Retirement village residents are not necessarily wealthy people. Last year village residents qualified for a rates rebate, which is income tested. Essentially, those who only have their National Superannuation as income qualify, and across NZ, some 4,275 people applied for the rebate and the Government paid out $2.5 million to retirement village residents. Retirement villages also provide purpose-built, age-appropriate, warm, comfortable and secure homes for older people, allowing them to move out of their often unsuitable and ill-maintained family home. We know that being warm and secure are important for older people.
There are serious health issues around social isolation, or loneliness. British research shows that lonely people are more vulnerable to chronic disease, eat less well, and are more likely to be smokers, overweight or underweight, often drink heavily, and are less likely to engage in physical activity. Retirement villages provide a community of like-minded people and new friends that help keep loneliness at bay. And finally, many 80-year-olds look for a clear pathway to care, should that be needed. Most retirement villages offer a continuum of care so people can move in today, knowing that should they need care in the future, they'll get first call on the bed in the rest home or hospital.
Retirement village operators take their role seriously in the care of older people. There is no doubt that the boom in retirement village development not only adds significantly to the local economy via investment and employment, but it also has valuable social benefits, through releasing homes back into the market for new families to enjoy, and offering a range of services looked for by our residents. We look forward to continuing to develop villages throughout New Zealand.
*The Retirement Villages Association of New Zealand Inc (RVA) is a voluntary, nationally based membership association representing operators, developers and managers of retirement villages throughout New Zealand.
AT A GLANCE
The Retirement Villages Association of New Zealand
What: A voluntary industry association that represents the interests of registered retirement village owners, developers and managers throughout New Zealand
Where: Wellington, New Zealand
Website: www.retirementvillages.org.nz