Rodgers & Co
Specialist Chartered Accountants & Business Advisors
Business View Oceania interviews Andrew Pryce of Rodgers & Co for our focus on Health and Wellness.
Established in 1984, Rodgers & Co is a boutique accounting practice that has proudly represented New Zealand businesses in the retirement villages sector since the industry's earliest days. The company's expertise and knowledge of the sector on a national level is second to none- and their mission? To support and add value to businesses no matter their stage in the growth cycle.
Rodgers & Co provide a range of services to retirement village owners, managers, and syndicate stakeholders. They include compliance and taxation, technology and software support, financial management, benchmarking, industry analysis and updates, and specialist advisory boards. The company is supported by a reliable, reputable network designed to assist clients with any business problem they may come up against. Rodgers & Co states, "Our involvement spans from business advisors to acquisitions, strategic direction, due diligence, and forecasting. We project manage the relationships and communication with statutory supervisors, auditors, valuers, and other associated professionals. We also understand the unique legislation and related requirements around GST rates, cashflow impacts and trends, and the growth management cycle. Beyond purely financial involvement, Rodgers & Co act in different support and governance roles, including strategic direction to ensure a wider view of business success is maintained."
Director Andrew Pryce has been part of the Rodgers & Co team since 2016. He begins, "We have been involved in the retirement village sector since the pioneering days of the industry 25 years ago, and have been involved with over 100 facilities. Our clients over the years have included independent retirement villages and syndicates alike. We operate on a national level from our headquarters in Christchurch- our team consists of 21 experienced accountants with a wide range of practical and technical skills, seven of which are specialists in the retirement village sector. Every situation is different and has its own challenges and opportunities, so it's important for us to deeply understand our clients' position in their unique business environment. This way, we can provide simple and practical solutions that are tailored to their needs."
Staff operate on the belief that health and wealth are intertwined, in more than a financial sense. Mr. Pryce shares, "We aim to be recognised as a progressive, forward-thinking accounting firm that creates an environment where staff and clients feel supported to develop and grow their skills. Our priorities are communication, collaboration, integrity, flexibility, respect, and problem-solving. We work closely with village owners, managers, and administration staff to tackle challenges and set up best practices to strengthen their financial and operative position."
Rodgers & Co specialise in the preparation of auditing and complex IFRS requirements, Mr Pryce explains. "We liaise with our established clients and wider network of professional service providers, including auditors, valuers, statutory supervisors, and lawyers, to prepare financial statements for AGMs. We also specialise in periodic reporting- six monthly reports, quarterly reports for syndicate accounts etc, as well as Retirement Village Act disclosures. For new and emerging villages, we are always happy to assist with financial strategy, budgets and forecasts, capital raising requirements… we can effectively build a greenfield site from the ground up."
Supporting clients in such a capital-intensive sector certainly has its challenges, but Rodgers & Co has a foundation of experience, skill, and collaborative partners to help them successfully tackle issues on clients' behalf. "Having been connected to this industry for so long, we have a wealth of knowledge we can draw on." Mr. Pryce says. "Our grasp of the industry allows us to advise for small, independent, and single villages right up to larger corporates and syndicates. Rodgers & Co have worked with all kinds of capital structures, and we definitely keep ourselves abreast of market and legislative changes as they arise so we can pass that knowledge on to our clients. Raising capital is always a tricky business, but at the moment we are seeing some really significant challenges tied to construction and supply costs. New, emerging, and established businesses alike are finding it very difficult to secure the funds they need to progress according to whatever growth strategy they may have in place to meet projected demands. We have been working closely with them to advise on their relationships with lenders and financers to keep projects moving along as smoothly as possible. And it's certainly a balancing act for them, to ensure their business is economically viable whilst meeting industry requirements and maintaining the sanctity of their residents' home."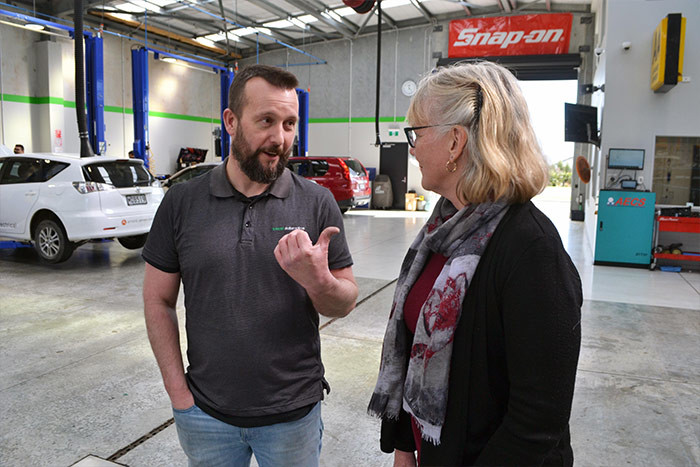 To help retirement village owners and operators maintain this balanced, Rodgers & Co collaborates with industry partners PKF Goldsmith Fox Auditors, Collies Valuers, CBRE Valuers, Anchorage Statutory Supervisors, Covenant Trustees Statutory Supervisors, and the New Zealand Retirement Villages Association, and would like to thank them for their ongoing support and care.
Rodgers & Co are currently working to support three emerging villages through the initial construction and development phase. "Recently we've been working with proposed retirement villages doing our due diligence with initial reporting and financial viability. So, we do get involved right from day one, to ensure a village is economically sound with the appropriate financial plans and strategies in place before building even begins. We also have members of our network in the construction and project management side of our industry for further support."
Looking to the future, Rodgers & Co aims to continue bringing value to those caring for New Zealand's ageing population. As demands increase for retirement villages across the country, this is a definitely a company to watch. Mr. Pryce concludes, "New Zealand is getting pretty close to the point where we won't have enough retirement villages to support our elderly. At Rodgers & Co, we are keenly aware of this predicament and doing everything we can to support the continued growth of our clients' assets. We are consistently advising them on the best forward planning practices to ensure the long-term viability of our sector from independent living right through to hospital care. We understand the importance of preserving and developing these environments and the quality of life they bring to local Kiwis- after all, it could be our own parents, grandparents, or even ourselves living in them one day. As the need for villages grows, so does our passion for supporting everything that they do."
AT A GLANCE
Rodgers & Co
What: Financial services provider specialising in New Zealand's retirement village sector
Where: Rodgers & Co is headquartered in Christchurch, New Zealand
Website: https://rodgers.net.nz/