Spantec Systems Pty Ltd
Making building easy
Business View Oceania interviews Roy Beaumont, Managing Director at Spantec Systems Pty Limited, for our focus on Prefab Construction in Australia
It all started with a beam. A lightweight steel beam that became the foundation for an 'easy' building system, pioneered by Spantec Systems Pty Ltd, that's gaining popularity throughout Australia. A specialist manufacturer and supplier to the residential and commercial construction industry, Spantec's product lines consist of proprietary lightweight beams and related connection supporting and bracing systems. The company creates innovative building solutions in an eight-person design office using in-house software, with the main areas of focus being ground floor rafter and awning roof applications. Soon, a new beam specifically targeting upper floor applications will be added to the product portfolio.
Roy Beaumont, Managing Director at Spantec, reports, "We commenced business in 1992 – actually starting with an efficient structural beam and not really knowing where to take it. At the time there was a beam that had been developed by another company; they were having financial difficulties and I got involved with it on the technical side. We subsequently identified that there was quite a lot of problems with the testing regimen that had been carried out and the beam didn't perform. So, along with an engineer, I developed an alternative beam. We started off kicking around the concept and in the end we developed a beam that we thought was very clever. But we didn't have a process to manufacture it."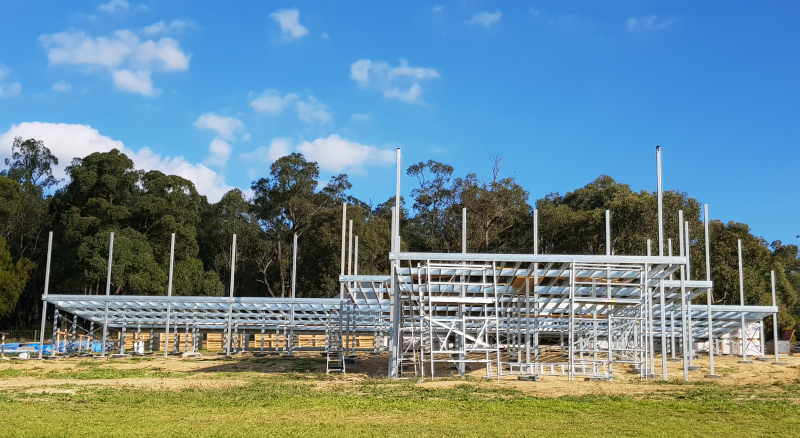 It took a couple years to develop the process and build the machines, and in 1993/94 Spantec was ready to take off. Flooring seemed to be the ideal market for the beam, as there was very little available in steel floors at the time. There was a lot of hardwood in use, particularly in Australia, but it was getting more expensive and the quality was reducing. And while steel was very new on the market, the company decided it was a good time to start, although they did find that businesses were conservative and therefore slow to change.
Over time, the business grew with an ever-present philosophy to automate the process as far as possible. "Maybe it's my accounting background," says Beaumont, "but I don't like the manual processes. So we've really pushed automation. Unfortunately, because we're the only people who specialise in floor frames, we've had to develop our own software and materials handling and processors – it makes it a bit harder and the end result is, we still spend close to four percent of our turnover on R & D and development of machinery and software." Rather than having multiple locations, Spantec's 38 employees are based on a single site in New South Wales, which creates a much more efficient manufacturing process. And freight is subsidised quite effectively, particularly into the other eastern states of Victoria and Queensland.
Spantec's individual products are cutting edge. A prime example is Boxspan – a stiff, box section beam that is particularly useful in ground floors. Stiffness is more important than strength in floors because people want to feel a floor that doesn't have bounce. Spantec offers 13 different sizes (gauges) in that one product, for applications ranging from a small deck to a large commercial project. The beams range from a 100 depth up to a 250 depth.
The company is currently developing a new open-web joist, which is much more important in upper floors, because of the need to run services through. Beaumont admits, "That machine has been our biggest challenge. As far as we know, there aren't any fully-automated, parallel chord truss machines or processors in the world. We're very close to final commissioning our machine that automatically builds a beam out of all the components without labour. Generally speaking, there are three or four people manufacturing a beam and we believe we can do that with one person and have three to four times the output, as well. That's quite a complex process – a six-year project – but we're very close to completing it and we believe it has great potential. The steel framing industry, sometimes unfairly, receives flack about squeaks but there is more potential where screws are not fixed properly. Whereas if they're done robotically, you can be certain there's repetition in the manner of fixing."
Spantec's other products are associated with ground floors. After dismissing many other bracing systems on the market, they developed Ezibrace – which Beaumont states is the easiest brace to use. And after dealing with a number of iterations of pier heads and bases, they believe that with Ezipier, they've developed the most efficient, simple to use and simple to manufacture adjustable system on the market in Australia.
The company's tagline of "making building easy" is evident in every aspect of what they do. Beaumont acknowledges, "We know that there's a deskilling of workforces onsite and it's very expensive, so our aim is to make it as quick and easy as possible to get a project assembled onsite. It's a little like a Meccano set, in that everything is cut to length in accordance with a full set of design drawings. The holes are punched where brackets go and there are labels printed on the beam to show where to put the brackets, where to put the beams, so it's a very simple to use system. We give people all the drawings, but what we want them to do is basically lay out the main beams and then read the information on the beams to help them assemble the product."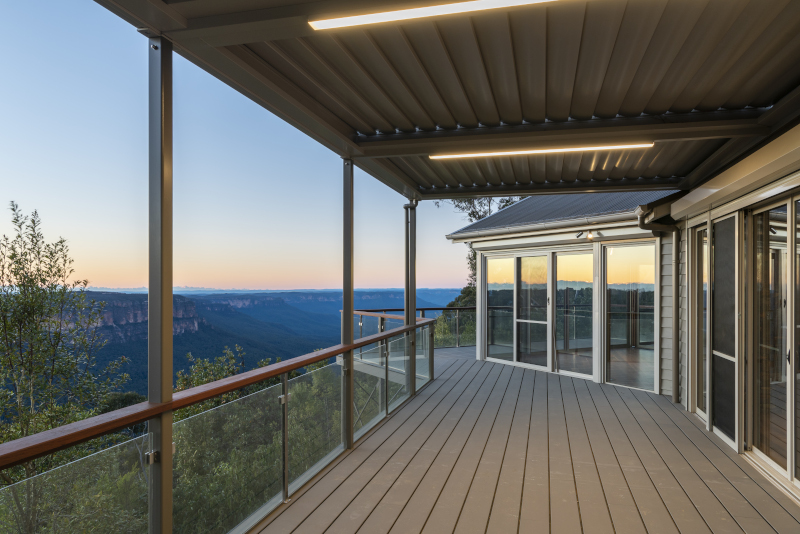 The Spantec system has been a big step up in the ease for the average construction worker. The concept has been driven by owner builders. They were the early adopters of steel building systems and needed the most help, so it was good for the Spantec team to work with them because the target has always been to make the system work with the least capable owner builder. By getting those people comfortable with using the product, the company anticipates it will be easier to satisfy the wider customer base.
In 2020, Spantec business was up 39 percent up on the year before. According to Beaumont, "Some of that is COVID-19 related. Surprisingly, in Australia the market for construction work has increased. But we're very satisfied with growth and a lot of that growth is through suppliers to the industry – hardware chains, steel framers, timber framers. We supply some of the components like the Ezibrace and the Ezipier and then we find customers are asking for the other components like our decks, and then whole floors. It's been an interesting way to develop by the Ezi products that go on the shelf and that leads to other products that we design and supply, ready to go."
Spantec products have many benefits. They are about 40 percent lighter than the equivalent thickness of timber products and can be left out in the weather, which often creates problems for timber joists because an engineered product can delaminate or twist. Foundation piers are an expensive part of a project and the Spantec system reduces the number of piers, so there's a saving on costs and the time of installation. The other aspect is that every piece is cut to length – no waste onsite. Since they are manufactured to the required length, in a very automated process, there's no waste in the factory either.
As building continues to increase in rural areas, bushfires are a growing threat for homeowners. "We have a lot of projects specified in those areas," says Beaumont. "And through the National Association of Steel-Framed Housing (NASH), which is the Australian association of steel framers, we have developed our own standard for construction that will allow the design and building of a house to survive a bushfire without a great deal of additional cost in the manufacture. By far, the most significant aspect of that is having non-flammable components."
The company culture at Spantec is one of inclusiveness and opportunity. Beaumont notes, "We are continuously improving and our team sees that. We're also very keen on listening, so that they have a real input into the improvements we do. It's amazing – these guys have such great ideas. The other aspect is improving the products and the process itself. That's been my main interest as the business has developed. We have a General Manager who runs the business and it leaves me free to work on those items. That's my passion. I work with a mechanical engineer who turned 80 in 2019 and we do most of the plant development together. I believe that people who are interested in keeping active should stay at it. We have a number of people in the factory who are over 65, I'm over 65 – but if you're good at things and passionate about them, then it gets you up in the morning."
Looking ahead, the company is building an additional factory and doubling the size of the yard. They currently use three acres of an 11-acre site they own and will be expanding into about five acres of it. "We have Victoria well underway," says Beaumont, "so our push now is to get our distributor base working strongly in Queensland. In addition, we really feel that we're scratching the surface with our hardware resellers. We've got around 30 really good hardware stores but there's about 2500 in Australia, so we see no reason why we can't be doing the same amount of work with those that we've been targeting in the last couple years."
Ambitious future goals, well within reach for the dedicated Spantec team.
AT A GLANCE
Spantec Systems Pty Ltd
What: Manufacturing leader in light structural steel beams and steel flooring systems
Where: Headquarters in Mittagong, NSW
Website: www.spantec.com.au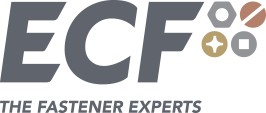 Eastcoast Fasteners – www.eastcoastfasteners.com.au

The Fastener Experts
Eastcoast Fasteners (ECF) is highly regarded as a go-to supplier of premium quality industrial fasteners for the manufacturing, engineering, construction, building and mining sectors across Australia. An independent, 100 percent Australian-owned business, ECF has a proven track record of excellence earned over 20 years in the fasteners industry.
Why ECF?
Our experienced customer service personnel are dedicated to delivering superior service, technical advice and on-site support.
We sell only premium grade products – safety tested and guaranteed to Australian and international standards.
We can supply special custom-made fasteners made to your specification in a variety of grades, materials and coatings.
Our extensive range of industrial fasteners for virtually every application are in stock for immediate dispatch. Place your order by phone with a customer service representative, by fax 24/7 or online.
Our shipments are delivered promptly and safely, so you can complete your order quickly and add value to your customer solution.
Every year, ECF supplies millions of fasteners to small, medium and large businesses across Australia. Our team of professionals brings more than 40 years of technical knowledge and genuine service to every customer relationship. In the end, the number that matters most to ECF is the one customer we are dealing with at the time. That's you.