Sunrise Healthcare Ltd.
Just like home
Business View Oceania interviews Rosa and David Grainger, Owners & Directors of Sunrise Healthcare Ltd. for our focus on Aged Care Facilities in New Zealand
Sunrise Healthcare is a privately owned and managed business operating three Aged Care facilities in the Auckland Region with a focus on providing care to those in the community who can no longer fully support themselves. Residents are well served at West Harbour Gardens, Lynton Lodge Hospital and Jervois Residential Care, where quality rest home, hospital, and dementia care are provided by a friendly, professional staff that makes them feel right at home.
The three facilities each have their own specialties and character. Nestled in beautiful large gardens, West Harbour Gardens is a modern, purpose built facility in Hobsonville, West Auckland that is licensed to provide rest home and hospital level care. It consists of three wings stemming from a central communal hub. Two wings have their own small lounges and a large atrium serves as space for dining, celebrations and events as well as daily living. It can accommodate up to 74 residents, including couples.
Proud Finalist in the 2017 Aged Advisor 'Peoples Choice Awards', Lynton Lodge Hospital is set in the leafy suburb of Westmere, Auckland. Residents can enjoy sea views from the front verandah and breathe in the fresh coastal air all year round. The Lodge specialises in hospital level care and can accommodate 40 residents with a number of double rooms. Over a century old, this beautiful extended villa is fully modernised, and includes three lounges, and decks or patios off most rooms.
Located in Herne Bay, Auckland Central, Jervois Residential Care consists of two large Victorian villas, gracefully joined together to create one home for up to 46 residents requiring rest home or hospital level care. Tasteful refurbishments have upgraded the building with modern safety standards, while retaining the character. Large landscaped grounds offer plenty of space to relax and enjoy the outdoors.
All facilities are staffed by people dedicated to providing the highest level of care. Sunrise has training processes in place to ensure each member of the team is skilled with all the tools they need. A nurse is always on hand to provide care when required; supported by a group of care staff to assist residents with their daily needs. Doctors visit regularly and the Physiotherapy team focuses on rehabilitation and general good health. But the services don't end with medical care. Activities are developed to suit each person's ability. Bus trips, festive days and seasonal celebrations are always a highlight, as are bingo, bowls, movement and music, word games and the ever-popular trivia quizzes.
Business View Oceania spoke with David and Rosa Grainger, owners of Sunrise Healthcare, about the very successful business model they've developed in the Aged Care industry. The following is an edited transcript of the conversation.
BVO: How did Sunrise Healthcare come into being?
Rosa: "David and I have been in the property investment market for many years. In 2015, we were looking to get into commercial property and we learned that the Aged Care industry is going to be booming in the next 15 years. That was quite interesting to us, as it involved property, and David's mother was in care. So we got all the information and registered our company, Sunrise Healthcare Ltd., in 2015. Then, after a lot of looking and thinking, we bought Lynton Lodge Hospital in 2016. It was our first rest home and had a good manager in place. With a background of property investment, we always thought we wanted something freehold so we began looking at other opportunities. In 2017, we bought West Harbour Gardens and Jervois Residential Care. These were established facilities when we bought them. The previous owner was very experienced and they were well organized, and we kept 99 percent of the staff."
David: "Lynton Lodge and Jervois we are leasing, so as far as development goes we are limited. But we want to present the properties as best we can, so we do a lot of renovations of rooms and that sort of thing. West Harbour, because we own the building and the land, we're free to do what we want. There is actually development space available if we choose to do that. At this stage we're tidying the place up. Some areas needed a bit of presentation, so we've been doing cosmetic work up 'til now."
BVO: What levels of care do you provide?
Rosa: "Lynton Lodge is a hospital only, with a long reputation for hospital care. And Jervois was known as a rest home but it actually has rest home and hospital care. West Harbour Gardens initially was a hospital and rest home; we just opened half of the wing as dementia care on Oct. 15 this year. That was a really good step forward and will attract more residents in that group. We had a waiting list for the dementia wing before we opened. And once it's full up, we hope we can maintain a waiting list. Lynton Lodge can take 40 hospital level residents; Jervois has a maximum of 46 either rest home or hospital or a mixture. And West Harbour can take up to a total of 74."
David: "We have a number of double rooms, so we can take couples at any of our facilities. Lynton and Jervois, which are actually within minutes of each other, are both old farm houses that have been maintained quite well. Jervois has been added onto a number of times; Lynton has too but its been done in the same style. They are both very nice buildings, inside and out."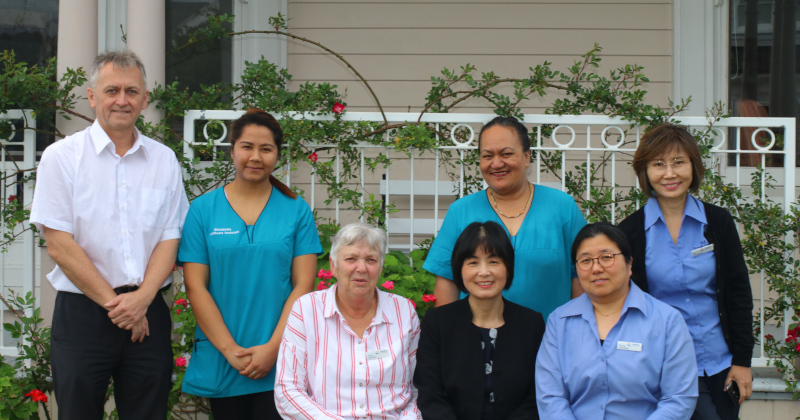 BVO: Why do residents choose to live in one of your facilities?
Rosa: "Most of our residents are local. The families like to keep their parents close to home so they can visit easily. For example at Lynton Lodge, we have quite a few people who come every day to visit with their mom and dad. It's a huge support to our facility and also to the residents. With the dementia, we expect people will likely travel a little bit further because there aren't that many dementia care beds around. When a resident's needs change they can go from rest home to hospital level to end of life care, here. Most people stay right through with us. They are familiar with the surroundings and the staff and they don't want to change.
"All the cooking is done onsite. We have a lot of residents from different cultures so we encourage our chefs to cook a variety of styles; Asian food, curry, stir fry, but the majority is western food like lobster and fish. The menus are designed to make sure the nutrition is sufficient and they're updated on a regular basis. Most of our food is supplied by Bidfood. But West Harbour Gardens has a nearby shop and our staff go there a few times a week to buy fresh fruit and vegetables. We'd like to buy more local produce."
BVO: What challenges are impacting the Aged Care industry?
Rosa: "The biggest challenge is the nurse shortage. Most of them moved to Australia for better wages and when we do get them, they don't stay long. It's getting to the crisis stage because when one nurse leaves, it takes us a very long time to fill the position. And it gives us so much stress. Not just us, the whole industry in New Zealand. The government needs to do something about it. And immigration is a problem. When we had someone great who signed an agreement to come here, they couldn't get a Visa quickly so it's very difficult."
David: "New Zealand trained nurses are highly regarded, so they have a lot more opportunities, especially in Australia where the wages are a lot higher. We tend to attract overseas trained nurses and the issue is the time it takes to get them in. We're also competing with the DHBs that recently settled an agreement which was a pay increase, plus a promise to employ something like 500 new nurses across New Zealand. Any new nurses that do come into the country want to go to the DHB. When we do get new nurses, we have to try to hold onto them for a reasonable amount of time to get them to a skill level that becomes an asset to the business. And the number of countries that are accepted for their nursing qualifications is limited."
BVO: What else would you like to share about Sunrise Healthcare?
Rosa: "Even though we have three locations we are still in the small to medium owners group, and when big corporations like Rymans build new facilities it does impact our occupancy. But we just try to highlight our special features. For instance, we're on one level, where most of the new buildings are quite a few levels with limited outdoor areas. Residents in our smaller facilities know the staff and each day it's the same people, that's something they like.
"Our rest homes provide personalised care in a homely environment. Sunrise Healthcare Limited might not be known widely because it is young and often behind the scenes, but our first priority is to provide the best of care. Our business model, management, and ownership gear us towards fulfilling that promise every day for all our residents."

Leecare – www.leecare.co.nz
You asked for a simple technology solution without sacrificing functionality and we listened. Built from the ground up with care of consumers, management and staff in mind, P5 is the care industry's leading web browser based system. From individualised assessments and care plans to swift business intelligence analytics, operations and billing functionality, P5 seamlessly integrates to manage all your organisation's clinical, social support, business, management and best practice standards requirements.