Swimming Pool and Spa Association (SPASA)
Improving Health and Happiness
Business View Oceania interviews Lindsay McGrath, CEO of SPASA, for our Oceania Construction View.
The Swimming Pool and Spa Association (SPASA) team has been serving the Australian and New Zealand swimming pool and spa industry as a national body since 2011. Over the last ten years, SPASA has grown to support over 1,100 direct company members, with a total of approximately 15,000 businesses in association with the organisation and its extended brands Splash! and Pool and Spa Expos. The largest association of its kind in the Southern Hemisphere, SPASA is served with the unique opportunity to improve the health and happiness of individuals and communities across Australia and New Zealand through the support of pool, spa, and outdoor living space facilitators.
CEO of SPASA, Lindsay McGrath is keen to share his knowledge surrounding the association and the industry it helps to build. "Our role, simply put, is to create a happier and healthier populations through the enjoyment of their outdoor spaces. We call it delivering a better life in every backyard. And we do that through the promotion, protection, education, advocation, and supported growth of the swimming pool and spa industry."
SPASA recognises five pillars that are key to ensuring members benefit from the association's continued relevance and credibility. They are: People, to empower and develop members through improved skills and knowledge; Promotion, of a professional trade delivering exceptional products that improve the health and wellness of the community; Representation, to advocate responsible outcomes for members and consumers at local, state, federal, and international levels; Member Services, to provide exclusive products, services, and networking delivered locally representing all sectors of the industry; and, Corporate Support, to adopt a consistent improvement model for an effective and efficient corporate structure.
A team of 12, staff at SPASA are passionate about their place in the industry and the work they do towards its growth. With developments such as Climate Care Certified, an efficiency and sustainability certification program, and an extensive range of nationally accredited course covering training programs in areas such as retail, service, construction, business, and pool safety inspection, SPASA members receive no shortage of benefits. Mr. McGrath explains, "We support members essentially have anything to do with the backyard. We do focus on that beautiful piece of blue, whether it be a pool or a spa, but all of our members facilitate that entire backyard experience. We have a registered training organisation as part of our value proposition, so we're an RTO in our own right. The Institute of Research and Learning is our registered training organisation, and it delivers multiple qualifications; everything from pool and spa service, through to pool and spa building, diplomas of leadership and management, landscaping, and more. So we've got members that can renovate, build, and install the pool, create outdoor kitchens, landscape the backyard, and provide maintenance services, and then we support members from the entire supply network for that backyard as well."
SPASA communicates with members through a range of mediums, from keynote speeches, mentoring and coaching, media releases, and digital and print magazines, to social media, email updates, newsletters, and website communications. As well as supporting members through communication, resources, information, advocacy, and education, SPASA fosters a family-friendly working atmosphere, and holds a unique core value close to their hearts- courage. Mr. McGrath elaborates, "We've had a fantastic, really proactive set of board members over the last few years who have allowed the industry body to flourish and expand beyond the traditional. We have a diverse range of people on that board, and their expectations of us beyond our set standards is to have the willpower and the courage to try new things and deliver in ways that continue to maximise our potential. From expansion to acquiring new assets like our extended brands, to increasing our capacity and standard capabilities from 10 to 50 over a four-year period… Their confidence in us and the flexibility and courageousness they have encouraged has produced great, tangible successes across the board. And that, in turn, has spurred positive change in our industry, which is the main ongoing goal of the association."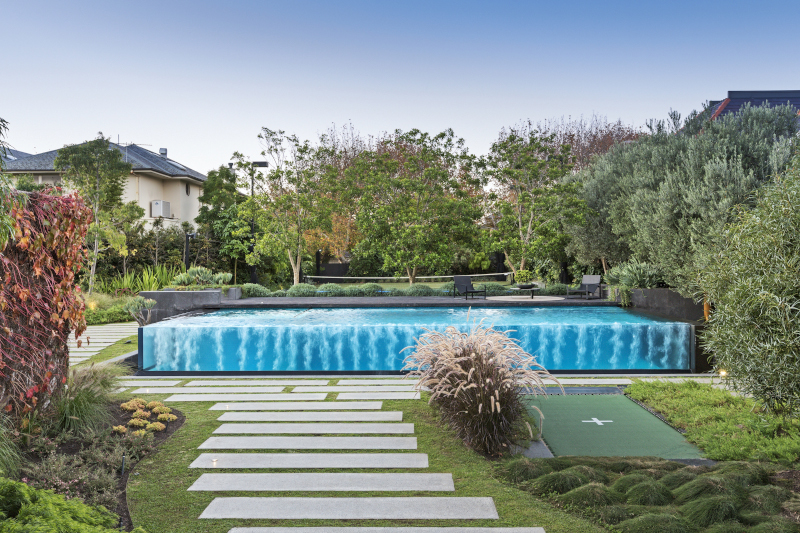 SPASA regularly works with their members to counteract the effects of industry challenges, the most recent of which the COVID-19 pandemic. With regions, states, and territories throughout Australia and New Zealand having been in lockdown on and off since the pandemic's beginnings, and much of the general population sending more time at home as a result, pressure on pool, spa, and outdoor living businesses only continues to grow. The surge of DIY trends has brought a massive boost to companies across the entire industry, but has also introduced levels of strain, particularly in the supply sector.
Mr. McGrath speaks on the challenges and benefits that have been presented to the association by the pandemic. "An industry association has never been more relevant than in a crisis as big as COVID, to both industry and government. The process of lockdowns has highlighted the importance of recreational spaces in and around the home. What comes along with that is challenges surrounding the ability to deliver pools and spas to suit every backyard, every budget, and every client in a relatively small timeframe, using supply chains that have at times been disrupted. But the upside is that we have been able to see the love people have for their backyard really resurge. That's been a joy from an industry body point of view. I think there are more pools being built now than ever before in history."
Moving forward, SPASA aims to extend their reach to support more of the Oceania region, and continue to implement their current project, 25 by 2025. The project seeks to offer an alternative conversation to the market, shifting from broad subjects like what businesses need and the challenges they face, to a more specific outlook; what 25% growth by 2025 would look like for the business. The project will follow the same key pillars previously listed, and has been well received by members, who have provided vital new information to the association for further growth. Mr. McGrath concludes with a note on that growth. "Our future is all about having a goal; an achievable one with a shared vision. That shared vision is a beautiful pool in every backyard, and we will continue to work towards it through the growth of our members."
AT A GLANCE
Swimming Pool and Spa Association
What: Peak body association for the swimming pool and spa industry across Australia and New Zealand
Where: SPASA is headquartered in Adelaide, South Australia
Website: https://www.spasa.com.au/