Yates Electrical Services (YES)
South Australian clean energy solutions
Business View Oceania interviews Mark Yates, Managing Director of YES Energy, for our focus on the Energy Sector in Australia
Recognised as the 5th Fastest Growing Business in South Australia in 2019, Yates Electrical Services (YES) has been leading the charge in renewable energy solutions since 2004. Established by local entrepreneur Mark Yates, the company has provided over 1000 homes and businesses across the Riverland region with solar energy installations. As an extension of this passion for clean energy solutions, Yates Electrical Services has also been involved in major high voltage projects across Australia, including high voltage substation and wind farm construction.
YES stands true to its core beliefs by procuring large construction contracts outside their local area, thus employing highly-skilled electricians, apprentices and trade assistants from the Riverland area to work on some of the most progressive and exciting projects in the field – throughout Australia and around the world. A strong work ethic and proven record of success ensures high quality, safe and cost effective services are delivered in a timely manner. Yates Electrical Services continues to be seen as an industry leader in electrical solar and high voltage solutions, specialising in large scale renewable energy installations and developing some of Australia's largest green energy projects.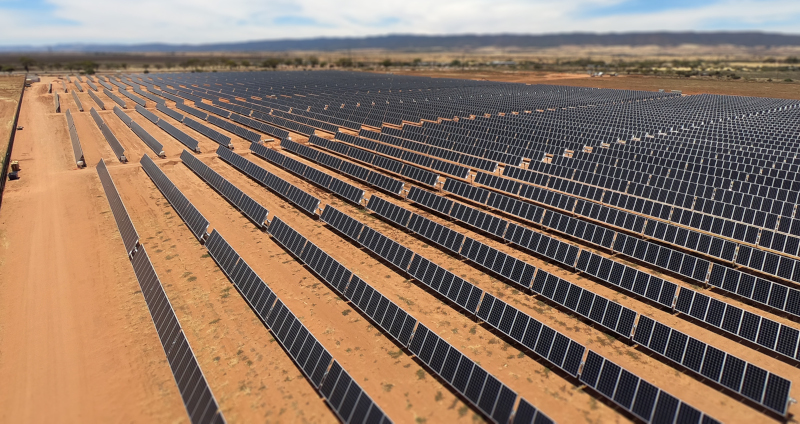 Business View Oceania recently spoke with Mark Yates, Managing Director of Yates Electrical Services, and Patrick Broughton, Marketing/Communications Manager, about the company's operations, innovative projects, and insights into the future of the industry. The following is an edited transcript of our conversation.
BVO: Can you give us the backstory on the founding and evolution of Yates Electrical Services?
Yates: "I started the business in 2004 as a sole operator / electrician and I was provided an opportunity to work on some high voltage substations. Initially I was offered a two week contract that ended up turning into five years of work in the high voltage space, where I was fortunate enough to work with some senior members from the network business and managed to gain quite a lot of experience. This was our first entrance directly into high voltage, and I had the opportunity to bring a small team to a project being developed in regional South Australia. In 2011 we had the chance to tender the Oaklands Hill Wind Farm project in Victoria for developer Consolidated Power Projects, which enabled us to expand our team to 25 skilled tradespeople.
"The business has been involved in the high voltage construction space now for about 14 years. I have travelled for 10 years building projects all around Australia and recently returned to my hometown of Renmark where the business was born – and where we are now focused on providing a full turnkey construction solution for solar farms between 200 kilowatts and 5 megawatts. Initially we thought building a small-scale solar farm would be a good idea to generate an annuity stream for the business, predominantly as a trial project. Yet, since the construction of our first site we've never been busier. To date we've constructed around 80 small-scale solar farms for a range of land-owners, companies and individual local and international investors."
BVO: Are there different divisions to the business?
Yates: "We have multiple entities. YES Group is the construction arm of the business. YES Energy is currently holding a retail energy license in the National Electricity Market, so once we're finished building a project through YES Group, YES Energy then takes over and retails the sale of electricity back into the national electricity market. We're in a unique situation, as most electrical businesses only focus on the construction. We've taken it one step further where we build a project for a client – we do the design, the procurement, the construction and commissioning, and then facilitate the sale of the project's energy back into the National Electricity Market through YES Energy.
"We operate in all states in Australia, and currently have 50 employees that work between our home base in Renmark and another office in Kent Town in Adelaide. In the high voltage construction space, we work for a small handful of clients, including Siemens, Consolidated Power Projects, UGL and Downer. Generally their clients are superfunds or investment firms. In the sub-5 megawatt solar farm construction, we're mainly working with high net-worth individuals or educated investors locally and internationally. The solar market is booming in Australia, and the capital cost to build solar farms is at a point where it makes really good economic sense. The uptake of solar into the National Electricity Market is phenomenal, with thousands of megawatts proposed to come online in the next few years."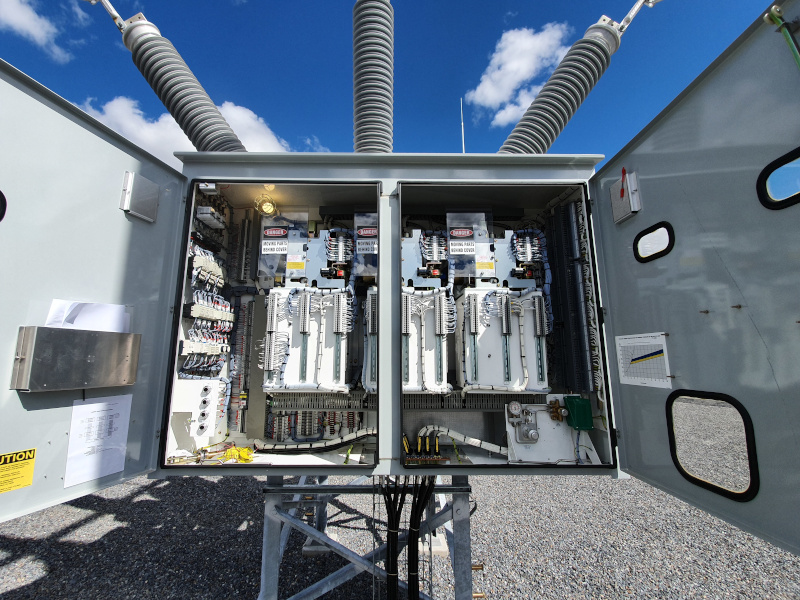 BVO: How do you find and retain skilled tradespeople?
Yates: "Being a regional area, getting skilled resources can be difficult, so we're constantly bringing apprentices through the business and training them with some of the more senior guys to make sure we have a steady flow of new and upcoming skill-sets in the business. A lot of the training is done in-house but occasionally we do need to outsource.
Broughton: "From an employee's point of view, I came from a city culture in Melbourne. When you're living in a rural area, it's a lot more of a tight-knit community and reputation for a business is so important. When you're looking for a place to work, you're really looking for a company with a solid reputation in the market, and Yates Electrical Services is one of the most trusted brands in this region. Mark Yates' family has a history as a respected business owners in the Riverland area, and this reputation is largely why people want to get involved and work with the company.
BVO: How do you take the business to market?
Broughton: "As the markets evolve, we're constantly adapting our marketing strategies to suit. When I first started working with Mark, he didn't have a Facebook account – he didn't believe in it. We've now realized the immense power that social media channels have for us. More than anything, a large part of the success of the solar farm developments has been attributed to opening ourselves up to the social media markets. I think they were pivotal. But as the business has grown, we've had more opportunities to spread into other avenues – such as television, which is traditionally fairly expensive in Australia. We also now have a solid presence through our local newspapers and various other channels, but our focus at the moment – especially with our high voltage side – is pushing into Australia-wide publications to really get our message out there."
Yates: "We attend the majority of the industry conferences in Australia, and we're a platinum sponsor for the Smart Energy Council. The Smart Energy Council is the voice that advocates for the solar industry in Australia. All the profits the Smart Energy Council make are reinvested back into their events and into further developing the industry in Australia.
BVO: A Dec. 2019 press release stated: "Yates Electrical Services, through its newly-formed retail arm YES Energy, is using automatic dispatching technology on its 40 MW solar fleet to avoid export during periods of negative prices. German monitoring provider Meteocontrol has introduced its new Remote Power Control feature to Australia, with YES Energy reporting that it has allowed it to "seamlessly" curtail production when required." Can you elaborate on what this new technology will mean to the business?
Yates: "The new RPC technology from Meteocontrol is pretty exciting; enabling us to remotely control a whole fleet of assets based on market price signals, which is important, particularly considering a digital and distributed network is shaping up to be the future of the grid in Australia. The technology is simple to implement, allowing us to seamlessly control the output of our distributed network of solar farms and quickly adapt to price signals from the market. With negative price events becoming increasingly common on the NEM during the middle of the day, the ability to rapidly curtail PV power plant output is becoming a necessity for asset owners. RPC can automatically adjust solar power dispatch in response to wholesale electricity prices on the NEM."
BVO: Looking ahead, what are the future goals for the company?
Yates: "The business has had over 100 percent year-on-year growth for the last three years. It's been a pretty wild ride to grow at that pace and still maintain our culture and key staff in the business. The rate of growth has been challenging and cash flow is always difficult to manage, but we're fortunate to have a great team that works together and enables the business to grow so rapidly. We offer a turnkey solution from design, procurement and construction right through to the actual retailing of energy. I'm not aware of any other business in South Australia that can offer that full service of a development to the end customer. We're unique, vertically integrated and continuing to grow at a rapid pace.
"Political uncertainty is stifling the industry at the moment. No one seems to be able to make any clear policies to give to the Ministry, so it's kind of in limbo. There's no direction from a policy level. As far as change, the market is booming now and I think there will be quite a few years of renewable development to come. Traditionally, Australia has been a very heavily coal-based consumer, but now we're in a really disruptive phase; shifting away from those central coal generators to a network of distributed renewable energy generating resources across the country. Tie that in with the digital disruption and it's a really exciting space to be in."
AT A GLANCE
Yates Electrical Services
What: Supplier of renewable energy solutions
Where: Home base is Renmark, South Australia
Website: www.yateselectrical.com

GPA – www.gpaeng.com.au
GPA is a highly experienced consulting engineering group specialising in the design and delivery of renewable energy projects.  
GPA recognises renewable energies as a vital part of industry and strive to keep at the forefront of developing and emerging technologies. 
Providing engineering and project delivery services in: 
Battery systems 

 

Embedded networks

 

Hybrid Micro grid systems

 

Hydrogen

 

Solar

 

Waste to Energy

Wind