Animals Like Us
Different Species, Same Family
Business View Oceania interviews Rob Achten, Cofounder and CEO of Animals Like Us, for our Manufacturing View.
Animals Like Us is a New Zealand born, owned, and operated manufacturer of premium quality dog food designed to meet the nutritional needs of pets as well as functional needs of the discerning pet owner. Inspired by a customer research project concerning pet adoption trends and the development of pet ownership as a distinct lifestyle, Animals Like Us was released to the market in 2020 and has since entered the doors of over 250 supermarkets and specialty pet stores throughout the country. The company carefully sources meats and vegetables from ethical New Zealand farmers via a strict selection process that holds ingredients to the highest nutritional, ethical, and sustainable standards. Animals Like Us brings fresh, exciting, high-quality products to the New Zealand market whilst remaining dedicated to serving pet owners and the local environment through sustainable best practices.
Animals Like Us encourages consumers to move to natural alternatives when feeding their dogs through the supply of healthy, natural whole foods that are high in quality proteins rather than traditional fillers and carbohydrates. The company manufactures freeze-dried raw blend dog food including Meals (RawBlend33, SuperBlend50), Meal Mixers (Raw Protein Boost), and Treats (Good Dog Treats). RawBlend33 is a 33% raw blend of meat, fish, and organs. The blend consists of one-third freeze-dried meat and organs, two-thirds oven-baked meat and vegetable bites. SuperBlend50 is a 50% raw blend that consists of half freeze-dried meat and superfoods, half oven-baked meat and vegetable bites that are coated with beneficial probiotics. Animals Like Us' Raw Protein Boost Meal Mixer is a 100% raw freeze-dried meat product, enriched with superfoods and designed to be added as a booster to your dog's meal. Good Dog Treats are also 100% raw and are a great healthy alternative for training rewards or snacks. All Animals Like Us products come in three recipes for variety: Grass-Fed Beef and Wagyu Beef Heart, Cage-Free Chicken and King Salmon, and Grass-Fed Lamb and Venison.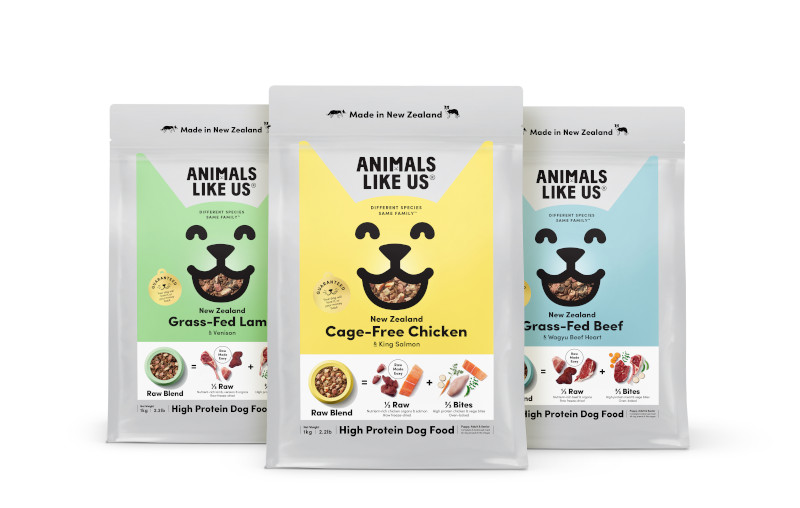 Cofounder and CEO Rob Achten shares the Animals Like Us story. "Animals Like Us began with my fascination surrounding global pet adoption trends. I saw a younger demographic emerging that was really interested in a healthy lifestyle for their pet and looking for new brands that provided them with a fun, healthy alternative to more traditional pet foods. I decided to create a brand that not only supplied New Zealand pet owners and their pets with high nutrition, but also captured the sense of partnership and joy that comes with having a pet. Together with ex-icebreaker founder Jeremy Moon, we spent the first few years researching and developing the idea, and since our launch in 2020, we've gained phenomenal traction.  As with icebreaker, part of our success is from creating a new category in the market, finding a natural solution that fulfils our consumer's needs.  The COVID-19 pandemic has also played a role, with increases in pet adoption and people spending more time at home with their animals. Of course, the flipside of the pandemic is disruptions to our global supply chain, so that has been a little tricky to navigate. But overall, we are incredibly pleased with our initial introduction to the market."
Animals Like Us is headquartered in Hawke's Bay, New Zealand. The passionate team of 10 is spread between the company's head office, which covers product development, manufacturing, and operations, and a sales and marketing office in Auckland. The team value sustainability, transparency, and positivity, and seek to introduce pet owners to the benefits of natural dog food products. Achten explains, "We look to nature for the answers in choosing natural, and we take pride in building up what is a relatively new category of food for your pet- high nutrition, great value, natural, and sustainably sourced. So, it's good for you, your pet, and the planet."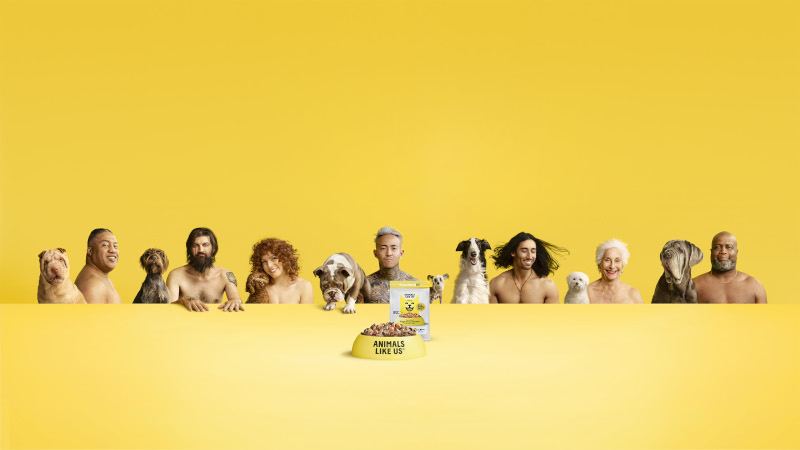 In their commitment to sustainability, Animals Like Us employs a strict selection process when sourcing their meats and vegetables, only working with ethical farms that meet their high standards. The company is also a member of New Zealand's Soft Plastic Recycling scheme, which works to reduce landfill and promote packaging recycling across the country. The packaging can be returned to collection bins and repurposed into a variety of useful products. Animals Like Us has links to store locators available on their website, so that their customers can easily take part in the scheme.
Animals Like Us has a number of unique defining factors as a business. On a brand level, Achten explains that the company seeks to instil a sense of enjoyment, excitement, and connection in consumers. "We really want to nurture the beautiful relationships that our consumers have with their pets. People have pets for many reasons, and that might be for genuine company, love, fun, laughs… It's those positive emotions and partnerships between pets and pet owners that we capture through our brand." Achten continues with a note on product differentiation. "At a product level, we think that a lot of the mainstream pet food out there is not particularly good for pets. It's heavily processed and generally full of fillers, water, or synthetic additives. We want people to move from heavily processed foods to a more natural diet like what we provide with our raw based products. We incorporate a balance of fresh raw meat, organs, vegetables, and high fibre fruits in ratios that deliver those nutrients in a high bio-available way, so our products are easy to digest, they maintain skin and coat health, promote clean, white teeth and good breath, and they also increase energy and vitality. Plus, they taste great for your dog, and you can literally see the ingredients when you look at the food, so you know it's all in there."
Looking to the near future, Animals Like Us plan to expand into overseas markets, particularly Australia, and introduce food products for cats. The company will continue refining their products through research, testing, and trials to provide the best possible nutrition and taste for pets. Achten concludes, "We're certainly not a boring company. We're trying something a bit different, and we're bringing a freshness to an industry that I think has become somewhat stagnant and reliant on traditions. So, we're trying to shake that up a bit and provide a great healthy product to passionate pet owners in the process."
AT A GLANCE
Animals Like Us
What: Manufacturer of natural, nutrient-rich dog food.
Where: Animals Like Us is headquartered in Hawke's Bay, New Zealand.
Website: https://www.animalslikeus.com/