Agg-Tech Machinery
Family-owned excellence
Business View Oceania interviews Rod Ford, Dealer Principal of Agg-Tech Machinery, for our focus on the Growth of Manufacturing in the Agricultural Industry in Australia
There's no doubt that farming is an increasingly challenging way to make a living. Yet, while it's impossible to control variables like the weather, having a trusted equipment provider on your side can make all the difference between struggle and success. Agg-Tech Machinery is just that partner. A proud, family-owned-and-operated business since 1997, Agg-Tech specialises in the supply and service of a full range of new and used agricultural machinery for professional farmers. Well deserving of its reputation for providing top quality equipment and exemplary service, Agg-Tech continues to grow and improve its dealership business and support the local Sunraysia agricultural community.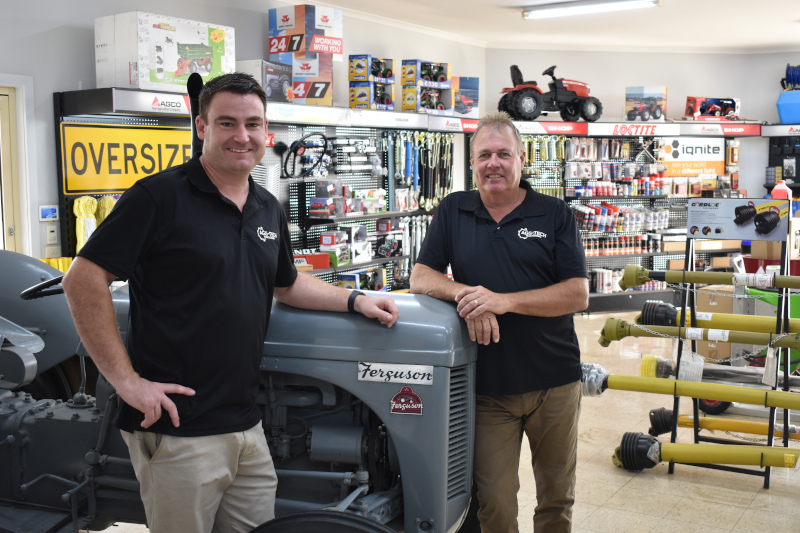 The experienced, passionate Agg-Tech team strives to be the best by providing high-tech solutions for industry professionals. Along with farm machinery, the company also sells and services a variety of world-renowned Polaris Off-Road Vehicles and E-Z-GO Golf Cars for use in a wide range of applications. Rod Ford, Dealer Principal at Agg-Tech Machinery, recalls, "Originally, I came in with a business partner in 1997 – that's when Agg-Tech Machinery started. After a while, my wife Gayle and I ended up taking control of the whole show. Gayle is now our Administration Manager and an expert at looking after that side of the business. We've been here 22 years and seen a lot of changes. Technology is growing rapidly. When we first started there was a change from open tractors into tractors with cabins on them. And nowadays, that's a critical must-have."
Employee numbers fluctuate with the season. Currently, Agg-Tech has a staff of 24 based at the main dealership in Mildura, Victoria, while mechanics also work out of a workshop facility in Woomelang. Operation-wise, Agg-Tech is a machinery dealership with three departments: sales, service and spare parts. Rod notes, "For all our machinery that we sell, we're able to provide multiple financing options for our customers to best suit their needs. It's done through AGCO Finance, part of AGCO – our main supplier for name-brand tractors and other farm machinery. AGCO is a global company and their main Australian facility is in Melbourne. They import from their factories in Germany, France, India, or North America, depending on the machine, bring it into Melbourne and we purchase it there to put to our market here. The majority of our customers finance their purchase – it's a big investment."
The Agg-Tech premises in Mildura has a yard, but is running out of room for inventory. Due to the nature of the business, they have a good amount of used machinery to sell from trade-ins when customers buy a new machine. Along with selling used tractors and equipment, they also stock new products. Giving buyers the opportunity to see what's available; sit in it, look at it, touch it. A major focus of the business is on backup service for customers because having a machine out of action costs them time and money. Agg-Tech has trained technicians to diagnose and repair any equipment issues, generally within a territorial region that covers Sunraysia and areas in a surrounding 200 km radius. Of course, that also requires the company to carry a significant amount of inventory in spare parts, filters, etc.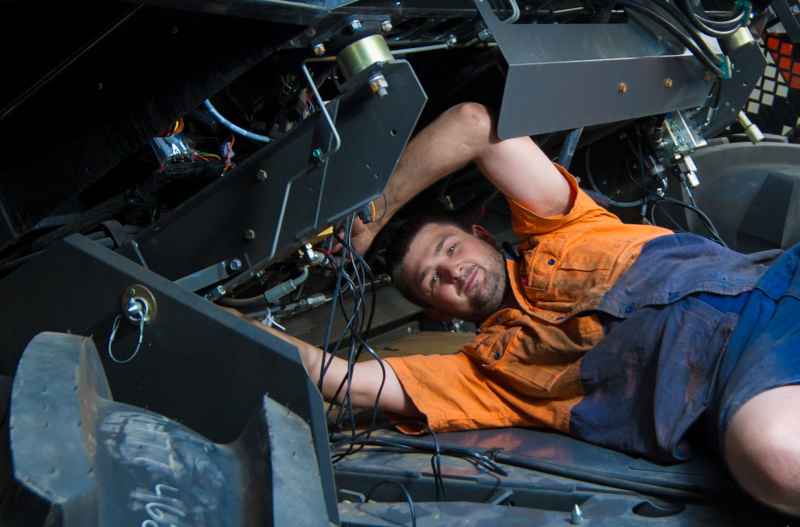 Another interesting side of the Agg-Tech business is off-road vehicles and golf cars. "We've been Polaris dealers for a couple of years now," says Rod. "It's a good little add-on, not just in the performance area but a lot of the vineyards and growers will use some sort of an off-road vehicle to get around their farm. We have many valuable business relationships that are important to our continued success. Definitely AGCO is a strong partner, as well as Polaris and Manitou, Pastro Ag, Topcon, NAB, AGCO Finance, Croplands, BA group, and E-Z-GO.
Business has been very strong for Agg-Tech over the past year and Rod is pleased. "We're really busy. We supply to table grape, wine grape and citrus growers, and other big industries for us are almonds and olives. We do quite a bit with those guys, as well. On top of that, we provide equipment into broadacre farmers, gear such as headers, seeding equipment and self-propelled sprayers. Because of the drought up here there's not much going on, but at our other location in Woomelang there are some quite good crops, so we're doing a lot of broadacre business down there."
Agg-Tech employees benefit from a company culture that treats them like family. The firm promotes a positive workplace through Star Performance appraisals and regular departmental meetings; recognizing individual achievements and encouraging their growth in the business. Technical staff members are sent to training programs in Adelaide, Melbourne or Sydney that are run by AGCO and other major equipment suppliers, where they are trained on the products they'll be servicing. According to Rod, "The service guys use computers to plug into the machines and diagnose faults or set different operational parameters. There's also quite a bit happening with GPS navigation and telemetry, so there is a lot of new technology and I don't think that's going to stop anytime soon. Smart Farming telemetry shows real time performance on tractors and other farm machinery, and customers can allow us to monitor their equipment, so an alert will come through to our service people if a fault occurs in a piece of machinery or if the tractor is due for servicing. There's plenty of that type of technology in the game now, so that's really interesting."
As for the future, Agg-Tech is considering expanding into other areas and intends to increase their business footprint. Rod admits, "With our dealership in Mildura, we're restricted for space because we've had such strong growth, so we'd really like to relocate to a larger site. Commercial land in Mildura is very expensive – so we have to be careful in what we do; that we can maintain a return on our investment, when going from where we are to where we want to be. Looking ahead in the industry, electric and driverless tractors are on the horizon so that will be the next big thing. It will be interesting in how that fits into the whole plan of things. Just getting labour to operate machines is tough for some farmers out there, and a lot of them are looking to go autonomous, so it fills the void."
One of the biggest challenges for Sunraysia at the moment is getting water for irrigation. As Rod explains, "We're in a large irrigation area, so we rely on the Murray River to fulfil our irrigation needs. If we don't see a lot of rain soon, it won't be good for this area. Irrigators need to purchase water to grow their crops and if input costs become too expensive, it can cost more to grow the crop than what it can return. That affects the whole supply chain."
Diversity and flexibility are key to the firm's success. When times are tough, people aren't as willing to spend money on new machinery, so Agg-Tech carries a diverse mix of new and used machines – not only in the horticulture sector but also in broadacre, and some industrial, as well. "That gives us a pretty wide strip," says Rod. "When one industry is down, normally, we can pick it up somewhere else. We have a very strong customer focus, and we also care greatly about our staff. Without our staff, we wouldn't have a business. After more than 22 years, I still enjoy coming to work every day. With all the technology coming, it's going to be an exciting and challenging time for farmers to keep up with, so the more efficient we can be in helping them with their machinery, the better it will be for everybody. We're part of an exciting industry."
AT A GLANCE
Agg-Tech Machinery
What: Family-owned, supply and service dealership for agricultural equipment
Where: Mildura, Victoria
Website: www.aggtech.com.au