Andersens Floor Coverings PTY Ltd.
The Respected Name in Floor Coverings
Business View Oceania interviews Rowan Hodge, CEO of Andersens Floor Coverings Pty Ltd, for our focus on the Franchise sector in Australia
What began as a single-location furniture store dabbling in flooring and carpet has evolved over time into Andersens Floor Coverings Pty Ltd, the largest flooring retailer in Queensland. Andersens was founded by Rod Andersen in the 1950s in the small town of Gatton, just west of Brisbane and was eventually taken over by his son Jack, who changed the main focus of the family business to floor coverings – with great success. Staying true to its country town roots, Andersens has always maintained that customer satisfaction comes first, and the founding principles of honesty, integrity and respect in all aspects of the business are still paramount today. Combined with professional, leading-edge business operating systems and practices, Andersens continues to expand on its well-earned reputation as "the respected name in floor coverings."
Rowan Hodge, CEO of Andersens Floor Coverings, shares, "Our history is one of the things we're most proud of. Our chain was born from a humble start in a really small town and that was 50 stores ago. Jack Andersen expanded from a lone store in Gatton up to Toowomba, the Gold Coast and Ipswich and once the business was franchising it grew fairly rapidly. Today, Andersens in Queensland and northern New South Wales, where we have our stores, has the most recognised, most brand-aware mark in our entire industry. It's quite a business that's grown out of those country town origins."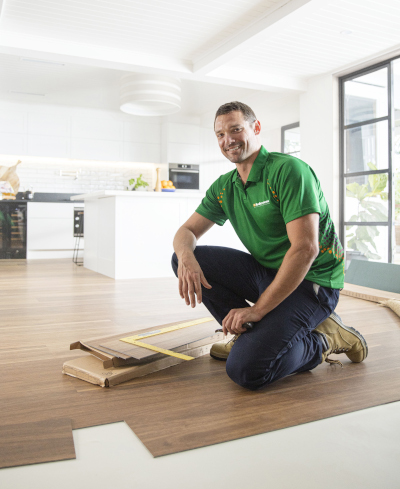 Currently, Andersens boasts 50 outlets – 46 franchised stores; 3 mobile vans; and one company-owned operation in Toowomba, a mere 20 minutes from Gatton. Commercial work –anything that's not owner-occupied – is a large part of the business, representing a fairly significant growth opportunity in all its geographic markets. In the retail stores,a large portionladie of customer business is residential / owner-occupied.
Diversification of product lines is key to growth. In that regard, Andersens has expanded its offerings into window coverings. According to Hodge, "Rather than being a business of its own, window furnishing has very much evolved as an add-on because we're finding that customers who are in the market to install new flooring are often in the middle of a more complete renovation. Painting, redoing window furnishings, buying soft furnishings and lamps, upgrading lighting and fans – there are all sorts of elements to a refurbishing project. So for us to add one of the other major categories, which was window furnishings, to our product range made a lot of sense."
Most of the company's customers are women, and Andersens' qualified consultants are well known for helping them put together the right materials and colours to suit their tastes and space. Largely, the design work is around composing the room with colours that will complement the plan of the owner. To ensure they are hitting the target, Andersens backs up their work with a 100 Day Peace of Mind Guarantee – unheard of in the industry. Once the customer makes the selection and the installation is complete, they have 100 days to change their mind about the colour or the texture. If they do, Andersens will replace it free of charge. "We do that with great confidence," says Hodge, "because our consultants are really specialists at getting that match right the first time. That's not as easy as it sounds and it's something that sets us apart from our competitors. Our job is to deal with the customer standing before us, and in their home, and help them choose what's right for them. Even though the customer might be influenced by the latest trends, ultimately it's all about matchmaking and getting it right for the client's space, so they feel comfortable there with their family and friends."
Franchising is basically a subset of business ownership that succeeds best when franchisees have the attributes of an entrepreneur. For Andersens, potential candidates should be willing to take a risk, to back their own hard work, and desire more than they have today. There are minimum requirements in terms of capital that are not particularly burdensome and interest rates are very low. The most important aspect is attitudinal. Hodge explains, "What we look for is a franchisee candidate whose values align with our own. We aspire to support our franchise community with a standard that we call Country Town Service, and we insist that our franchisees do the same with their customers. It's a distinctive culture of service to the customer, whether you're in a metropolitan city store or a store in the bush. Our founder, Jack, had a terrific slogan: "Treat your customer as though they're your best friend's mother." There's something quite refreshing and comforting about that country town approach and it's what makes us special."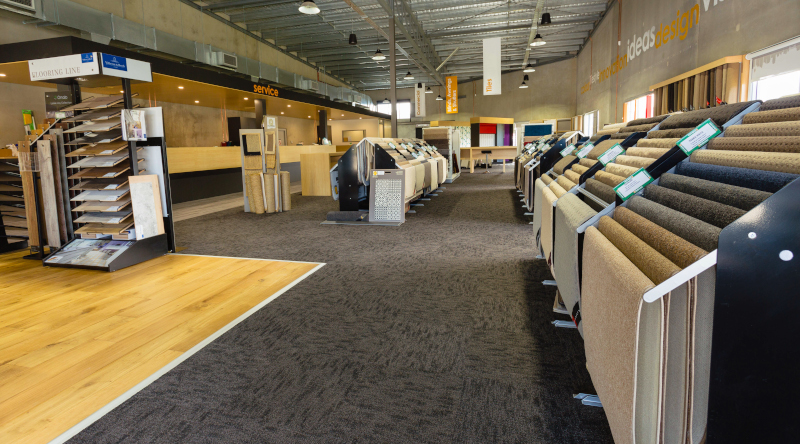 The average tenure at Andersens is 14 years, compared to a franchise industry average of seven years. For many of the company's franchisees, this will be the last job they have, the last business they ever own. As a result, the annual conference becomes more like a family reunion than a business milestone. There is a lot of mate-ship among the franchisees, even from very different geographies. No one on the Andersens team is ego-driven, everyone feels right at home. As a network, the business has close to 200 employees. The head office operates with a staff of 12 and another two people in the field full time. On top of that is the warehouse operation, which is a critical component.
The nature of the flooring business dictates that most of what you're buying is in excess of the job that you're selling. For instance, if the project is flooring for a whole house, the carpet might be cut from a 500 metre roll, or the vinyl might be from a pallet of vinyl planks or a huge roll of sheet vinyl, or the timber might be from an enormous batch. Having a large warehouse gives Andersens the ability to manage that inventory demand and make sure stock is available. It also addresses seasonality. Because a number of Andersens' manufacturing vendors are in Australia, China, Korea and Belgium, there are disruptions in the supply chain from seasonal holidays such as Chinese New Year. Christmas and New Year in Australia is especially disruptive for manufacturing or for transport. With the warehouse, Andersens has the ability to smooth the inventory supply, so franchisees are covered throughout that period.
Hodge admits, "Competition is abundant and quite high quality, which keeps us from becoming complacent. The other thing that a really strong landscape does is make you earn it where it matters. The obvious example is the customer. The less obvious is in the labour supply. Not only for the sales team in the stores, but additionally when we're recruiting franchisees. But even more so, when we're contracting installers. In Australia, there is an extreme shortage of qualified flooring installers. As a result, they have the privilege of picking and choosing the work, at very high rates. That's not to say it's easy, it's hard physical labour and they earn every cent. But because there is a shortage they have the choice whether to work for you or a rival. The majority of our stores have no issue with labour because we treat our installers as part of the team – whether they're a contractor or an employee. The management of that relationship is at a real premium and we do it very well."
Andersens also values the relationship with their creative agency and media buyer, The Library. The agency is responsible for translating the Andersens brand into a marketing strategy; getting the mix right between traditional media and the digital landscape. "The other unsung heroes are our suppliers," says Hodge. "We have 170 in all, with about 20 of them supplying 80 percent of our stock in trade. We have a very strong working relationship with that core nucleus and my instinct is that they're in for a terrific ride with us. Our strategy is to be Australia's premier flooring company. That's a pretty lofty goal for a Queensland and northern New South Wales based group, but we see fantastic expansion opportunities throughout New South Wales and Victoria over the next two years. We already have a plan to open and convert franchises through that inland channel."
The other growth lever for the company is a purposeful return to its country town roots in terms of service and branding, with employees now sporting a new uniform design at all stores. Another innovation is the addition of an online rug store onto the Andersens website, where customers can choose from thousands of rugs, have their purchase delivered and it's still covered by the 100 Day Peace of Mind warranty.
Looking ahead, technology is front and centre. As Hodge attests, "We've optimised all our digital media, our website and our rug store for mobile devices because that's where a customer today is beginning their search. One of the technology innovations we've just launched is our augmented reality platform, where a customer can download the app and visualise their room in real time using the camera on their device to simulate our flooring on their floor through their screen. Then they can click to set up an appointment for our consultant to come to their home with samples. We can measure, give a quotation and make the whole process seamless and comfortable. For people who are short on time, we view this as an important way to disrupt our marketplace by being more customer-centric. And it will be a lot of fun."

Polyflor – www.polyflor.com.au
Our collection of vinyl flooring, which is suitable for a variety of commercial and residential applications, makes a big impact on the look of a space, but a small impact on the earth.
At Polyflor we create flooring solutions which are both beautiful and functional.
Whether it be in the home or in a commercial environment, our products uphold the same level of quality and design standard.
For more inspiration visit Polyflor.com.au