Cannings
The Free Range Butchers
Business View Oceania interviews Sam Canning, Founder of Cannings, for our Food and Beverage View.
Since their establishment in 2010, Cannings has provided the discerning Melbournian with free range, high welfare meats from proudly Australian suppliers. Founded by long-time butcher Sam Canning, Cannings began as a single storefront in Hawthorn. Now with nine storefront locations throughout Melbourne, the company holds animal welfare to the strictest standard whilst ensuring produce is high quality and priced fairly. Their selection process has its roots in meticulous research, careful consideration, and the Cannings ethos. That ethos? 'It's Free Range or Nothing!'.
Cannings has storefronts in Kew, Hawthorn, Malvern, Ivanhoe, South Yarra, Tooronga, Toorak, Burwood, and Richmond. Products include grass fed beef and lamb (Cape Grim, Bass Strait, Southern Ranges, Southern Valley, Lamb of Tasmania, Roaring Forties Lamb), certified free-range chicken and turkey (Hazeledenes Chickens, Pooginagoric Turkeys), award winning pork (Borrowdale, Gooralie), and sustainable seafood (fish mongers from Red Coral Seafoods). Minces, sausages, burgers, deli meats, frozen meats, pantry produce (eggs, butter, cheese, sauces and pastes, condiments, sides, gravy and stock, pasta, and more), ready to eat meals, wines, and pet foods complete the range. Cannings has also committed themselves to online shopping and home delivery for local residents.
Sam Cannings shares the inspiration behind his company's creation. "I've worked in this industry since 1998. I am passionate about animal welfare and have been a deeply empathetic person towards animals since I was young. At first, I was hesitant to enter butchery, but as my knowledge and experience increased, I saw an abundant craft that allows you to work dynamically, meet an incredibly diverse range of people, and build a business of opportunity whilst honouring the animal that produces it. I believe that meat should be savoured and appreciated, and that animals should be treated with compassion and respect. That's why Cannings was born. We bring together the most important philosophies in community, sustainability, ethics, and business, to make high welfare produce as easily accessible to as many people as possible. We are here to lead Australia's meat industry towards positive change."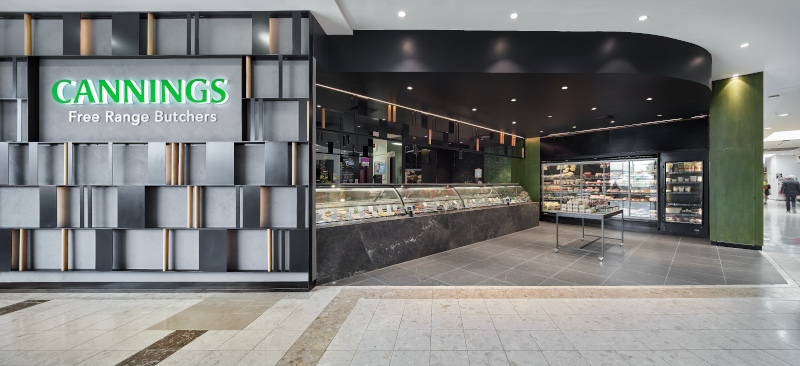 But it's not all smooth sailing, Mr. Canning explains. "Skilled labour is an issue in our sector right now—it's a problem for everyone in every industry, but we are really feeling it. We have combatted this challenge by focussing more on internal training, mentoring, and promotions. For example, we approach our retail counter staff first when it comes to apprenticeships. Part of this approach is remaining loyal to our staff and giving them the opportunity to progress their career, but it also means our customers are more likely to be served by and interact with a qualified butcher. Not so long ago, if you entered a butcher, you could expect to speak to a butcher. Nowadays, it's not very common at all. So that's something we would like to see more of. We have an apprenticeship uptake every six months and rarely have to advertise externally to fill those spaces."
Cannings' three 'Commitments' are the foundation on which their ethos is built: integrity, transparency, and purpose. Mr. Canning shares, "One of the very simple things that I think we do better than many others in the industry is remaining honest, open, and transparent with consumers about the entire process undertaken to source their meat. We have a very comprehensive selection process and only work with the very best of suppliers as a result; we do not compromise under any circumstances. Our customers know that we stay true to our word and will provide specific product information and feedback on the industry as it really is, rather than telling them what they want to hear. Our website has an extensive FAQs section that covers a range of topics in depth, from animal travel welfare to product and home delivery information. We focus on purpose over profit and are dedicated to looking after our people- our staff as well as our customers- our environment, and the communities it supports.
The extended team of approximately 120 staff contribute to their local communities through 'Cannings Community Sausage' events, which provides a monthly allocation of free sausages to commendable events. Supplementing the Cannings Commitments is the team mantra- CARE. Mr. Canning elaborates, "Our butchery experience is only possible thanks to the amazing team we have—those who open the shops, making sure everything is up, running, and looking its best from six o'clock in the morning to seven o'clock at night, seven days a week. Without that kind of commitment from our people on the ground, all of my wild ideas, philosophies and values wouldn't come to life." In addition to thanking his team members, Mr Canning extends his gratitude to suppliers, farmers, partners, and his customers.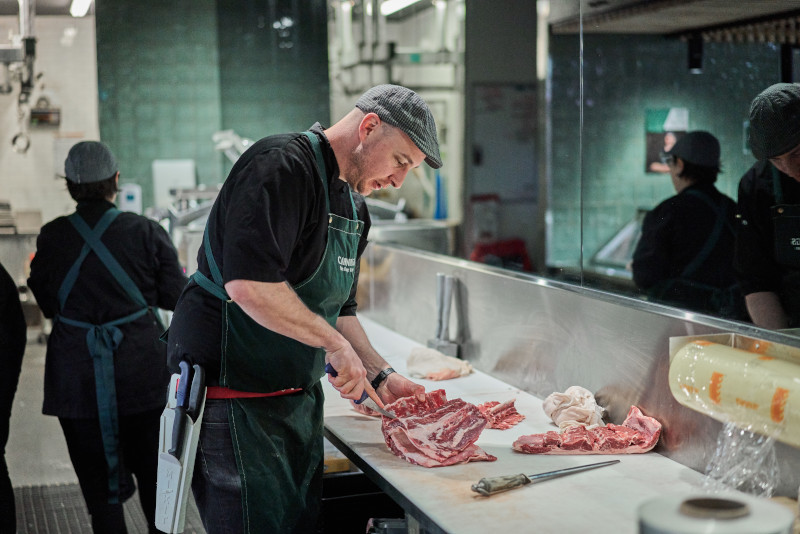 Cannings' environmental footprint has always been a major focus for the company. Having achieved carbon neutrality status in 2012 through tree planting offsets, they are also a Certified B-Corporation as of March this year. Mr. Canning shares, "We feel that our B-Corp certification is what best holds us accountable to our values as a butcher, and we hold it with great pride and honour. This is a benchmark that we use to continuously improve our business across five key areas: governance, workers, community, environment, and customers." B-Corporation identifies B-Corps as, "businesses that meet high standards of social and environmental performance, accountability, and transparency. B-Corps envision a better economic system where businesses can benefit people, communities, and the planet. They choose long-term investments over quick wins, and measure their success based on the positive impact they create."
Mr. Canning would like to conclude with his company's vision for the future. "We are really excited to see what the future will bring for us and for our wider industry," he says. "We will continue to work with our farmers and processors to create a network that aligns deeply with our values and will remain uncompromising on our commitment to do what is right. We follow an old-fashioned retail butchery model, but we are doing it in a 'new school' way. And it's going very well. So, while we don't have any plans to open new storefronts, we are agile, ambitious, and always open to new opportunities. The next twelve months will see us expanding our product range, our relationships, and our capacity to make a positive change in everything that we do."
AT A GLANCE
Cannings
What: Free range butcher supplying Beef, Lamb, Pork, Poultry, and Seafood
Where: Cannings has nine storefront locations spread throughout Melbourne, Australia as well as an online store.
Website: https://canningsbutchers.au/

Wedderburn – www.wedderburn.com.au
Wedderburn has supported the Australian meat industry since 1896. With over 125 years of experience, we are a market leader in Weighing, Labelling, Packaging and Food Equipment and POS solutions. Operating 19 branches throughout Australia, we've got the resources, experience and expertise to deliver the right solution for your business. Contact us today to find out more.