Master Pool Builders Association Australia (MBPAA)
6 Decades of Advocacy
Business View Oceania interviews Chris Samartzis, CEO of Master Pool Builders Association Australia , for our Construction View.
Formed in 1961, the Master Pool Builders Association Australia (MBPAA) is Australia's premium body organisation for leading pool builders, retailers, technicians, manufacturers, designers, and industry associates. Originally established in Victoria to support the state's industry landscape, MBPAA has evolved over the last six decades to support members through advocacy, brand credibility, mentorship, networking, marketing, and events opportunities, training discounts, participation in the Awards of Excellence Program, social media support, regular industry updates, and information and resource distribution. MBPAA currently represents 300 company members across Pool Builder, Retail, and Corporate membership tiers.
Chris Samartzis, CEO of MBPAA, shares his insight into the association's work and benefits for members. He begins, "We are the peak body organisation for leaders in our industry. Many of our members are small to medium sized businesses, and they're very state centric. We view ourselves as the umbrella serving Australia's state markets, planting seeds in their communities for industry growth. We also foster relationships with other industry bodies such as Master Builders Australia, Master Plumbers, SPASA, and Aquatics & Recreation Victoria, to help shape the future of our industry and influence policy that is beneficial to our members and our market."
MBPAA's primary goals are to champion world-class industry standards and advocate on behalf of members. The association believes strongly in positive incremental change, making consistent yet manageable improvement and innovations and keeping members up to date throughout the journey. This approach has been particularly important in the wake of the COVID-19 pandemic, Mr. Samartzis explains. "Our involvement has been critical in maintaining consumer education and sustainable development following the boom we've experienced during the pandemic. Low interest rates, 'staycation' trends, and the backyard revolution have all contributed to the massive growth of our industry- Australian backyards are no longer just a humble lawn, clothesline, maybe a cricket pitch or a veggie patch. They are aesthetic gold, and the pool / spa is at the centre of it all. More homeowners are putting in pools and spas now than they ever have, which is great for our members, but it also means there is a level of strain on the industry that we need to keep a very close eye on. Supply chains at the moment are shaky at best, so we are doing everything we can to keep our members abreast of any changes and provide them with the means to build their own support networks as well."
In 2021, MBPAA celebrated their 60-year anniversary with an awards and recognition event that not only honoured the association's longevity, but that of its members and partners. On their history, Mr. Samartzis says, "Everything has to start somewhere. From our first ever meeting in St Kilda in 1961 as The Swimming Pool Association of Victoria right through to our rebranding as MBPAA and 60-year anniversary in December of last year, we have championed only the best standards for our industry. Sometimes, it can be too easy to brush aside the history of an organisation such as ours to focus entirely on the new. Of course, we are excited for the future and we are continually looking towards the next big thing for our members, but we believe it is important to respect where we came from. Our awards night did just that- we even had a past member who was 98 years old and still a part of our industry! So, being able to honour our roots, our evolution, and the people that made it happen was wonderful, despite having to postpone a few times."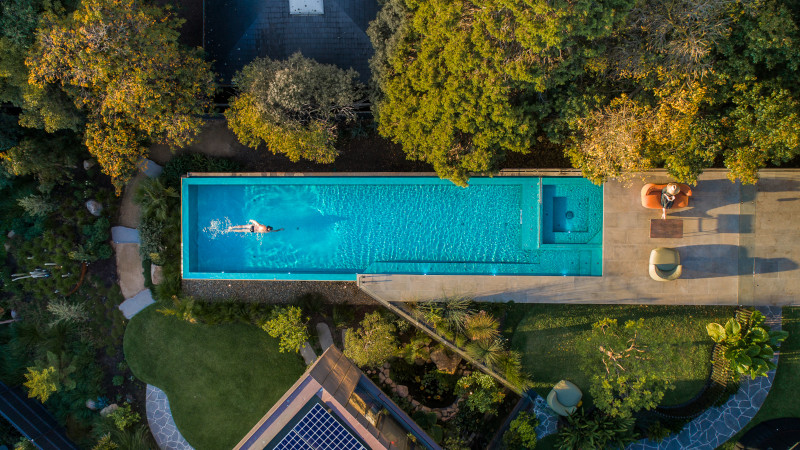 MBPAA looks forward to the Melbourne Spa & Pool Show 2022, set to be held at the Melbourne Convention & Exhibition Centre on the 9th and 10th of July. The association has partnered with Landscape Victoria Master Landscapers, to co-locate the Backyard and Garden Show, as they bring the expo to life this winter. It promises to be a fantastic event featuring a wide variety of exhibitors for spas, swim spas, and plunge pools, swimming pools and lap pools, saunas, equipment supply, tile, stone, and paver supply, landscaping services, outdoor products, solar heating and pool technology, and fencing and safety supply- everything from the back door to the back fence. The show will present a free seminar program covering topics such as smart pool and landscape choices, engaging designers, evaluating materials, pool technology, pool safety, and more. Industry experts will also be in attendance to provide their advice, inspiration, and expertise for consumers and industry associates.
The team of six at MBPAA value respect, confidence, success, influence, and inspiration. Mr. Samartzis elaborates, "Our core principles extend from us to our member base, and also to consumers. Therefore, it's extremely important that we hold ourselves to an incredible standard. We have a strict code of conduct for our members that holds them to those values as well- they are the consumer-facing representatives of our industry, after all. Not everyone who applies for a membership with MBPAA is successful. There's a very strict process they have to go through to be called a master pool builder by us. That has been a difficult path to take, because at the end of the day we are turning down potential members, but it's worth it. There is a real sense of trust between us and the consumer that, when they choose an MBPAA member to design, build, or manage their pool, they are working with a quality business provider. As a whole, the swimming pool and spa industry is very well regulated, as it should be. We sit on the Standards Australia Swimming Pool and Spa Committee to help shape the way those standards are drafted and delivered, so we are confident in our ability to identify quality businesses and mitigate the risks presented by inferior workmanship."
Looking to the future, MBPAA aims to extend their brand story throughout the entirety of Australia, and provide their services to a higher number of quality pool and spa industry players. The association hopes to introduce standard uniformity across state and territory lines in the long-term, to ensure a quality of care and ethical standards that protect consumers, business owners, and industry associates. Mr. Samartzis concludes, "We are definitely on the right path. We don't want to take over the world, but we'd certainly love to see a pool or spa in every backyard across the country. And we are blessed to have the passionate staff, knowledgeable partners, and committed member base to facilitate that growth moving forward."
AT A GLANCE
Master Pool Builders Association Australia (MBPAA)
What: Peak industry body for Australia's leading pool builders, retailers, technicians and industry associates
Where:  MPBAA is headquartered in Melbourne, Australia
Website: https://www.mpbaa.com.au/