V&V Walsh
Western Australia's Lamb and Beef Leader
Business View Oceania interviews Brent Dancer, General Manager at V&V Walsh, for our Food and Beverage View.
V&V Walsh began modestly in 1957, as a family butchery business. Through hard work and determination, the company has since evolved into the leading lamb and beef processor for all of Western Australia. V&V Walsh process and supply beef, lamb, mutton, offals, sheep runners, and various by products (tallow and rendering products) via their major facility in Bunbury, Western Australia. Employing over 650 staff, the Bunbury facility more than 40 million kilograms of meat per year for export and domestic sale. With the ability to process 5000 sheep and 400 cattle each and every day, this facility is one of the largest of its kind in Australia.
V&V Walsh markets their premium meat under the brand Amelia Park, which has become the first in the world to be granted a license to export chilled lamb and beef products into China. Domestically, they have a history as a key supplier to major industry retailers such as Coles and Woolworths. Amelia Park was created in tribute to Mrs. Amelia Curtis, an early support of V&V Walsh, who leased land to company founders. V&V Walsh says, "Amelia Park is a name associated with quality meats, fine dining, premium wines, and thoroughbred horses." The brand also incorporates a wine range, winery facility, award-winning restaurant, and the historic Newtown House lodge.
Brent Dancer is General Manager at V&V Walsh. "We have a strong foothold in Western Australia's domestic market, and licenses to export all around the world- to the US, China, Middle East, and more. We are a very balanced operation, with a 50/50 share between the two. We are a key supplier to Coles and Woolworths in our region, and our Bunbury facility is one of the best in the country. I think that our unique, family-oriented business model is absolutely a strength. Strength is important in our market, which can be very, very tough. We are always looking for new ways to improve our facility, our processes, and our approach."
Technology has recently become a priority for V&V Walsh, Mr. Dancer explains. "We recognise that our industry is constantly changing and taking on new technologies, so it's important that we stay abreast of new advancements, particularly in automation. Automation is key to reducing our reliance on hard manual labour, improving efficiency, and making sure our processes are safe and meet regulations. We also commit ourselves to matching clients' expectations and specifications for product, packing, etc. So technological advancement will really make that a more streamlined process. We have a new coldstore facility that is just kicking off, which will drastically reduce the amount of double and even triple handling that we are currently relying on. Now, rather than sending our products up to Perth, we can have this amazing on-site freezing facility that will be essentially full automated. Our aim is to have nobody needing to handle cartons from the time they are packed until they get loaded onto the truck."
As well as upgrading their technology capabilities, V&V Walsh is working towards significant improvements in sustainable operations. From wastewater management through tank-based wastewater treatment to energy efficiency, the company is making moves in their journey to carbon neutrality. Processors have a real responsibility to be as environmentally friendly as possible, Mr. Dancer says. "We have an obligation, as do all other parties in our industry, to lead the way in environmentally conscious decision making. The agricultural sector is incredibly important to Australia's economy, so we aim to be sustainable in every sense of the word; environmentally, economically, and socially as well. It's important that our staff are taken care of and that their personal and cultural needs are met. Processors often are more financially able to take on shifts towards sustainability- it's up to us to help reduce some of that burden on farmers and small businesses, to support them wherever we can."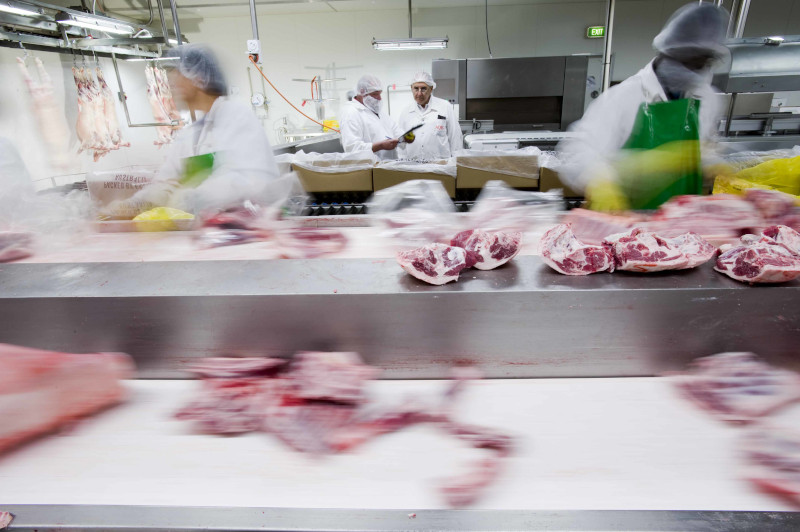 Mr. Dancer continues with a note on challenges currently facing the Western Australian market. "We are experiencing a massive shortage of skilled labour in our sector, and also in the wider industry. It's not a glamourous industry to work in, and the meat game is particularly difficult. We have to continuously find new ways to attract the next generation of workers, whether they be young people beginning to make their way in the world or established skilled staff in other areas of the industry who are looking for a change of pace. One of the exciting things about meat processing is it creates so many varied roles and opportunities for growth. We have meat workers, engineers, robotics specialists, environmental scientists, food innovators, accountants… You name it, we probably have them on staff. We are incredibly lucky to have such a diverse range of people, perspectives, and skill sets on our team."
Diversity is a core value that underpins V&V Walsh's business model. Driven by family values, the team believes strongly in a people-first approach. Treating all workers with respect regardless of position, maintaining honesty, integrity, and transparency in all things, and collaborating fairly with other members of the industry are also major philosophies held dearly by the company. Mr. Dancer shares, "We have really strong relationship with our key partners, namely our supermarkets like Woolworths and Coles. Our industry here in Western Australia is pretty close knit, so it's important that we face challenges together, whether they be ongoing like the COVID-19 pandemic, or smaller, more acute issues in areas like logistics, and freight. Our relationships with suppliers and partners have shone through the pandemic, and we are very thankful for the loyalty and strength we have been able to rely on as a result." V&V Walsh would also like to thank industry bodies AMIC (Australian Meat Industry Council), AMPC (Australian Meat Processor Corporation), and MLA (Meat & Livestock Australia).
Looking ahead, V&V Walsh is excited to face new industry challenges head on and remain on top of new market trends as they arise. The company plans to take full advantage of new free trade agreements overseas, namely in India, to open up Australia's exporting potential even further throughout the entire agricultural supply chain.
AT A GLANCE
V&V Walsh
What: Leading Lamb and Beef meat processor for domestic Australian and export markets
Where: V&V Walsh is headquartered in Bunbury, Western Australia
Website: http://vvwalsh.com.au/